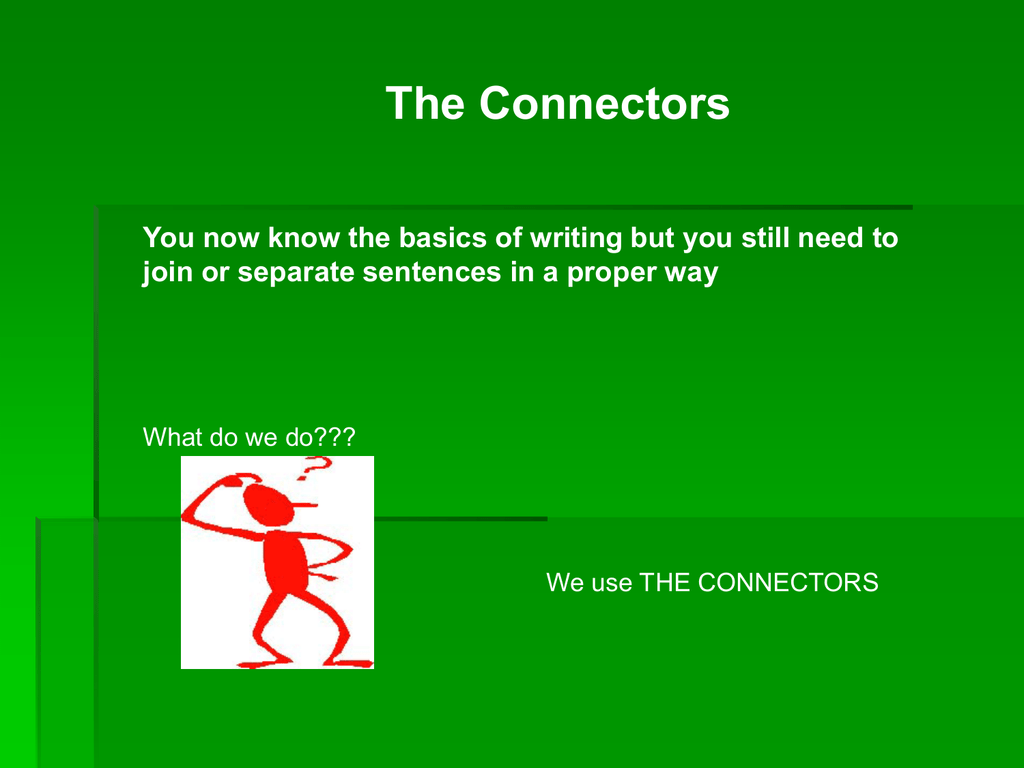 The Connectors
You now know the basics of writing but you still need to
join or separate sentences in a proper way
What do we do???
We use THE CONNECTORS
There are many kinds of connectors and
we will learn some of them to express…
Addition
Cause/Effect
Opposition
Condition
Comparison
Contrast
Addition
 What is the meaning of addition? It is a
process by which we join two sentences
to make one big sentence!
Example:
a) The teacher is talking
+
b) The students are listening
_______________
The teacher is talking AND the students are listening
Addition
Here are some Addition connectors:
- And
- Furthermore
- Additionally
- Moreover
- Also
- In addition (to) / as well as / etc.
Opposition
 Opposition is a process by which we join
two contrary/opposite sentences
Example:
a) The sun is shining
+
b) It is raining
_______________
The sun is shining BUT it is raining
Opposition
Here are some Opposition connectors:
 But
 Although / Though
 Nevertheless
 However
 Despite / in spite of
Comparison
Comparison is a process by which we see
the similarities between two items




And…too
Just as
Similarly / In comparison
Like / Similar to
Contrast
Contrast is a process by which we see the
differences between two items





But
On one hand / On the other hand
In contrast
Unlike
Whereas / While
Cause / Effect
Cause = reason
Effect = consequence





For (cause) // so (effect)
Because // since
Therefore / as a result
Because of / due to
…
Condition
You know what a condition is (so tell me!)
 If / Only If / Even if
 Unless
 Otherwise
The End!