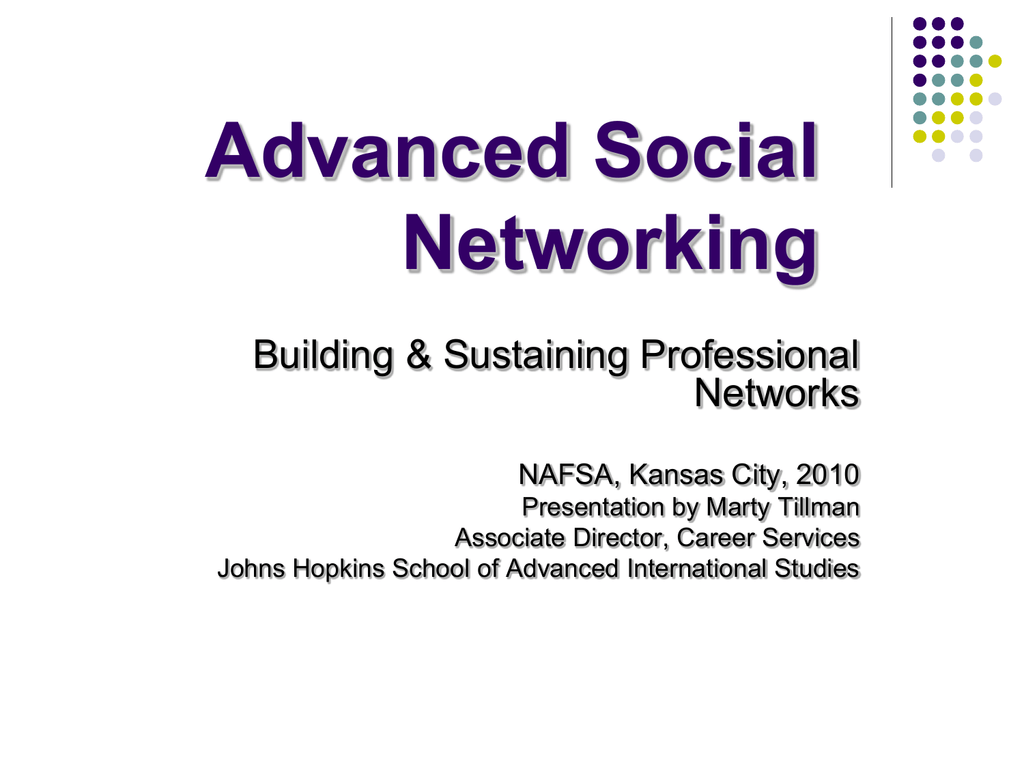 Advanced Social
Networking
Building & Sustaining Professional
Networks
NAFSA, Kansas City, 2010
Presentation by Marty Tillman
Associate Director, Career Services
Johns Hopkins School of Advanced International Studies
What is Networking?
A dynamic process of developing professional
contacts and building relationships for
purpose of obtaining field or sector-specific
career advice, and job-related information.
…What does it mean to you?
Objectives



Sharpen understanding of how social
networking adds value in job search or career
transition
Build confidence for widening professional
networks
Review process of managing a social
network online
Value-added of Social Networking




Interactive tool to widen your professional network
Resource to obtain background information about
institutions & organizations, hiring trends, and tips
on application processes
Assist in assessing fit of job with your career goals
Other?
Set Priorities





Consistently set aside time to complete relevant
tasks
Conduct sector research
Identify "prospects" & initiate outreach
Practice & adapt informational interview skills
Set up system to track progress & outcomes of
outreach
Be Organized to be Successful




Define your professional objectives
Identify principal skill sets, values & interests- self
assessment is key
Map out existing networks & identify prospects –
circles of relationships
Develop system to track outreach & networking
outcomes – be pro-active, not passive
Linked In



Most widely used professional online network
People with more than twenty connections are thirtyfour times more likely to be approached with job
opportunity than people with less than five
Career profiles are global resource to analyze and
mine professional data
Effective Use of Linked In






Create full, creative and honest profile
Use active and illustrative keywords
Actively communicate within groups- NAFSA,
undergrad/grad schools, other interest groups
Post recommendations
Use "answers" & ask questions
Set up local informational interviews
Who Posts Profiles?




Currently employed, unemployed, those
making transitions, recruiters
Current students building a network-little
experience
Professionals making career transition – 5+
yrs experience
Campus alumni with considerable experience
in field/sector/region
Analyzing Profiles





When did they graduate?
How many jobs after graduation ?
When was "take-off period"-when employment
exceeded 3-5 years with same company or
organization?
Did they switch or sustain work in same sector?
Are they actively using LI? Do other NAFSANs know
this person?
Taking the Next Step




Cluster contacts in same institution or organization
Google names, research their
function/focus/expertise
If local: message for informational interview
If not: write focused brief messages with targeted
question
Maintain Momentum





Be purposeful & persistent
Seek out new opportunities to interact with
professionals and alumni
Inform existing network of positive progress – be
engaged
Regularly update profile – your networks knows
when you do…
Keep moving forward -do not be discouraged!