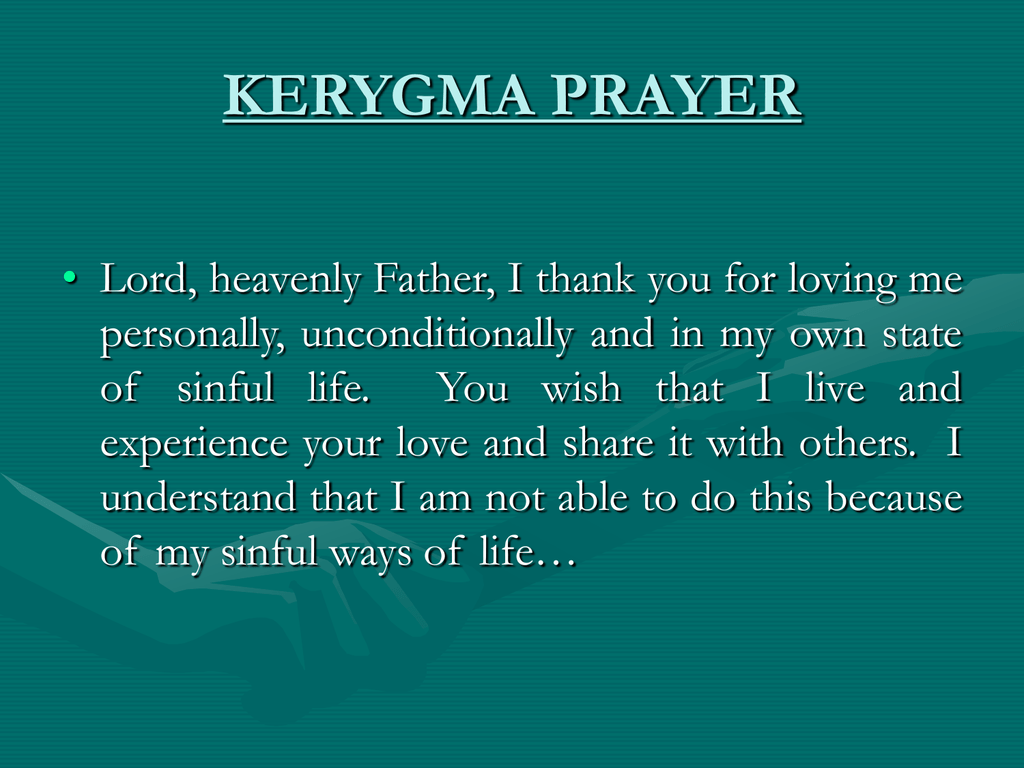 KERYGMA PRAYER
• Lord, heavenly Father, I thank you for loving me
personally, unconditionally and in my own state
of sinful life. You wish that I live and
experience your love and share it with others. I
understand that I am not able to do this because
of my sinful ways of life…
…Loving Father, I believe that 2000 years back
your son Jesus Christ died on the cross and Shed
the last drop of blood for the remission of my
sins and redeemed me from the bondage of
death, sin and evil and justified me before you…
…To personalize this salvation, I firmly believe
in You Jesus and repent of my sins and try to
change my ways of life by accepting Jesus Christ
as the Lord and Savior in my heart. Thus I will
proclaim that Jesus is the Lord and Saviour of
all mankind…
…Lord, pour forth your divine love and Mercy
through the Holy Spirit for whom I thirst and
pray fervently…
…Lord, give me the grace to become part of a
loving and praying community to grow and help
others to grow spiritually so that we may be able
to attain heavenly inheritance and eternal life…
…Lord, give me the courage to remain in this
spiritual state and to proclaim the good news
too many people. Amen.
FORGIVENESS PRAYER
• Father forgives him/her for……. I hold up to your
love, Lord…… (Name of the person) who has
disturbed my peace. Remembering Jesus, I Pray, Father,
forgive him, he knows not what he does. In the name
of Jesus, send your love; heal his wounds that cause
him to wound others. Let your love melt down the
crust of evil, for he was born in your image. He is not
truly alive until your light shines on him. Let my
forgiving love work in him setting him free from his
burden. Redeem him and transform him by your love,
Lord Jesus As I remove one stone from the channel of
your love fill me with your loving peace and healing.
PRAYER OF DELIVERANCE
• In the name of God, the Father Almighty,
creator of Heaven Earth, in the name of Jesus
Christ His only begotten son and our Lord and
Savior, in the name of the Holy Spirit the
Paraclete, who dwells in our hearts, through the
intercession of St.Michael the Archangel, of
Mary, the Immaculate Virgin Mother of God, of
the Apostles Peter, Paul and all the Saints…
…I rebuke and command you, every spirit of
darkness and oppression (fear, anxiety,
resentment, suicidal tendency, excessive sexual
passion suspicion, unforgiveness, lukewarm ness,
lust and concupiscence, etc to leave this child of
God, (me) to be bound and not to return. I
challenge every spell and work of darkness, and
command you to go to the feet of Jesus, to be
bound and not to return. Lord Jesus, cover me
with your precious blood and let me experience
the fullness of redemption.
PRAYER FOR PROTECTION
• Lord Jesus Christ, by faith in your merits and in the
sprinkled of your most Precious Blood from the crown
of my head to the soles of my feet, I claim total and
complete protection for my life. Lord Jesus, guard me
and protect me today from all that is harmful, evil and
destructive to my filial relationship to you. Keep me
free from sin, Satan's attacks and afflictions, sickness,
accidents, disease and all the calamities. Fill me Lord
Jesus, with gift of your Holy Spirit and with the gifts
and fruits of – Peace, Joy, Happiness, forgiveness, self
control, wisdom, gentleness and patience prayerfulness
etc (anoint your forehead with the sign of the Cross)
Today's Kerygma Dialogue with Word
of God
1.
God loves you Suma personally and
unconditionally and just as you are God wants
that you experienced this love and share it with
others
• "I have loved you with an everlasting love; therefore I
have continued my faithfulness to you".
2. But because sinfulness we are not able to
experience this love today.
• "See, the Lord's hand is not too short to save, nor his ear
too dull to hear. Rather, your iniquities have been
barriers between you and your God, and your sins have
hidden his face from you so that he does not hear." (Is
59/1-2)
3. God has already saved you 2000 years ago
through the shedding of blood death and
resurrection of His son Jesus Christ.
• "For Christ also suffered for sins once for all, the
righteous for the unrighteous in order to bring you to
God. He was put to death in the flesh, but made alive in
the Spirit". (1pt 3/18)
4) To experience this salvation today you have just
to believe in Jesus Christ and accept Him as
the Lord of your life. Repent of your sins and
confess and surrender your life to the
Lordship of Jesus and He will give you the
Holy Spirit whom he has promised to all the
believers.
•
"If you confess that Jesus is Lord and believe that
God raised Him from death, you will be saved".
(Rom10/9)
5. Seek and Ask with thirst and receive the Holy
Spirit and you shall be filled with God's love.
• "God's love has been poured into our heart through the
Holy Spirit that has been given to us". (Rpm 5/5)
6. Then join a community of believers to grow in
this love and discipleship of Christ and thus you
can grow as the family of God.
• "What we have seen and heard we announce to you also,
so that you will join with us in the fellowship" (1 Jn
1/3).
7. Thus you will be able to share this experience
and good news of salvation to many others and
bring them also to the experience of salvation
thus building the Kingdom of God.
• "Go into the whole world and proclaim the good news to
the whole creation. The one who believers and is baptized
will be saved. But the one who does not believe will be
condemned." (Mk 16/15-16)
Words to read and reflect
•
•
•
•
•
Jerm.
Rom
Michah
Prov
Sirac
29/ 11-13
8/28.
7/18-19
16/1-3
21/1-2.