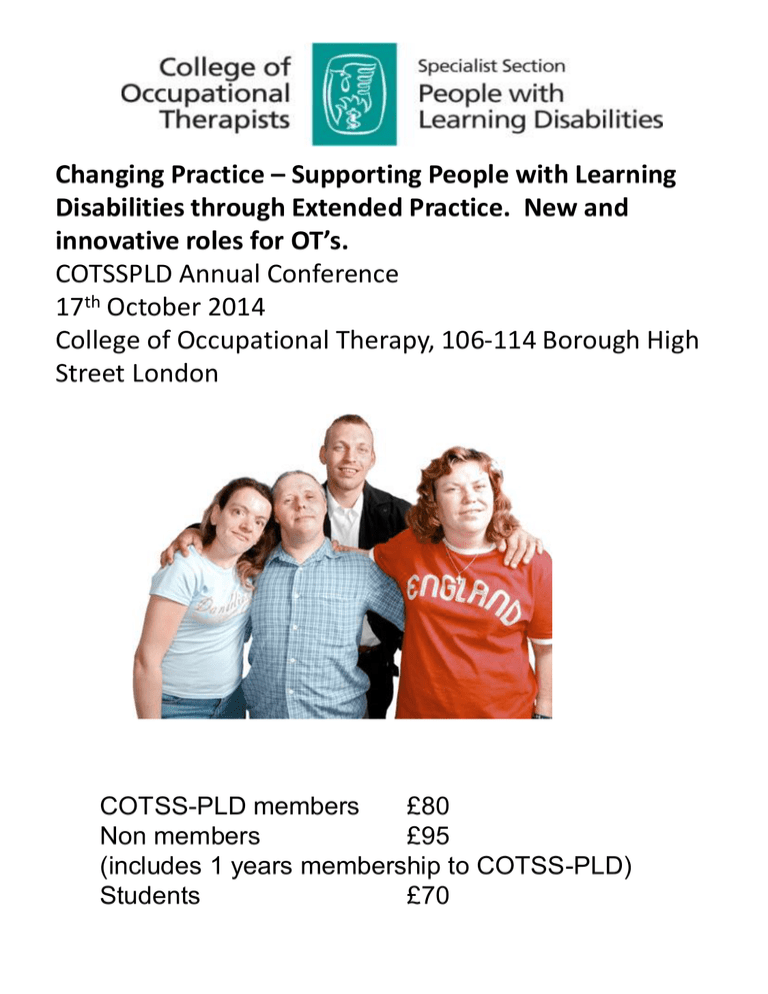 Changing Practice – Supporting People with Learning
Disabilities through Extended Practice. New and
innovative roles for OT's.
COTSSPLD Annual Conference
17th October 2014
College of Occupational Therapy, 106-114 Borough High
Street London
COTSS-PLD members
£80
Non members
£95
(includes 1 years membership to COTSS-PLD)
Students
£70
Application Form
Working together – Supporting people with Learning
Disabilities through extended practice
COTSSPLD annual conference
17h October 2014
Name
Address
Contact e-mail address
Contact phone number
Place of work
I am a COTSS-PLD member
I am a presenter
I am a student
I am a non-member
BAOT number:
Please note that free membership can only be given to BAOT members.
Payment Methods:
INTERNET OR TELEPHONE BANKING: please contact your bank and quote COTSSPLD
bank account number 31202928 and sort code 40-05-19 and use COTSSPLD and your full
name as a reference
CHEQUE: made payable to College of Occupational Therapists Ltd posted to: Tina
Bang Anderson ( Clinical Specialist Occupational Therapist) COTSSPLD Administrator
South London and Maudsley NHS Foundation Trust
National & Specialist CAMHS Service for Complex Autism and Associated
Neurodevelopmental Disorders (SCAAND) | Michael Rutter Centre | Maudsley Hospital |
London | SE5 8AZ
Please note, we can not send invoices.