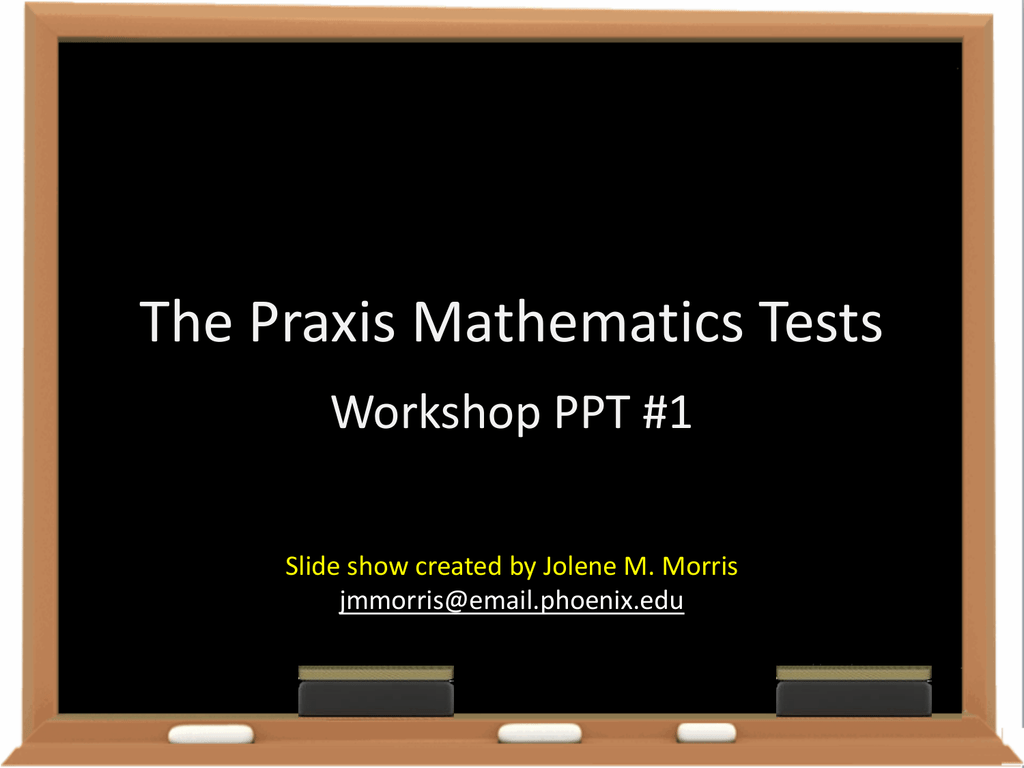 The Praxis Mathematics Tests
Workshop PPT #1
Slide show created by Jolene M. Morris
[email protected]
Agenda
•
•
•
•
•
Know the test
Overcoming test anxiety
Studying for the test
Tips for taking the test
Resources
Click an agenda item to go directly to that section of this slide show
KNOW THE TEST
Praxis is ETS's shorthand for
"Professional Assessments for
Beginning Teachers"
Educational Testing Service
Educational Testing Service (ETS)
Teaching and Learning Division
P. O. Box 6051
Princeton, NJ 08541-6051
Phone: (609) 771-7395 or (800) 772-9476
Website: http://www.ets.org/praxis/
E-Mail: [email protected]
FAX: (609) 530-0581
Contact ETS for ADA and ESL testing information
Test-taking Requirements
The Praxis I must be passed before
completing 12 credits in the Education
program (including GEN/200 or COM/516)
The Praxis II must be passed and recorded
by October 1 before Spring student
teaching or by April 1 before Fall student
teaching.
Praxis Test Video
http://www.ets.org/s/praxis/flash/prometric/hesa.html
Paper or Computer?
Paper
• Costs less
• Prone to answer sheet
marking errors
• No technology – can focus
on the test
• Can mark in the test book
• Fewer questions (so each
question is worth more)
• Average student scores
one point higher
Computer
•
•
•
•
Offered almost daily
More test centers
Video recorded
Scored immediately
(unofficial)
• More questions (so each
question is worth less)
• More time to complete test
• Can mark a question for
easy review
Computer Test Screen
00:22
Time
31 of 46
Section 2
Review Mark
Help
Prev
Next
Praxis I TAAG (Paper)
Praxis I TAAG (Computer)
Praxis II TAAG
OVERCOMING TEST ANXIETY
Did you know?
Test anxiety is a learned behavior
Booklet Provided by ETS
http://www.ets.org/Media/Tests/PRAXIS/pdf/01361anxiety.pdf
Symptoms of Test Anxiety
•
•
•
•
•
•
•
•
•
Physical
Psychological
Nausea
•
Cramps
•
Faintness
•
Sweating
•
Headache
•
Dry mouth
Fast heart beat
Tense muscles
Increased breathing rate
Mental blank out
Racing thoughts
Difficulty concentrating
Knowing answers after the
test but not while taking it
Negative thoughts
Reducing Stress Tip #1 of 12
• Not familiar with the test
• Learn all you can about the test
–
–
–
–
What topics are covered on the test?
How much time do I have to take the test?
How are my answers scored?
Is it all right to guess?
• Study the TAAG (Test at a glance)
prepared by ETS
• Prepare early
Reducing Stress Tip #2 of 12
• You believe myths about the test
• Learn the truth about the test – ignore urban
myths and gossip about the test
Reducing Stress Tip #3 of 12
• Content not mastered
• I don't know enough to pass the test
• Make a study plan with a schedule and stick to it
–
–
–
–
What specific areas will I work on?
When and where will I study?
Will I study alone or with a partner?
Are there any other helpful resources available?
• Build your confidence with study
• Keep a log of your study and achievements
• Avoid cramming – this is the #1 reason a mind blanks
Reducing Stress Tip #4 of 12
• Negative thoughts
– I don't think I can pass the test
• Think and act positively
• Remember that test anxiety is a learned reaction –
prepare and "teach" yourself to overcome the anxiety
• Replace negative self-talk with positive thoughts
• There is a CUT score of less than 80% -- you don't have
to score higher than anyone else
• Monitor your thinking – think positive thoughts when
you feel a negative thought beginning
Reducing Stress Tip #5 of 12
• Anxiety the day of the test
• Eat a balanced meal prior to the test with not too
many carbohydrates
• Get a good night's sleep the night before
• Relax and think positive thoughts
• Plan to arrive early or on time
• Avoid any drugs or alcohol that will
interfere with your mental ability
• Chew gum during the test if allowed
Reducing Stress Tip #6 of 12
• I am worried that I will arrive
too late for the test
•
•
•
•
•
Prepare in advance (the night before)
Get up on time
Practice driving to the test site
Allow extra time for traffic
It is better to arrive early than late
Reducing Stress Tip #7 of 12
• Body shows signs of anxiety
• I feel weary and exhausted
• Take care of your body before the test
– Eat well; Exercise; Sleep; Take breaks
– Study ergonomics
– Learn stretching techniques
Click here
• See a health care professional if signs are severe
• During the test – change positions, stretch, relax for
a moment, visualize your goal, and think positive
thoughts
Reducing Stress Tip #8 of 12
• Tension builds up during study or the test
• I feel overwhelmed or tense
• Practice tension release exercises
– Breathe deeply and exhale slowly
– Close your eyes and imagine a peaceful place
– Focus on muscle groups and contract and relax them
• Schedule time for physical activity
• Remind yourself that you have worked hard to
prepare for the test
Reducing Stress Tip #9 of 12
• I become distracted when I study and as I take tests
• Test environment unnerves me
• Tune out distractions
–
–
–
–
–
–
Wear earphones
Avoid arriving too early or too late
Choose seat away from possible distractions
Sit by yourself; don't chat with others
Remain calm
Take a break if necessary
Reducing Stress Tip #10 of 12
• Mind goes blank
• Stay focused:
– Arrive at test with plan for starting, don't race to answer
questions
– Tackle questions one at a time
– Mark difficult questions to return to later. Find an easy
question
• Once the test begins, write down any tips or
affirmations on your scratch paper
• Avoid cramming – this is the #1 reason your mind
will go blank
Reducing Stress Tip #11 of 12
• I can't answer a question
• Remind yourself that you can pass
the test even if you do not answer
every question correctly
• Skip the question, check it later,
and guess if necessary
Reducing Stress Tip #12 of 12
• I worry about finishing on time
• Be aware of the time as you test
• Make adjustments as needed based on time
• When taking practice tests, test under the same
time conditions as the actual test so you learn to
pace yourself
Final Words about Test Anxiety
Remember that you control the test – not vice
versa. If you are calm and take the test with
confidence, you will do much better than if you
take it with nervous jitters.
Use visualization: Imagine yourself walking into a
testing room and sitting at the desk. Imagine
yourself feeling calm and confident. Imagine
yourself facing a difficult questions – let your
anxiety surface and practice calming it down.
STUDYING FOR THE TEST
It is never too early to start studying;
the earlier you begin, the more time
you will have to sharpen your skills.
What to Study
•
•
•
•
•
Refer to TAAG
Take a practice test
Do an item analysis (see Slide #34)
Study those topics you scored lowest
Rank topics from lowest to highest on practice
test –or- from hardest to easiest to learn
• Study the flashcards EVERY day – consider Anki
or Flashcards To Go (see Slide #35)
• Make notes about important concepts – create
more flashcards if necessary
When to Study
• Make an appointment with yourself EVERY day –
If you have a smart phone, put your study time
in your calendar
• Try to study at the same time each day
• Plan your studying during daylight hours
• Used "Spaced Repetition" for flashcards
(see slide #35)
• Do not wait until the last minute to
study -- Do not cram
Where to Study
• Create a specific area for studying
• Keep all study materials together so you don't
have to search for them
• Choose a spot free from
outside distractions
Practice Tests
• First practice test: no time constraints. See exactly
what you already know
• Do a test analysis of each practice test to find out
where you need to focus your study
• Obtain several practice tests – don't keep taking the
same one
• When taking a practice test, try to duplicate the test
conditions of the real test
• Keep track of dates & raw scores
• CLASS ACTIVITY—TEST ANALYSIS
Using Flashcards
•
•
•
•
U-Tube Video (excellent)
Spaced Repetition
Leitner system of boxes
Flashcard software
– Flashcards To Go (by James Harris)
– Anki  Jolene's favorite
• Add notes or add your own flashcards
• Highlight items you don't know (assuming you
know the rest of the flashcard information)
• CLASS ACTIVITY—MAKE FLASHCARDS
Develop a Study Plan
•
•
•
•
•
•
•
Scheduled
Realistic
Be consistent
Do NOT cram
Use your time wisely
Prepare, don't procrastinate
Post your study plan in the kitchen and in your
study area (and in your electronic calendar)
• Praxis I® Study Plan on Demand ($15.95)
Sample Study Plan (8 weeks)
• Week 1: Attend this class (Workshop #1). Make study
plan. Prepare study area. Obtain a scientific calculator for
Praxis II. Access ALEKS assessment, make flashcards.
• Week 2: Attend this class (Workshop #2). Take first
practice exam. Do item analysis. Study flashcards daily.
Study focus areas in ALEKS.
• Weeks 3, 5, & 7: Review PPT from Workshop #1. Study
flashcards daily. Study focus areas in ALEKS. Condense
your notes.
• Weeks 4, 6, & 8: Take another practice exam. Do item
analysis. Study flashcards daily. Study focus areas in
ALEKS.
What Else Should I Do?
• Involve your family for support
• Wear a noiseless watch, even during
practice and study
• Bring a set of ear plugs if the testing
center doesn't provide
earphones
TIPS FOR TAKING THE TEST
Develop a test-taking strategy,
and then use your strategy.
25 Test Taking Tips
Decide
before
the
Wear
If
Answers
Bring
Keep
you
Look
earplugs
your
a
are
for
scientific
(except
forced
notes
key
or
You
can
answer
is
no
Ittest
Be
isThere
OK
aware
to
write
of
the
in
which answer
to
Dress
earphones
words
for
on
calculator
speed
the
compare
comfortably
that
scratch
up,in
ifmay
for
do
you
&so
questions
any
penalty
for
choice
you
will
use
the
time
paper
& pace
test
Any
lead
Praxis
efficiently.
ordering)
paper
are
in
to
layers.
II
the
easily
that
in
are
correct
Don't
an
you
in
on pure
order.
guesses.
guessing.
yourself.
booklet.
are
numerical
organized
distracted.
familiar
answer.
panic.order.
way.
with.)
(See speaker
notes
IfIf taking
the
paper
Know
The
Your
Develop
you
correct
first
the
don't
afour
answer
strategy
answer
know
types
is
Can't
No
Iftest,
you
You
trick
Understand
leave
are
can
questions,
nervous,
take
early
a so
be
sure
There
the
IS
to
of
Visualize
usually
one
answer,
multiple
mark
are
ofquestions
the
no
correct
yourself
make
choice
answer
4the
or an
5
"Backing
use
see
but
bathroom
if
the
traps
chewing
time
Solving"
built
break,
wisely
gum
into
to
answer
oval
Questions?
educated
–being
questions.
you
and
because
patterns.
just
eliminate
successful.
guess
have
(See
of to
by
corresponds
towork.
the
to
answer
review
the
is questions.
allowed.
but…
ayour
question.
speaker
subconscious.
elimination.
choices.
findnumber.
notes)
it.
question
RESOURCES
Where can I go for more help?
ETS-prepared Materials
http://www.ets.org/praxis/prepare/materials/
University Library
• Praxis preparation materials > Test Guides and
Preparation > Testing and Education Reference
Center > Career Tools > Teaching (Praxis) DEMO
University Library
• eBooks (search for "Praxis") DEMO
Center for Mathematics Excellence
Running Start  ALEKS
Also at CME:
Building Math Confidence
eCampus > Utah Campus
•
•
•
•
•
•
•
Praxis Flashcards
3 PowerPoint slide show
Ergonomics handout
8 Study Guides
Study Plan handout
Test item analysis worksheet
…more
These resources also available at www.JoleneMorris.com/mathematics/praxis
IXL.com
Fee for continued use
($9.95 per month)
Flashcards
• Paper-based (free at Utah Campus)
• Electronic (Flashcards To Go, Anki, etc.)
These resources also available at www.JoleneMorris.com/mathematics/praxis
Videos
•
•
•
•
KhanAcademy.org/math/
JoleneMorris.com/mathematics
U-tube
University Library > Building Math
Confidence > Math Videos
• MathTV.com
• NutshellMath.com
Books & Practice Tests
•
•
•
•
ETS Study Guide (in University Library)
Cliff Notes for Praxis I (in University Library)
ARCO books (in University Library)
Jolene's additional recommendations
– Barron's
– XAMonline.com
– Mometrix
Your money is
better spent on ETS
materials, but if you
choose to buy
books, be sure to
get the most current
version.
Praxis Workshop PPT #1
ANY QUESTIONS?