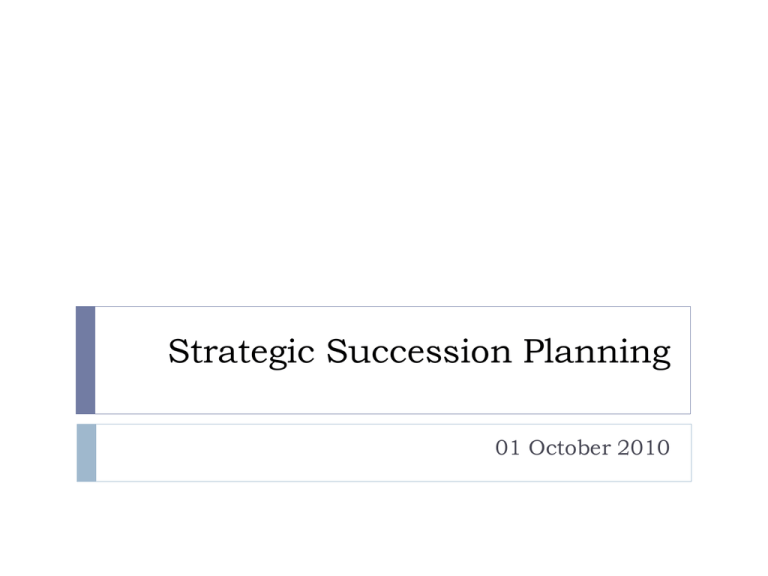 Strategic Succession Planning
01 October 2010
Demand
Supply
Future Key Roles and
Capabilities Identification
Top Down process driven by
business strategy
Bottom up process feeding
succession pools to key roles
What We Need
• Performance
• Potential
GAP
Analysis
Plan to Close Gaps
Develop/Recruit
What We Have
• Performance
• Potential
Talent Review/Succession Planning
Strategic Business Planning Process
Succession Planning Process at a Glance
Top Pressures Driving Succession
Planning



Changing business landscapes requiring new skills
Shortage of available talent in market
Losing key leaders to competitors
Organisations know that leadership is something they cannot
do without and when it gets scarce
they need to get better at finding and developing it
Barriers to successful strategy
implementation
Requirements for success: Process
Valid and reliable process in place to identify high potentials
early in their careers




Performance review ratings
Multi-rater/360 degree assessment
Customer or client feedback
Hiring manager or supervisor feedback
Formal and consistent process shared across organisation
Performance and Potential
High Potential
High Performers
Learns quickly in first-time situations
Produce results with the right behaviors

Recognized manager or functional,
technical expert

Can be counted on, especially in tough
times

Cuts through complex/ambiguous data;
sees what is essential quickly; uses
intuition/judgment; handles scale, breadth
and variety; manages complexity

Takes risks; stands up for own convictions
with authenticity; able to make tough calls
and hold course

Delivers consistent top performance

Is a good manager/developer of others

Would be difficult to replace in kind


Works independently with little or no
supervision
Sizes up situations fast; knows when/where
to act; uses own power with judgement

Maintains one's performance under
extreme pressure and uncertainty

Confident in self and capabilities
93% of High Potentials are High Performers
Only 29% of high performing employees are also high potential
Leadership Roles and Requirements Change
What Enables Effective
Transitions?
 Learning agility predicts
adaptability
 Adaptations drive future success
 Learning agility and adaptability
can be developed/improved
Lateral Move
1
2
3
4
5
6
New to Managing Others
New to Leading Managers
New to Leading a Function
New to Leading a Business Unit
New to Leading a Multi-Business Group
New to Leading the Enterprise
4
3
High Performers
New to company
5
High Potentials
Critical Transitions
6
2
1
0
The Leadership Pipeline, Ram Charan, Stephen Drotter and James Noel, 1999-2001
Requirements for success: Organisation


Senior leadership support
Leadership engagement in
 Identifying HiPos
 Executing succession
The biggest area where the line of business leaders need to get their
hands dirty is in developing others
Requirements for success: Knowledge

Ability to identify key roles based on the future vision of the business

Collecting talent data and make it visible across organisation

Determining how the existing mold of the leaders needs to be
recast: standardised skills & competencies
Technology: data integration with succession management





Strategic or business plan
Career Planning/Management
Employee Performance Management
Recruiting
Workforce planning
Key roles
Key roles:
• Creates wealth for the company. Has
major revenue-enhancing or cost-reducing
impact
Impact on business results
• Has significant impact of future success of
the company
• Requires expertise or skills that are critical
for the strategy and are hard to find
• Impact varies significantly depending on
incumbent performance
• Not determined by current placement in
hierarchy
Global Key Roles (Top 0.3%):
• Includes
• Top Senior Leaders (CET
and CET-1 roles)
• Key roles identified as
drivers for the overall
organisation strategy.
• Monitored by Global Talent
CoE and business.
Business Key Roles:
• Key roles identified as drivers
for business strategy.
• Not part of Global Key Role
group.
• Monitored by business.
Critical for delivery of future business strategy
Requirements for success: Measuring
Performance of the Succession Strategy
Setting clear qualitative and quantative KPIs

% of newly promoted leaders in key positions achieving a rating equivalent to
"exceeds expectations" in their most recent performance review

Size of the talent pool on all levels of organisation
% of the key positions in the organization which have at least one ready and
willing successor identified




Year-over-year reduction in direct cost of replacement of the key positions
Year-over-year reduction in time to fill key leadership positions
Change in revenue per FTE
*
* Bench strength is defined as % of key positions with at least 1 ready
and willing successor identified
Questions? Comments?
Thank you!