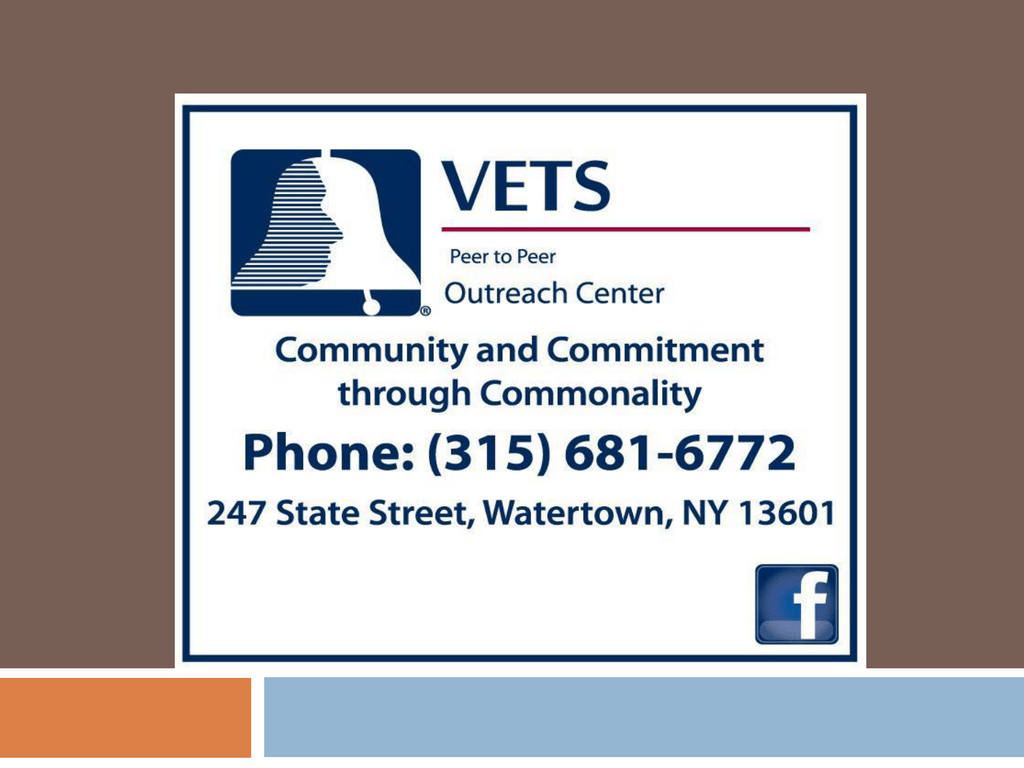 Briefing Agenda








Peer Support Program Mission
Peer Support History
Elements
Training: Initial & On-going
Confidentiality
Program Mechanics & Coordination
Safety Net Model
Questions
Mission
Community and Commitment through Commonality
The Peer to Peer Outreach Center is drop-in, non-clinical
and community based. Our committed staff and trained
volunteers provide advocacy, resources and support
with life's circumstances to all Veterans and their
families.
What Is Peer Support?
A process whereby a person discusses a personal issue with a nonprofessional; usually a friend or co-worker.
Key Components :
 Active listening skills
 Clarifying issues
 Supporting the person
 Problem solving process
 Confidentiality
 Referral to professional resources
 and above all: commitment
Peer Support History




Sustained Combat Operations over 10 years have
caused us to look towards alternative means to
promote wellness and establish a safety net.
Peer Support has been the "standard of care" for
modern law enforcement organizations, due to
their long term mission.
Build towards a safety net, not a tight rope.
Key safety net to catch those silent members in
crisis.
Commonality




Comparable experiences
Builds trust and credibility to foster beneficial
mentoring relationships
Promotes overall wellness
"Been there, done that" mentality
Peer Mentoring Goals
Promote wellness
 Improve coping skills
 Reduce concerns
 Foster social networking
 Referral services

Community of Services
Care Management / Advocacy
 Employment Resources & Services
 Peer Mentoring Services
 Coordination with community partners
 Safety Net Model

CRITICAL INCIDENT
Simply put:
Any incident or event in which a persons normal
coping mechanisms are overwhelmed.
Critical Incidents:
The Three Ingredients



1. Intense Emotional Involvement: all your awareness,
all your feelings are invested in this moment.
2. Narrow Focus: your range of attention is
narrowed down to a fraction of what is normal;
therefore, there are changes in the way you perceive
the world.
3. There's A Lot To Lose: there is a lot at stake during
the short period of the critical incident (possibly
someone's life, including your own).
CRITICAL INCIDENT EFFECTS:
Physical
 Emotional
 Cognitive
 Behavioral
 Spiritual

Normal Reaction To An Abnormal Event


85% of all persons exposed to a critical incident
will show noticeable signs within 24 hours.
Most of the signs will disappear in a short time,
within 3 weeks with support.
Common Errors in Delivery of Service:
After a Critical Incident




Criticism, advice, embarrassment, humiliation, bad
jokes, false assurances.
Segregated and alone, being ignored.
"War stories."
Minimizing the incident.
What can be done after a
Critical Incident ?





Support, and listen
Explain what procedures will take place
Help with notifications
Information on the symptoms of Critical Incidents
Validation that they are normal
A Peer Support Example
Questions ?