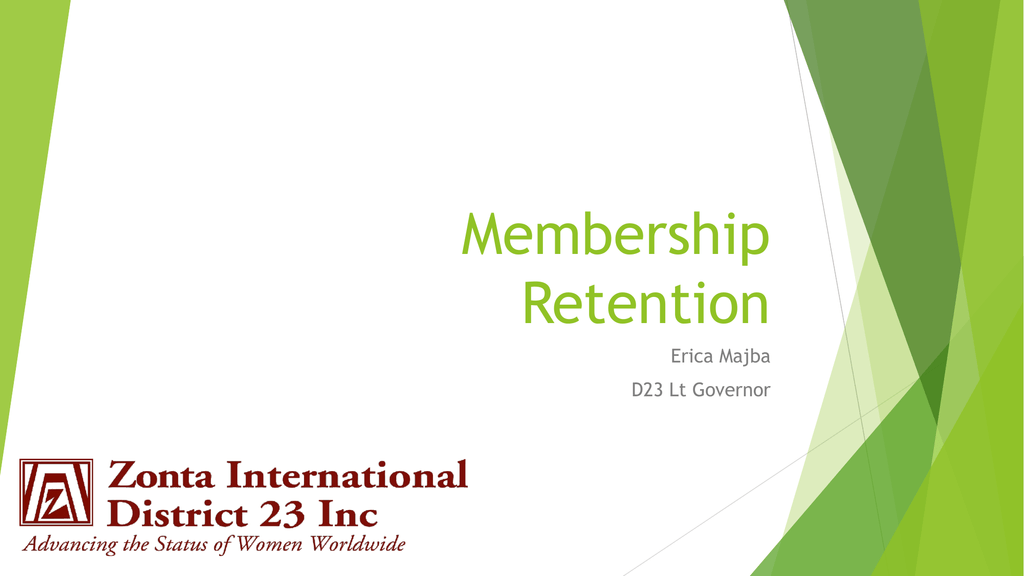 Membership
Retention
Erica Majba
D23 Lt Governor
Membership Numbers

ZI focus on Membership numbers

ZI changes to the By Laws relating to Membership –invitation to join,
classification, diversity of classification, club attendance.
D23 Results of ZI Exit Survey

We work very hard to introduce and induct new members.

D23 Target for Membership

There is a high risk of losing new members within 2 years.
ACTUAL
30 APRIL 2012
721
TARGET for
30 APRIL 2014
730
Actual
31Jan 2014
759
Actual
30 APRIL 2014
786
ACTIVITY –
Use post it notes
Describe the picture using
single words or phrases
• TEAM
• SUM OF THE PARTS
• DIFFERENCE /
DIVERSITY
• LINKING
• CO-OPERATION
• GROUP
UNDERSTANDING
• PLAN
ACTIVITY –
Use post it notes
Describe the picture using single
words or phrases
•
•
•
•
•
LEADER
DIRECTION
PURPOSE
TEAM
CANNOT DO IT
ALONE
ACTIVITY –
Use post it notes
Describe the picture using
single words or phrases
•
•
•
•
•
•
•
•
TEAM
FOCUS
CO-ORDINATION
COMMUNICATION
TRUST
SILLY / RISK
FUN
COMPETITION
We work together to improve the lives of women!
There is no "I" in team! We cannot all be "Chiefs"
We cannot all be "Indians"
Helen
We need to have good team skills and a clear
understanding of our goals!
Sharon
TEAM BUILDING
WHERE ARE WE GOING?
- Vision & Mission
- Purpose
WHO IS GOING TO DO WHAT?
- Roles & Responsibilities
HOW WILL WE DO IT?
- Meetings
- Committees
- Policies & Procedures
WORKING TOGETHER
- Fellowship & Fun
- Communication
- Courtesy, Civility & Respect
COURTESY / CIVILITY / RESPECT

George Washington created rules for civil
and decent behaviour for example:

"Shake not the head, feet, or legs. Roll
not the eyes, nor lift one eyebrow higher
than the other; wry not the mouth; and
bedew no man's face with your spittle by
approaching too near him when you
speak."
Stephen L. Carter –
Professor of law at Yale
Article "Civility: manners, morals and the etiquette of democracy"
1.
Our duty to be civil toward others does not depend on whether we like them
or not.
2.
Civility requires that we sacrifice for strangers, not just for people we happen
to know.
3.
Civility has two parts: generosity, even when it is costly, and trust, even when
there is risk.
4.
Civility creates not merely a negative duty not to do harm, but an affirmative
duty to do good.
5.
Civility requires a commitment to live a common moral life, so we should try
to follow the norms of the community if the norms are not actually immoral.
6.
We must come into the presence of our fellow human beings with a sense of
awe and gratitude.
Civility cont.
7.
Civility assumes that we will disagree; it requires us not to mask our
differences but to resolve them respectfully.
8.
Civility requires that we listen to others with knowledge of the possibility
that they are right and we are wrong.
9.
Civility requires that we express ourselves in ways that demonstrate our
respect for others.
10. Civility requires resistance to the dominance of social life by the values of
the marketplace. Thus, the basic principles of civility – generosity and trust –
should apply as fully in the market and in politics as in every other human
activity.
11. Civility allows criticism of others, and sometimes even requires it, but the
criticism should always be civil.