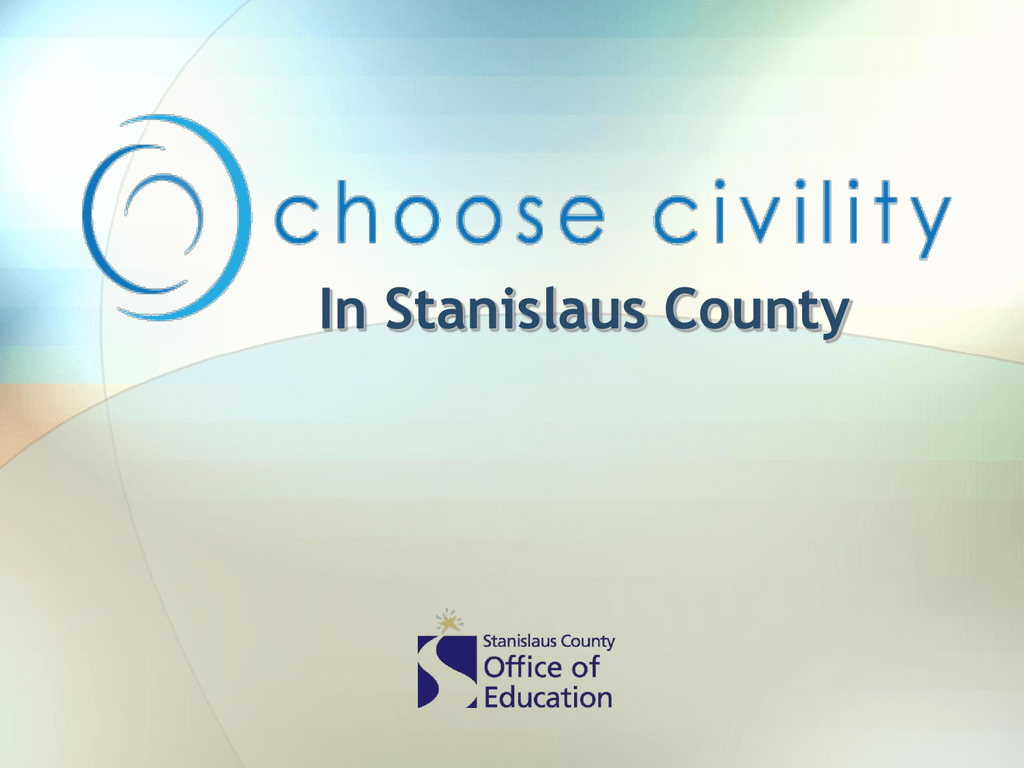 In Stanislaus County
Why Civility?
• Core community value
• Civil dialogue is critical in decisionmaking
• Role models for children
Where Has Civility Gone?
Link
Research Indicates
•Two-thirds of the public believe American society is uncivil
Government/politics
Government/politics
Traffic
on on
Traffic
roads/highways
roads/highw ays
Uncivil %
Talk Radio
Civil %
Talk Radio
High
HighSchools
Schools
0% 10% 20% 30% 40% 50% 60% 70% 80% 90% 100%
- Survey conducted by KRC Research
Vision for the County
• Stanislaus County will be known
throughout the state for its healthy,
vibrant and thriving communities
Goals of the Campaign
• Promote the importance of civility in a
world becoming less civil.
• Encourage community members to
choose positive and respectful behaviors
in their personal and work lives.
Initial Steps
•BOARD OF ADVISORS
•Provide vision and direction
•WORKING COMMITTEE
•Partnerships/Sponsorships
•Events & Activities
•Marketing/Communications
12 Principles
1. Listen
6. Acknowledge Others
2. Respect Other
7. Speak Kindly
People's Time
8. Apologize Sincerely
3. Don't Shift
9. Refrain from Idle
Responsibility and
Complaints
Blame
10. Think the Best
4. Accept and Give
11. Accept & Give
Praise
Constructive Criticism
5. Respect Others'
12. Don't Speak Ill
Opinions
Round Table Civility Discussion
www.stancoe.org/civility
Impact in the County today…
Schools
Keyes
Orville Wright
 Pledge – I am an Orville Wright Peace Builder. I pledge to praise people, give up
put downs, seek wise people, notice and speak up about hurts I have caused,
right wrongs, and to help others. I will build peace at home, at my school and in
my community each day.
Salida Elementary School
Turlock Unified School District
Valley Charter High School
Impact in the County today…
Government and other Agencies
Denair MAC
Doctors Medical Center
Red Shield
Turlock City Council
Impact in the County today…
Businesses
Burnside Auto Body
Gallo Center for the Arts
Maacco Auto Body
Modesto Chamber
Modesto Nuts
The Modesto Bee
Next Steps
It's up to YOU!
• Raise awareness
• Build community
support
Today…
In Two Weeks…
In the Next Month…
Don't Wait…GO FOR IT!
• Tie your own projects to the initiative to
raise awareness of the importance of
civility
• LIKE us on our Face book page
− Tell us what you are doing to promote and
model civility
Thank You!