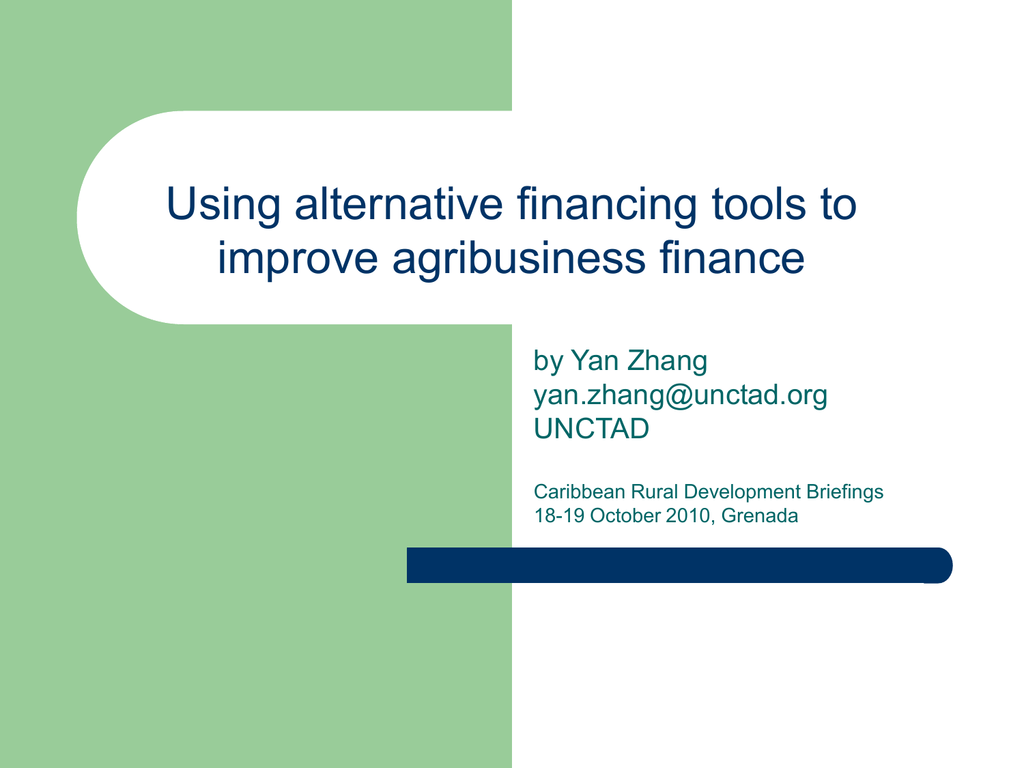 Using alternative financing tools to
improve agribusiness finance
by Yan Zhang
[email protected]
UNCTAD
Caribbean Rural Development Briefings
18-19 October 2010, Grenada
Agriculture in CARICOM




Agriculture is an important contributor to economic
growth and sustainable development of CARICOM
member countries.
However, the development of agriculture is facing
many challenges both at national and international
levels.
Over the last decade, both public and private
investment in the agriculture has declined.
It is crucial to increase agricultural investment and
finance.
Main contraints
in accessing agricultural finance






Agricultural sector often perceived as high risk by
many financial institutions;
Lack of sufficient eligible collateral;
High financing costs;
Lack of tailor-made financial products to meet
specific needs of agricultural borrowers;
Inadequate access to information on available
financing schemes/products;
Lack of support to build bankable projects.
Structured commodity vs. Traditional finance
finance




Transaction based
Looking to the flow of
the goods
Focus on borrower's
perfomance capacity
Innovative loan security
(commodities or future
proceeds)




Balance-sheet based
Looking to the flow of
funds
Focus on borrower's
creditworthiness
Traditional loan security
(savings, physical
assets, third party
guarantee)
UNCTAD's thematic work under the
AAACP



Agricultural commodity financing (e.g.warehouse
receipt financing)
Commodity exchanges
Market information service
- Infocomm: http://www.unctad.org/infocomm
- Infoshare: http://infoshare.unctad.org

Sustainability claims portal
- http://193.194.138.42/en/Sustainability-Claims-Portal/
ALL ACP Agricultural Commodities Programme, funded by the European Union
UNCTAD's working approach on
agricultural commodity finance
To create an enabling
environment for
agricultural commodity
finance
Improving access
to finance by
small producers and SMEs
To develop appropriate
financing mechanisms
for specific commodity
Capacity building on
alternative financing
instruments
Agricultural commodity financing
projects in the Caribbean region

-
Regional
Caribbean regional capacity building
workshop on factoring/receivable discounting
(November 2009 in Barbados)
National (Grenada)
- Improving nutmeg value chain financing

Regional capacity building workshop
on factoring/receivable discounting
Background:

Delayed payment by buyers to farmers who are
selling agricultural commodities to the main players
of the tourism industry;

Demand for innovative and suitable financing
instruments to reduce risk at farmers' level and
facilitate trade
Regional Capacity building workshop
on factoring/receivable discounting
Objectives:
1. To raise awareness and build capacity in the area
of factoring and invoice discounting as a financing
technique that can be used to help farmers access
financing;
2. Help to integrate small-scale farmers into the
supply chain of the tourism industry.
Key issues on factoring
US definition on factoring
" a continuing arrangement between a factoring concern and
the seller of goods or services on open account, pursuant to
which the factor performs the following services with respect
to the accounts receivable…"
1.
2.
3.
4.
Purchases all accounts receivable for immediate cash;
Maintains the ledgers and performs other book-keeping
duties;
Collects the accounts receivable;
Assumes losses which may arise from the customer's nonpayment.
Key issues on factoring
Fondamental points:





Short-term, working capital financing
Serve SMEs with large number of transactions
Finances only post-invoice contractual obligations
Factor needs confidence that Buyer accepts goods
There needs to be absence of continuing obligations
by Seller after delivery of goods
Domestic factoring flowchart
1.
2.
③
Seller
Buyer
3.
①
②
④
⑤
⑦
⑥
4.
5.
Factor
6.
7.
Seller submits the request to the
Factor.
Factor considers Buyer's
creditworthiness and approves
financing limit. Factor and Seller
sign factoring agreement.
Seller delivers the goods to Buyer
and issues the invoices.
Seller assigns the invoices to
Factor and informs Factor of any
special payment arrangements.
Factor finances the value of the
invoices at the previously agreed
rate.
Factor collects receivables at the
end of the credit period.
Factor remits to Seller the
balance in excess of the finance
cost.
Main findings of the workshop



In general, the region would follow the UK legal
framework on the sale and purchase of invoices and
the rights of creditors in the event of a buyer's
insolvency.
Development banks and farmers associations are
working together to identify solutions to improve
farmers' access to finance.
There are a number of initiatives, though at various
stage of development, in moving in the direction of
developing factoring and invoice discounting as a
financing solution to improve farmers' cash flows.
Way forward





Development banks - take the lead in developing factoring
scheme based on their specific country conditions;
Farmers' organizations and SMEs – training on the mechanism
and impact of factoring scheme;
Ministries - informed from the beginning to provide necessary
support in the legal, regulatory and taxation areas;
Regional financial institution and organizations - technical
assistance to the specific project based on stakeholders'
demand;
International organizations - capacity building activities
Improving nutmeg value chain
financing in Grenada
Objective:
To carry out a study to analyze the nutmeg value
chain, identify gaps and bottlenecks for finance,
especially those related to financing smallholders,
and provide recommendations on how to improve
nutmeg sector financing in general and to facilitate
access to finance by smallholders in particular.
For more information on UNCTAD's work under AAACP:
http://www.unctad.info/en/Special-Unit-onCommodities/Events-and-Meetings/All-EU-ACP-/
Thank you!
Merci beaucoup!