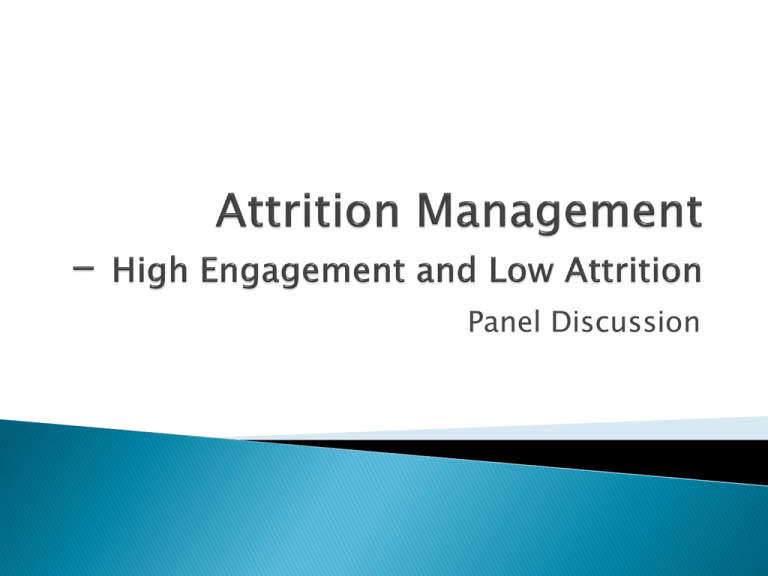 Panel Discussion
Kamna Prasad
Head- Human Resources
CRISIL Global Research & Analytics


Attrition is here to stay in India
Skewed Talent Situations
◦ High Demand
◦ Poor Supply



"50% of corporate India is thinking of
changing their job"
Lure of 30% more in salaries
You have good people? Tough luck- they will
be hired by someone else soon!
"Oh! The Market" Syndrome

The Westminster's Modern HR dictionary
defines Employee Engagement as "An
overused, misused and abused HR term used
frequently by HR business partners who are
"strategic partners for business leaders"
 Just

Kidding..
Engagement is the willingness of an
employee to come into office each day and do
good work


Attrition is an Outcome, Not an Event
Push and Pull Factors:
◦ Stop blaming it on the market alone
◦ Focus on the fundamentals- what keeps a person
engaged
◦ Believe in yourself
◦ Lead by example: See people as people, not
resource
◦ Believe that retention Initiatives do help in reducing
attrition, but not the song and dance type stuff
◦ Work on the Culture
 Help Line Managers
◦ Most of them need support in dealing with people and they
may not realise it
 Engage with Employees, esp new hires
 Anticipate Attrition- Early warning system
 Respect Employees and their views
Is this what your managers do
to your people?
Oh! The Market….