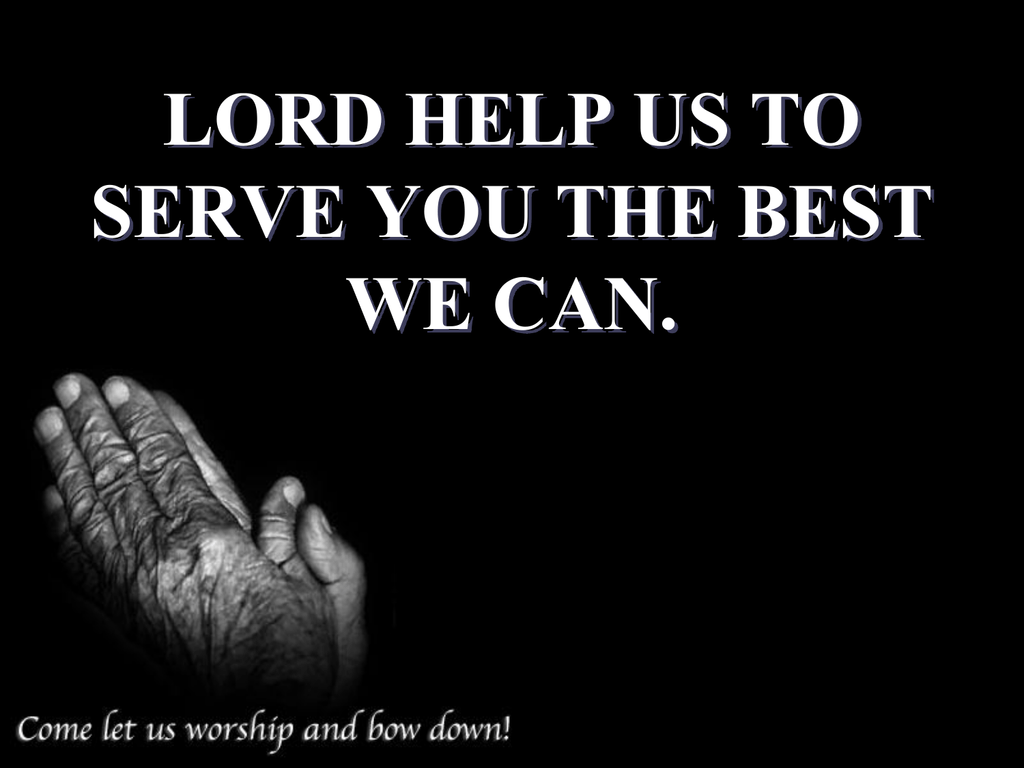 LORD HELP US TO
SERVE YOU THE BEST
WE CAN.
• 2Sa 24:24 And the king said unto Araunah,
Nay; but I will surely buy it of thee at a price:
neither will I offer burnt offerings unto the
LORD my God of that which doth cost me
nothing. So David bought the threshingfloor
and the oxen for fifty shekels of silver.
• 25 And David built there an altar unto the
LORD, and offered burnt offerings and peace
offerings. So the LORD was intreated for the
land, and the plague was stayed from Israel.
WHO WOULD OFFER TO GOD THAT
WHICH COST THEM NOTHING?
• JESUS
• Php 2:5 Let this mind be in you, which was also in
Christ Jesus:
• 6 Who, being in the form of God, thought it not robbery
to be equal with God:
• 7 But made himself of no reputation, and took upon
him the form of a servant, and was made in the likeness
of men:
• 8 And being found in fashion as a man, he humbled
himself, and became obedient unto death, even the death
of the cross.
• Joh 1:1 ¶ In the beginning was the Word, and the Word was
with God, and the Word was God.
• 2Co 8:9 For ye know the grace of our Lord Jesus Christ, that,
though he was rich, yet for your sakes he became poor, that
ye through his poverty might be rich.
• BORN IN A STABLE
• BAPTISED BY JOHN THE IMERSER MATT 3:14
• FOUGHT WITH THE PHARASEES, THE PEOPLE.
• JOHN 11 JESUS KNEW THE PHARASEES WERE GOING
TO KILL HIM.
• JOHN 13:21 HE PREDICTED HIS BETRAYEL.
• GARDEN OF GETHSEMENE
• MOCKED, SCOURGED, SPIT ON, BACK WAS
MUTILATED.
• SEVEN SAYINGS FROM THE CROSS
• 2Co 5:21 For he hath made him to be sin for
us, who knew no sin; that we might be made
the righteousness of God in him.
• WHERE DID JESUS TAKE SHORTCUT?
• WHERE DID JESUS DEBATE AND
ARGUE WITH GOD?
• WHERE DID JESUS EVER TRY TO BE
MEDIOCRE?
WHO WOULD OFFER TO GOD THAT
WHICH COST THEM NOTHING?
• APOSTLES?
• THEY CHANGED THEIR LIVES.
– PAUL
– ALL DIED MARYTERS SAVE JOHN.
– 1Co 4:9 For I think that God hath set forth us the apostles last, as it were
appointed to death: for we are made a spectacle unto the world, and to
angels, and to men.
– 10 We are fools for Christ's sake, but ye are wise in Christ; we are weak,
but ye are strong; ye are honourable, but we are despised.
– 11 Even unto this present hour we both hunger, and thirst, and are naked,
and are buffeted, and have no certain dwellingplace;
– 12 And labour, working with our own hands: being reviled, we bless; being
persecuted,
we suffer it:
• ASKED TO BE QUIET BUT WOULD NOT.
– ACTS 4,
– Ac 5:39 But if it be of God, ye cannot overthrow it;
lest haply ye be found even to fight against God.
– 40 And to him they agreed: and when they had called
the apostles, and beaten them, they commanded that
they should not speak in the name of Jesus, and let
them go.
– 41 And they departed from the presence of the
council, rejoicing that they were counted worthy to
suffer shame for his name.
– 42 And daily in the temple, and in every house, they
ceased not to teach and preach Jesus Christ.
– LOVED SOULS, AMBASSADORS FOR CHRIST,
LOVED GOD
• 2Co 11:24 Of the Jews five times received I forty stripes
save one.
NAM
E ONE
THING
COULD
• 25 Thrice
was I beaten
withTHEY
rods, once
was I stoned,
thrice I DONE
suffered shipwreck,
HAVE
MORE.a night and a day I have
been in the deep;
• 26 In journeyings often, in perils of waters, in perils of
WHAT
GIVE?
robbers,ELSE
in perilsCOULD
by mine ownTHEY
countrymen,
in perils by
the heathen, in perils in the city, in perils in the
wilderness, in perils in the sea, in perils among false
THEY
COULD HAVE QUIT AT
brethren;
ANYTIME.
• 27 In weariness and painfulness, in watchings often, in
hunger and thirst, in fastings often, in cold and
nakedness.
• 28 Beside those things that are without, that which
cometh upon me daily, the care of all the churches.
WHO WOULD OFFER TO GOD THAT
WHICH COST THEM NOTHING
• EARLY CHURCH
– ACTS 8 PREAHED THE WORD EVEYWHERE
– ACTS 4 SOLD THEIR HOMES, SOLD THEIR
PERSONAL PROPERTIY.
– SUFFERED AND DIED LIKE THE APOSTLES
– FULFILLED THE GREAT COMMISSION.
• SOME FAILED LIKE DEMAS BUT MOST GAVE
EVERYTHING.
• NERO TREATED CHRISTIAN TERRIBLY.
• BURNED THEM, TORTURED THEM, DROWNED
THEM
• CHRISTIANS HAD TO GO UNDERGROUND.
WHO WOULD OFFER TO GOD THAT
WHICH COST THEM NOTHING?
• MEN AND WOMEN WHO ARE SICK OF
SIN.
• TRULY CONVERTED (REPENTED).
• SICK OF SIN AND NEVER WANT TO GO BACK.
WHO WOULD OFFER TO GOD THAT
WHICH COST THEM NOTHING?
• YOU.
• WHAT DO YOU SACRAFICE? DOES IT
COST YOU ANYTHING?
• GIVING
» ATTENDENCE
» TIME
» STUDY
» WHAT EFFORT DO YOU PUT
FORTH FOR THE KINGDOM?
» SACRAFICES THAT COST YOU
NOTHING DO YOU NO GOOD!!!!!!!!!