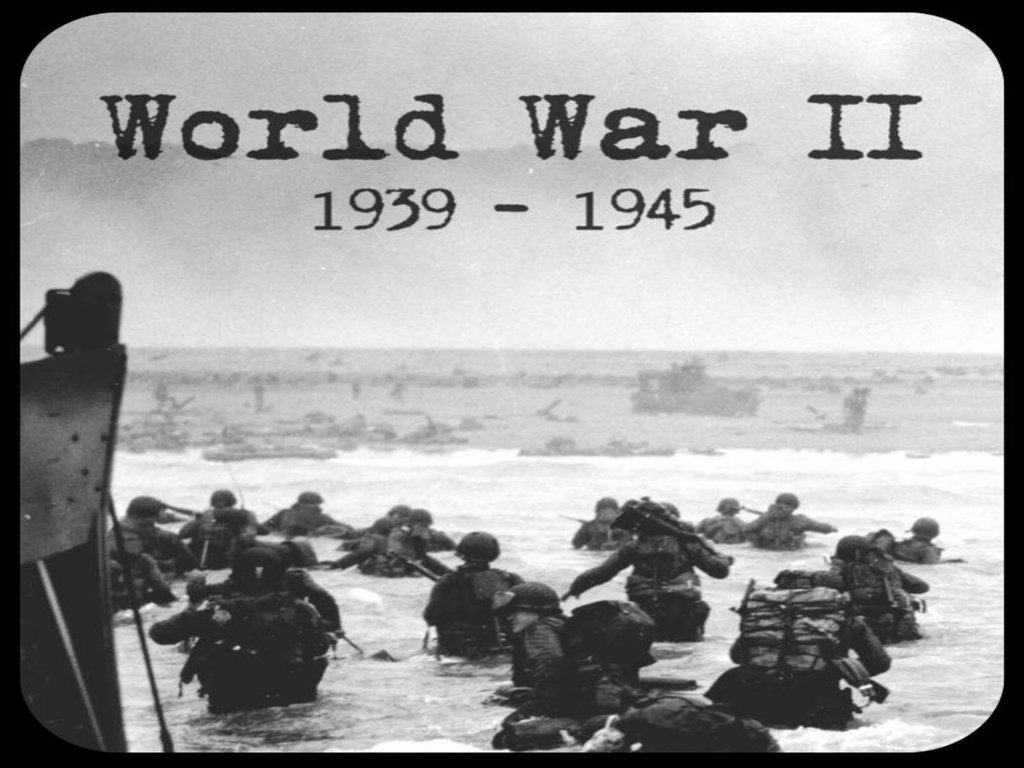 WW II
• WW II was going on for years before
the US became involved.
• Japan made the USA become
involved on December 7, 1941.
WW II
• In a planned military attack on a Sunday
morning, the naval base was attacked by the
Japanese fighter pilots.
• An African American soldier who served as a
cook, fought off a few Japanese planes in the
process, thus saving American lives.
DORIE MILLER
WW II
After the attack at Pearl Harbor, President
Franklin D. Roosevelt received permission from
Congress to enter the war…
and
for the next 4 years, America helped her allies
defeat their foreign enemies.
WORLD WAR II
ALLIED
BIG THREE
GREAT BRITAIN
SOVIET UNION
UNITED STATES
AXIS
BIG THREE
GERMANY
JAPAN
ITALY
WW II
With the war close to an end, the US chose to
utilize a secret weapon that HAD NEVER been
used before in world history.
ATOMIC BOMBS were dropped on two cities in
Japan, which killed men, women, and babies.
DID YOU KNOW?
• JAPANESE AMERICANS WERE HELD IN
PRISONS (INTERNMENT CAMPS ) DURING THE
WAR.
• OUR GOVERNMAENT GAVE REPARATIONS TO
THE JAPANESE WHO WERE IMPRISONED.
AFRICAN AMERICAN
INVOLVEMENT IN
WW II
AA INVOLVEMENT IN WW II
BENJAMIN O.
DAVIS SR.
BECAME THE FIRST A.A TO
BECOME A GENERAL IN
THE UNITED STATES ARMY
GEN. BENJAMIN O DAVIS SR
AA INVOLVEMENT IN WW II
AFRICAN AMERICAN SOLDIERS WERE MAINLY
USED IN NON-COMBAT DUTIES DURING THE
START OF THE WAR.
BUT WHEN THEY DID FIGHT, THEY PLAYED A
BIG ROLE IN HELPING AMERICA WIN.
AA INVOLVEMENT IN WW II
THE AA SOLDIERS WERE STILL FACED
DISCRIMINATION FROM THEIR
FELLOW WHITE SOLDIERS WHILE
THEY WERE FIGHTING OVER SEAS
HOWEVER.
AA INVOLVEMENT IN WW II
THE BLACK SOLDIERS
CREATED SOMETHING
CALLED THE DOUBLE V
CAMPAIGN
TO SIGNIFY THAT THEY
WERE FIGHTING TWO
WARS AT THE SAME
TIME.
HARLEM HELL FIGHTERS
ONE OF THE MORE POPULAR AA TROOPS
THAT FOUGHT IN WW II WERE THE HARLEM
HELL FIGHTERS.
THE HARLEM HELL FIGHTERS RECEIVED THEIR
NAME BECAUSE OF THE SKILLS THEY
DISPLAYED IN BATTLE.
HARLEM HELL FIGHTERS
TUSKEGEE AIRMEN
ANOTHER AA TROOP THAT HELPED TO SECURE
VICTORY FOR AMERICA WERE THE
TUSKEGGEE AIRMEN.
THEY WERE AN ENTIRE BLACK REGIMENT OF
FIGHTER PILOTS WHO WERE TRAINED AT
TUSKEGEE INSTITUTE BY BENJAMIN O. DAVIS
JR.
BENJAMIN DAVIS JR
TUSKEGEE AIRMEN
THEY WERE NOT PERMITTED TO FIGHT AT
FIRST, BUT WHEN ALFRED "CHIEF" ANDERSON
TOOK THE FIRST LADY (ELANOR ROOSEVELT)
FOR A TEST RIDE, SHE CONVINCED HER
HUSBAND TO ALLOW THEM TO PARTICIPATE
IN THE WAR.