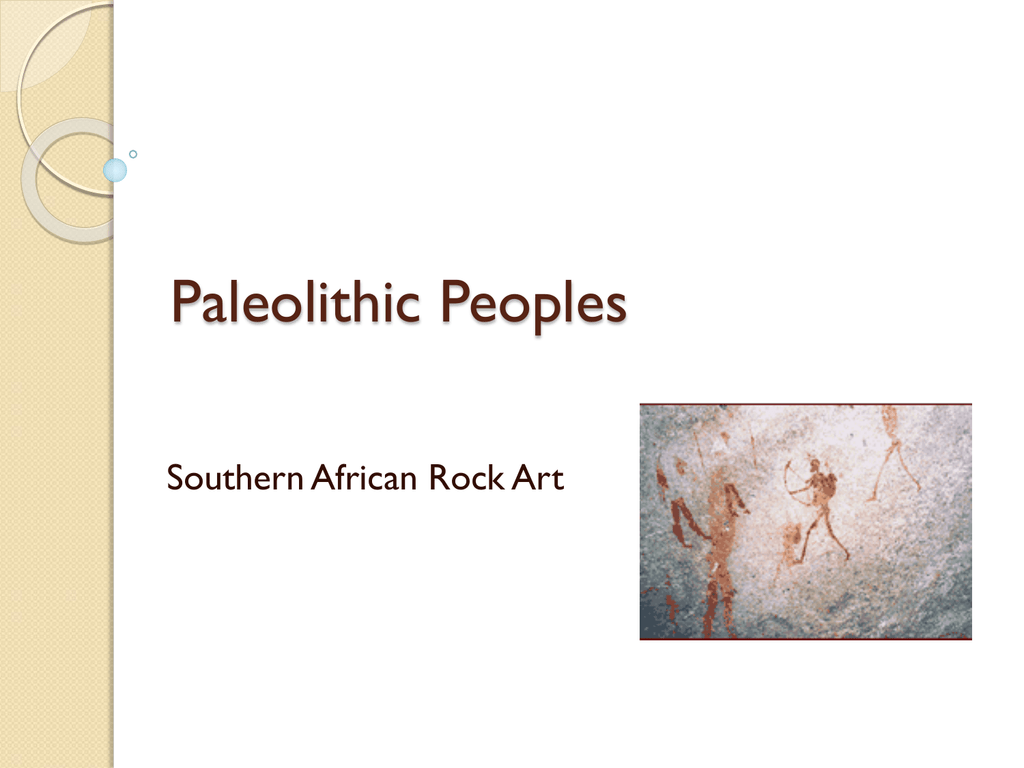 Paleolithic Peoples
Southern African Rock Art
Early Human History
5 million BCE - first hominids (human
relatives) evolved in east Africa
 @500,000 years ago - first modern
hominids (humans like us): larger brains
 150,000 to 200,000 BCE - first homo
sapiens (modern humans)
 Other hominid groups died out
 Links to Human Family Tree & Timeline

Age of Earth vs. Humans
Age of the Earth = 4.5 billion years
Hominid history = @ 5-6 million years
Homo sapiens (like us) = 200,000 years
1 billion years =
1000 million years
Early Human History (cont.)
Human adaptations to environment and
resources
 Human migrations for food and other
survival reasons – populated other
continents
 By 50,000 BCE humans in Southeast Asia
and Australia
 By 12,000 BCE in northeast Asia and
Americas

Great website on human
evolution:
Smithsonian Institution's
"What Does It Mean to Be
Human" website
History of Human Migration
First homo sapiens evolved in eastern Africa – migrated to other continents
over next 50,000 years
Problems Studying Early Human
History?
 1st
written records only 5 thousand years
ago – few survive
 Using artifacts
 Fossil records
 Have to use other sources of info.
 Accuracy?
Link - list and
 Meaning?
explanation of
 Forensic science
diff. forms of
dating
 DNA, carbon dating
Paleolithic Rock and Cave Art
Video Links
Rick Steves at Lasceaux, France
 Lasceaux Prehistory of Art, Part 1

Paleolithic Cave Paintings: Europe
Location of African Rock Art
Spans centuries: 35,000 B.C.E+ to present
Drakensberg Mountains,
South Africa
Cave Art, Inanke, Zimbabwe
Drakensberg, South Africa
Characteristics of Paleolithic
Peoples
Paleolithic Life: 2 million – 10,000
years ago
Early hominids and homo sapiens used
stone tools
 Lived in family groups
 Foraged for food – cooperation
 Hunting and gathering
 Adapted to environment and other
changing situations
 Developed different cultures

Paleolithic Tool Kit
Linton Panel – The 'Rosetta Stone'
of S.A. Rock Art
Created in 18th or 19th century, C.E.
Game Pass, SA – original location of
Linton Panel
Linton Panel Drawing
Interpretation of Rock Art?:
San Trance Ritual
Lonyana Rock, Kwazulu-Natal, South Africa.
Meaning? Significance?
San Trance – Bleeding from Nose
Trance: Bleeding from Nose
San Trance Rituals
Trance: Meaning? Significance?
Storm Shelter, Eastern Cape, South Africa
Meaning? Significance?
Shaman
Transformed
Trance: Swallows (Birds)
Shaman and Participants
Shaman
Portrait of a Shaman
Storm Shelter,
Eastern Cape, South Africa
Modern
Rock Art:
Men on
horses with
rifles
Link to The African Rock Art
Archive
Were Paleolithic people civilized?
or
What do we know about Paleolithic
culture?