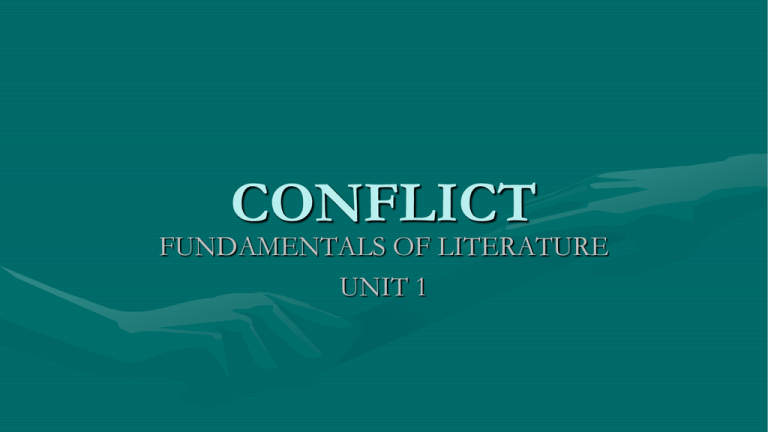 CONFLICT
FUNDAMENTALS OF LITERATURE
UNIT 1
MISS HINCH
• CONFLICT MAN VS. MAN- JESSIE DARK AND MISS
HINCH
• Miss Hinch was a murderer with a pointy chin.
• Jessie Dark was an investigative reporter who claimed her
women's intuition would help her capture Miss Hinch.
• The clergyman and the old lady remain together because they
suspect each other.
MISS HINCH
• They change seats on the subway, observe each
other, and even have a cryptic conversation about
Jessie Dark.
• The notes the locations at the subway and restaurant
were important for police to track her.
TOP MAN
• Three Conflicts:
–Man against Man: Nace vs. Osborn
–Man against Nature: They were climbing a
mountain
–Man against Himself: Nace wanting to make it
to the top.
TOP MAN
•
•
•
•
•
Nace- in his 40's, Osborn 23.
Nace English- quiet and thorough
Osborn American- talkative, rash
Nace had attempted to climb the mountain before.
Osborn was an experienced climber, but he had no
experience with K3.
• K3 was located in the Himalayas
"Top Man" Conflict Resolution
• Osborn makes it to the top, but he does not admit it.
A later expedition finds Nace's axe.
• Osborn realizes that without Nace he would have
died.
• Osborn conquers the mountain
• Nace conquers his fears, and Osborn conquers his
arrogance.
THROUGH THE TUNNEL
• Jerry: A young boy, widowed mom, no dad, wants to
grow up
• Conflict man vs. himself
• He is secretive in his quest to swim through the rock
tunnel. He doesn't tell anyone (not wise).
• Salt water stings his eyes, he can see, nosebleeds
• Asks mom for goggles, practices holding his breathe
• The last day he is able to push himself through, dark
then light, nosebleeds, but makes it!!!!
THE DUEL
• Protagonist: Ivan
• Conflict: man vs. himself- He has been tasked with finding a way
to tell Vladimir's mother that her son is dead. No one thought of
this problem until Vladimir was dead.
• Cause of the duel: the men wanted to protect their honor
• Mother is in a good mood when he arrives because she is excited
about his upcoming wedding.
• The story has no denouement. Ivan runs away without
completing his task.
CHIMLEY
• Chimley was unique in that it was part of a larger work
describing the conflict of each man.
• Conflict was man vs. himself- Chimley needed to
decide for himself if he was going to stand up against
the prejudice and vigilante justice.
• Chimley was in his 70's and the story takes place in
the1970s.
CHIMLEY
• Mathu had been the one person to stand up in the past.
Now the men of his community must decide if they would
stand up for him.
• They were to get their guns, put in a certain type of shell,
shoot the guns, and then show up at the house.
UNDER THE LION'S PAW
• THREE CONFLICTS:
– MAN VS. A GREATER POWER
• THE STRUGGLE OF A FARMER TO WORK THE LAND AND GROW
ENOUGH TO SUPPORT A FAMILY
• HASKINS'S RESOLVES THIS STRUGGLE BY WORKING HARD AND
SUCCEEDING
– MAN VS. MAN
• HASKINS VS. BUTLER
• BUTLER WINS IN THAT HASKINS ACCEPTS BUTLERS UNFAIR
TERMS
– MAN VS. HIMSELF
The Characters
• The Council's: cheerful, helpful, content with little.
• The Haskins: desperate at the beginning, forced to
make a decision in the end.
• Butler: greedy, manipulative
UNDER THE LION'S PAW
• HASKIN'S IS "UNDER THE LION'S PAW" BECAUSE HE
IS TRAPPED BY THE CORRUPTION.
• LAND SPECULATION IN THE WEST WAS A MAJOR
ISSUE.
• MANY PEOPLE, LIKE BUTLER, WENT INTO LAND
SPECULATION TO GET RICH.
UNDER THE LION'S PAW
• HASKINS HAD WORKED HARD TO FIX THE
FARM AND YET HE WAS NOT REWARDED
BECAUSE THE SPECULATOR (BUTLER) WAS
ABLE TO TAKE ADVANTAGE OF THE
SITUATION.
• HASKINS WORKED HARD AND IMPROVED THE
FARM; BUTLER RAISED THE PRICE OF THE
FARM RENT BY $3,000 (FROM $2,500 TO $5,500).