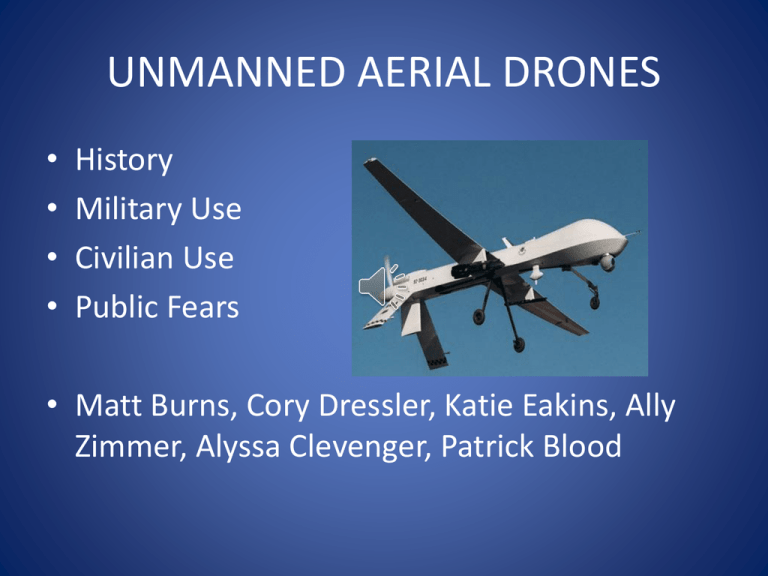 UNMANNED AERIAL DRONES
•
•
•
•
History
Military Use
Civilian Use
Public Fears
• Matt Burns, Cory Dressler, Katie Eakins, Ally
Zimmer, Alyssa Clevenger, Patrick Blood
HISTORY OF UNMANNED AERIAL DRONES
• Remote controlled weapons have been use
since the Second World War, beginning with
television-guided bombs used by the Nazis.
• Precision weapons were proven in the First
Gulf War, and the need for greater intelligence
for up-to-the-minute information shown in
the Yugoslav Wars
• UAVs introduced in OIF/OEF
UNMANNED AERIAL VEHICLES
MILITARY USES
• Attacking targets remotely
without risking American
lives.
• Constant surveillance of
enemy targets.
• Near-instant strikes on
targets of opportunity.
• Air support for ground
troops and allied forces.
CIVILIAN USE OF DRONES
• Universities can use
drones for scientific and
academic research
study.
• Rescue services can use
them in the event of
natural disasters or
emergencies.
• Police can use them to
track suspects.
CIVILIAN FEARS
• Some people fear that drones could be used
to spy on private citizens or attack protestors
• Concerns that it will give the President too
much power to use force without public
knowledge or approval
• Theory that ease of drone use will make the
use of military force more attractive over
diplomatic alternatives.