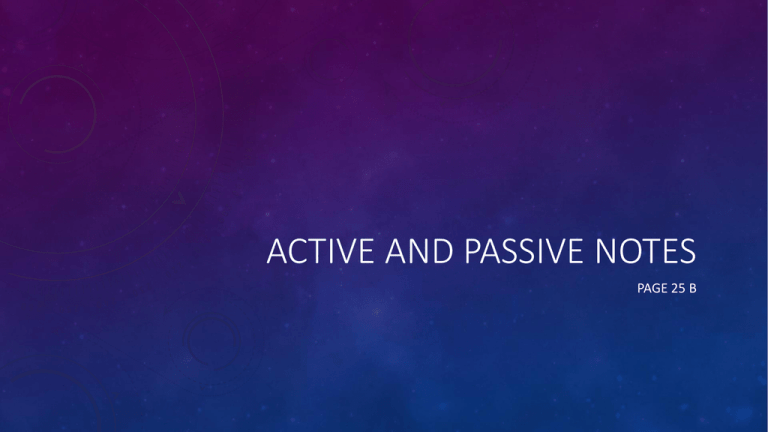 ACTIVE AND PASSIVE NOTES
PAGE 25 B
OBJECTIVES
• IWBAT distinguish between active and passive
voice.
• IWBAT use active and passive voice
appropriately in a response.
ACTIVE VERSUS PASSIVE VOICE
• Writers use active and passive voice to convey
certain effects. Be sure you understand and use
these voices correctly and deliberately.
• You should generally use active voice because it
puts the emphasis on WHO or WHAT is performing
the ACTION of the verb rather than on the verb
itself.
PASSIVE VOICE
• The passive voice contains some form of "be" (is, was,
were, was being, has been, etc.) plus a past participle of
the verb.
• Passive voice= "to be" verb + past participle.
Just the verb "to
remove"
• Active voice: Harrison removed his handicaps.
• Passive voice: The handicaps were removed by Harrison.
"to be" verb Past participle
"to remove"
WHICH ONE IS PASSIVE?
•
•
•
•
Harry ate six shrimp at dinner.
At dinner, six shrimp were eaten by Harry.
The crew paved the entire stretch of highway.
The entire stretch of highway was paved by the crew.
• Put this in passive voice:
• I will clean the house every Saturday.
• Put this in active voice:
• The entire house was painted by Tom.
PRACTICE ON 25A
Sentence from the story
with parenthetical citations
( ).
1.
2.
Identify: Active or Passive?
Re-write to illustrate the
opposite
CER ON 24B
• Write a short CER (one C, one E and one R) answering this
question:
• How does Harrison Bergeron's theme convey the conflict
between the needs or ideals of a society and the realities of an
individual?
Example claim:
The theme of 'Harrison Bergeron' is that even though society
wants ________________________________, the reality is that
individuals _________________________________________.