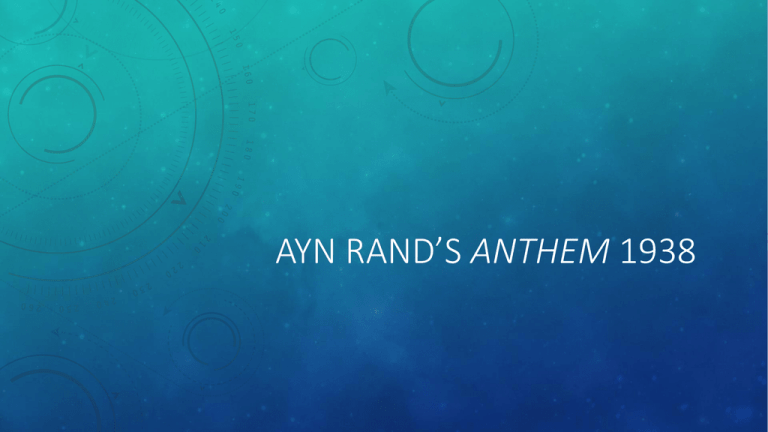 AYN RAND'S ANTHEM 1938
ON A PIECE OF PAPER,
WRITE DOWN A
QUESTION YOU HAVE
ABOUT THE NOVEL.
CONTEXT FROM SHMOOP UNIVERSITY
Rand intended Anthem to be a scathing critique of collectivism, which can be
defined as any philosophy that subordinates the individual to the well being of
the community, or collective. It's no big surprise Rand hated collectivism so
much – the real life version of it that she experienced scarred her for life. Rand
was born in Russia in 1905, to a fairly well-off, intellectual Jewish family (her
father was a chemist and pharmacist). At age twelve, she witnessed the Russian
Revolution, in which the communists (most definitely "collectivists") took over
the county and began to expropriate property from the well-off in the name of
"the people" and "the proletariat" (the poor, working class). Rand's family lost
almost everything to the government, including their pharmacy, and Rand
herself was later almost expelled from the university for not being "proletarian"
enough (that is, not enough like your average member of the working class).
QUIZ 2/4
In comparing the Dream Works clip of
ANTZ to Ayn Rand's Anthem, explain two
obvious similarities and two obvious
differences.
(Note: You will get this wrong if you say
the movie characters are ants, and the
book characters are humans.)
READS LIKE SCRIPTURE?
In the very first sentence, we come across the word "sin" (18).
Many of the other words used throughout the story to
describe that which is forbidden in Equality 7-2521's society
also have a religious resonance: Transgression, Evil Ones,
Unspeakable Word, Unmentionable Times.
It's often been noted that totalitarian societies adopt some of
the trappings of organized religion, and effectively become
religion for the population. Ayn Rand may be capturing that
idea here.
FROM NEGATIVE TO POSITIVE
• But on the other hand, there's a noticeable absence of any
positive religious words like "sacred," "divine" in circulation
within Equality 7-2521's society.
• The only time Equality 7-2521 uses any such language while
he is still in the city is when he describes the Transgressor as
a Saint.
• It is once he leaves the City and discovers the word "I" that
he starts to use positive religious language. And then it just
doesn't stop: Spirit, temple, temple of spirit, sacred, and
holy.
S
I
F
T
SYMBOL: CESSPOOL
(MERRIAM WEBSTER)
1) an underground reservoir for
liquid waste
2) a filthy, evil, or corrupt place or
state <a cesspool of corruption>
ELIÁN'S FUTURE IN A TOTALITARIAN STATE
BY BERIT KJOS
APRIL, 2000 TIME MAGAZINE
THE CODE OF THE CHILD OUTLINES THE BASIC RULES AND
RESTRICTIONS OF EDUCATION AND CHILD-RAISING:
• Article 3. The communist formation of the young generation is a valued aspiration of the state, the
family, the teachers, the political organizations, and the mass organizations that act in order to foster in
the youth the ideological values of communism.
• Article 5. The society and the State watch to ascertain that all persons that come in contact with the
child during his educational process constitute an example for the development of his communist
personality.
• Article 8. Society and the State work for the efficient protection of youth against all influences contrary
to their communist formation.
• Article 9. Educators have a high mission in the development of the communist personality.
• Article 23. Upon completion of primary schooling young people may continue their education... on
the basis of their academic achievement, political attitude and social conduct.
• Article 68. Children and young people prepare for the patriotic/military education by acquiring military
knowledge… and active military service making their own the principles of proletarian internationalism
and combative solidarity.
JANUARY 22, 2013
5 19TH-CENTURY UTOPIAN COMMUNITIES IN THE
UNITED STATES
BY BETH DUNN
UTOPIAN COMMUNITIES IN 19TH-CENTURY AMERICA WERE CONSIDERED BY
MANY TO HERALD A NEW AGE IN HUMAN CIVILIZATION. OFTEN LED BY
CHARISMATIC LEADERS WITH HIGH RELIGIOUS OR SECULAR MORAL IDEALS,
THESE SETTLEMENTS EXPERIMENTED WILDLY WITH DIFFERENT MODELS OF
GOVERNMENT, MARRIAGE, LABOR AND WEALTH. HUNDREDS OF SUCH
SOCIETIES LITTERED THE U.S. LANDSCAPE DURING THE 1800S, MOST
DISAPPEARING WITHOUT A TRACE. HERE ARE FIVE THAT MADE A LASTING
IMPRESSION ON LIFE IN THE UNITED STATES, FOR BETTER OR FOR WORSE.
1. BROOK FARM (1841-1846): THE TRANSCENDENTALIST
ROMANCE
• The philosophical movement known as Transcendentalist was in full swing when Unitarian
minister George Ripley founded Brook Farm in the rural Boston suburb of West Roxbury in
1841. The community wasn't particularly unique for its time—after all, more than 80
utopian communities were launched in the 1840s alone—but it was notable as the first
purely secular one.
• Members farmed the land together and held the fruits of their labor in common. The
idea was that this would give settlers more time to pursue their own literary and
scientific interests, which would then benefit the rest of humankind.
• Money troubles and internal squabbling eventually eroded the community, which
disbanded after only a few years in existence. Founding member Nathaniel Hawthorne
ended up having a pretty miserable time there, which he would later document in his
fictionalized account of Brook Farm, "Blithedale Romance."
2. FRUITLANDS (1843-1844): THE FARM WITHOUT FARMERS
• Fruitlands was founded in Harvard, Massachusetts, as a self-sufficient farming community by
Charles Lane and Bronson Alcott, two men with no practical experience in either farming or selfsufficiency. In contrast to the more freewheeling ethos of Brook Farm, Lane advocated a far more
rigorous lifestyle.
• Settlers were forbidden to eat meat, consume stimulants, use any form of animal labor, create
artificial light, enjoy hot baths or drink anything but water. Lane's ideas later evolved to include
celibacy within marriage, which caused no small amount of friction between him and his most
loyal disciple, Bronson Alcott, who had relocated his wife and four daughters to Fruitlands.
• Bronson's family included a young Louisa May Alcott, future author of Little Women. Louisa, her
sisters and their mother appear to have been saddled with the lion's share of labor at Fruitlands,
despite lip service from Lane about the alleged equality of the sexes. When winter set in and life
at Fruitlands became increasingly harsh, most of its original members fled for more congenial
settings. Louisa later wrote a scathing, barely fictionalized report of life at Fruitlands called
"Transcendental Wild Oats." The community lasted less than seven months in total.
• from Merriam Webster: lip service is the support for someone or something that is expressed by
someone in words but that is not shown in that person's actions
3. NEW HARMONY (1825-1829): THE BOATLOAD OF
KNOWLEDGE
• The settlement of New Harmony in Indiana was established to allow its
members to pursue the study of the sciences and natural philosophy without
the encumbrances of modern, capitalist life.
• Its founder, social reformer Robert Owen, successfully lured away from
Philadelphia an entire community of scientists who at the time were considered
the brightest and most promising in the nation, including several founding
members of the National Academy of Science.
• Many of these original settlers traveled by boat together to their new home in a
journey that was referred to as the "Boatload of Knowledge." The community
thrived for four years before collapsing amid internal disputes over money.
But it did succeed in establishing a western center of scientific discovery at a
time when these activities were largely confined to the northeastern states.
4. ONEIDA (1848−1881): THE COMPLEX MARRIAGE
• The Oneida colonists in upstate New York considered themselves
all to be married to each other in a practice they called "complex
marriage." Monogamy was thoroughly rejected, and all decisions
about childbearing and procreation were handled by committee.
• Not to say there weren't slip-ups: A number of children were born
without the sanction of the community, though they appear to
have been provided for just as if they'd been planned in
accordance with the rules. Mothers were only given the care of
their offspring for the first few years of life, while the community
at large assumed responsibility for older children.
5. THE SHAKERS (1745-): THE SIMPLE LIFE
• Technically founded in the 18th century, the Shakers nevertheless enjoyed a
heyday in the 19th, spawning numerous settlements across the United
States, attracting converts and adopting infants and children who were left in
their care.
• The Shakers are known today mostly for their starkly simple furniture design,
the successful manufacture and sale of which was a primary reason for their
enduring success. Shakers practiced celibacy and communal ownership of
goods, along with a strict separation of the sexes in both work and life.
• Membership dwindled in the early 20th century, eventually leading to the
consolidation of more than a dozen communities into just a few. Most Shaker
settlements have now been converted into museums, although one small
cluster still persists in their unique way of life in a small community in rural
Maine.
AND YET . . .
FROM LANCASTER COUNTY
PENNSYLVANIA DUTCH CONVENTION & VISITORS BUREAU
• The PA Amish lifestyle has remained largely unchanged since they
settled in Lancaster County 300 years ago. On the surface, the PA
Amish lifestyle might appear to be staid and inflexible.
• However, it reflects a way of life that is based on a literal
interpretation of the Bible, as well as unwritten rules from the
Amish Ordnung that prescribes behavior, appearance and other
aspects of the Amish culture. The resulting community of Amish in
PA is one of humility, modesty, obedience, equality and simplicity.
TED IDEAS WORTH SPREADING
• Glenn Barres, co-founder of Idea Sponge, Inc. started a TED collaboration on what would
a Utopia look like?
• "What are some of the attributes required of a Utopian Society? Some say it cannot exist
but I don't like that word, 'can't', so please only answer with possibilities of achieving this,
not the reasons why it can't."
• Consider collaborative communities
• Tribalism
• Amish
• Are we inherently competitive or cooperative?
• When a child learns "I," is it a positive or negative result?
• Well-known proverb, "It takes a community to raise a child."
NIC MARKS: THE HAPPY PLANET INDEX
• Statistician Nic Marks asks why we measure a nation's success by
its productivity—instead of by the happiness and well-being of
its people. He introduces the Happy Planet Index, which tracks
national well-being against resource use (because a happy life
doesn't have to cost the earth). Which countries rank highest in
the HPI?
• Nic Marks gathers evidence about what makes us happy, and
uses it to promote policy that puts the well-being of people and
the planet first. He's the founder of the Centre for Well-Being at
the UK think tank New Economics Foundation (NEF).
RACHEL BOTSMAN: THE CASE FOR COLLABORATIVE
CONSUMPTION
• In her talk, Rachel Botsman says we're "wired to
share"—and shows how websites like Zipcar and
Swaptree are changing the rules of human behavior.
• Rachel Botsman writes and speaks on the power of
collaboration and sharing through network
technologies, and on how it will transform business,
consumerism and the way we live.
MATT RIDLEY ON IDEAS
• At TED Global 2010, author Matt Ridley shows
how, throughout history, the engine of human
progress has been the meeting and mating of
ideas to make new ideas. It's not important how
clever individuals are, he says; what really
matters is how smart the collective brain is.
• It's all about cumulative technology.
JOURNAL WRITE
•What makes a Utopia
possible and perhaps even
enduring?