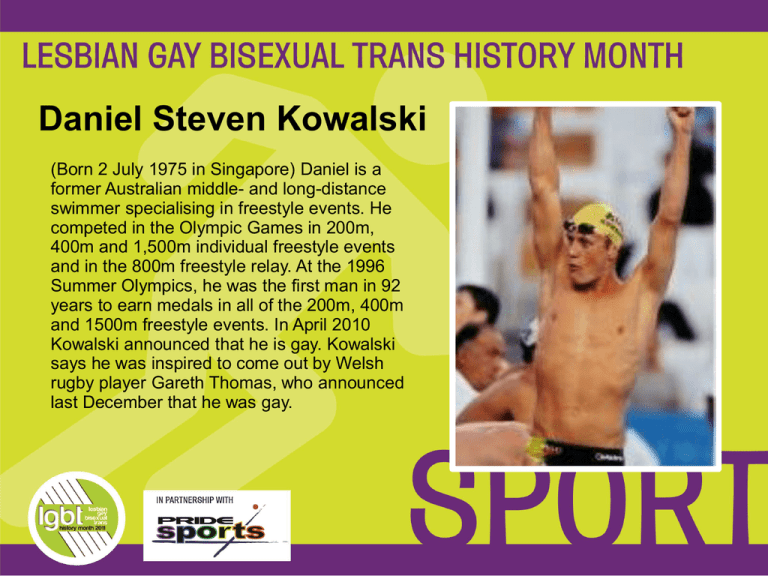 Daniel Steven Kowalski
(Born 2 July 1975 in Singapore) Daniel is a
former Australian middle- and long-distance
swimmer specialising in freestyle events. He
competed in the Olympic Games in 200m,
400m and 1,500m individual freestyle events
and in the 800m freestyle relay. At the 1996
Summer Olympics, he was the first man in 92
years to earn medals in all of the 200m, 400m
and 1500m freestyle events. In April 2010
Kowalski announced that he is gay. Kowalski
says he was inspired to come out by Welsh
rugby player Gareth Thomas, who announced
last December that he was gay.
Claire Harvey
Claire is 36 years old and lives with her
partner (whom coincidentally is also named
Claire) and 2 children. Claire Harvey has
always been sporty with her sport being
rugby which she played at a high-level in her
early adult-hood. In February 2008, an
accident left her paralysed, using a
wheelchair and requiring a catheter. After
rehabilitation and with the support of family
and friends, Claire started to refocus on living
life to the full again and in summer 2009,
started playing sitting volleyball. In December
2009, she was invited to train with the new
GB women's team and in 2010 competed in
her first international competition.
Mark Leduc
Mark Leduc (May 4, 1962 – July 22, 2009)
was a boxer from Canada, who won a silver
medal at the 1992 Barcelona Summer
Olympics.
In 1994, after retiring, Leduc came out as gay
in the TV documentary For the Love of the
Game, one of the few boxers ever to do so.
He attended Toronto's Pride Parade in 1999
as grand marshal. Leduc worked for and
volunteered with the Toronto People with AIDS
Foundation, later becoming a set-builder and
construction worker in the film industry.
Martina Navratilova
Martina Navratilova (born October 18,
1956) is a Czech American and former
Czechoslovak tennis player and a former
World No. 1. Billie Jean King said that
Navratilova is "The greatest singles,
doubles and mixed doubles player who's
ever lived."In 2000, she was the recipient
of National Equality Award from the
Human Rights Campaign, the nation's
largest gay and lesbian activist/lobbying
group.
Matthew Mitcham
Matthew Mitcham (born 2 March 1988 in
Brisbane, Queensland, Australia) is an
Australian diver. He is the 2008 Olympic
champion in the 10m platform, having
received the highest single-dive score in
Olympic history. He is the first Australian
male to win an Olympic gold medal in
diving since Dick Eve at the 1924 Summer
Olympics, and one of few openly gay
athletes at the 2008 Summer Olympics.
Chris Morgan
Chris Morgan (born 16/03/1973) is a British
powerlifter competing in the 75kg class. He won
the silver medal in the World Drug-Free
Powerlifting Finals in Atlanta in November 2004,
the gold medal in December 2005 at the finals
in Turin and Bronze medal in November 2006 at
the finals in Ireland. Morgan is openly gay and
competed in several Gay Games, an event for
gay sportspeople. He won silver in Amsterdam
1998, gold in Sydney 2002 and 4 golds in
Chicago 2006. He holds Gay Games records in
squat (225kg), deadlift (250kg) and overall
poundage (575kg).Chris is an Ambassador to
the Federation of Gay Games and Gay Games
Cologne 2010. He is a member of the English
Football Associations Advisory Group on
Homophobia and is sponsored by sportswear
manufacturer Umbro.
Donald Óg Cusack
Donal Óg Cusack (born 16 March
1977 in Cloyne, County Cork) is a well
known Irish hurler and Ireland's first
openly gay elite sportsman. He plays
hurling at club level with Cloyne and
has been a member of the Cork senior
inter-county team since 1999.. He was
born into a family that had a strong link
to Cork's hurling glories of the past.
One of his close relations was Christy
Ring, regarded by many as the
greatest hurler of all-time, and a holder
of a record eight All-Ireland medals
with Cork.
Nigel Owen
Nigel Owens (born 18 June in
Mynyddcerrig, Llanelli, Wales) is a Welsh
international rugby union referee. He is an
international and Heineken Cup referee and
was the only Welsh referee at the 2007
Rugby World Cup in France.He is only one
of two referees ever to be appointed to
referee two consecutive Heineken Cup
finals: Munster v Toulouse at the Millennium
Stadium in 2008 and Leicester Tigers v
Leinster at Murrayfield in 2009. In May
2007, he publicly came out as homosexual
in an interview with Wales on Sunday.
Although reactions have been generally
positive, it was a difficult decision to make.
He had even contemplated suicide.
Bob Paris
Bob Paris (born Robert Clark Paris
on December 14, 1959) is a writer,
actor, public speaker, civil rights activist
and former professional bodybuilder.
Paris was the 1983 NPC American
National and IFBB World Bodybuilding
Champion, Mr. Universe.
In the July 1989 issue of Ironman,
Paris came out in the media as a gay
man.
Lily Parr
Lily Parr was born in St Helens on 26th April,
1905. Her brother was a keen sportsman and
he taught her how to play football and rugby.In
1919, the 14 year old Parr started playing
football for the St Helens Ladies football team.
Her second game was against Dick Kerr
Ladies. St Helens lost 6-1. Alfred Frankland, the
manager of the team from Preston, was very
impressed with the performances of Lily Parr.
Parr was aged 45 when she played her last
game on 12th August, 1950. She scored a goal
in an 11-1 victory over Scotland. During her
long career she had scored more than 900
goals. Lily Parr died of cancer in her home in St
Helens on 24th May 1978
Ian Roberts
Ian Roberts (born 31 July 1965) is an Australian
actor and former professional rugby league
footballer of the 1980s and 1990s. Late in his
football career he announced he was gay, the first
person to do so in the game's history, gaining him
much attention in Australia and worldwide. A New
South Wales State of Origin and Australian
international representative forward, he played
club football with the South Sydney Rabbitohs,
Manly-Warringah Sea Eagles, and North
Queensland Cowboys. Roberts came out publicly
in 1995, discussing his sexuality in magazines and
on television over the following year. The rugby
league world was generally very supportive, with
other players commenting that it was important to
be "true to yourself".
Blake Skjellerup
Blake Skjellerup (born June 13, 1985 in
Christchurch, New Zealand) is a shorttrack speed skater who competed for New
Zealand at the 2010 Winter Olympics.
Skjellerup finished sixteenth in the 2010
Olympics.Skjellerup came out as gay in
May 2010, saying he had decided to wait
until after the Games to do so in order to
focus on his performance and to avoid
turning off potential sponsors. Skjellerup
lives and trains in Calgary, Canada. He is
one of only a few openly gay Olympic
athletes.
Marcus Urban
Marcus Urban, 38, was sent to a
sports boarding school at aged 13
and played for the national youth
teams in the 1990s before settling
at second division club Rot-Weiss
Erfurt.
He left the professional game
after deciding to come out.
Judith Arndt
Olympian Silver medalist
Chris Kanyon
American professional wrestler in World Championship Wrestling
Missy Giove
Professional Mountain biker
Johan Kenkhuis
Olympic swimmer & medallist
An Olympic medallist, he was
one of the best swimmers in
the world, helping the Dutch
relay team top a sport that
the Netherlands is not well
known for.
In 1998, he was part of the
world record winning 200meter freestyle relay team
Graham Ackerman
Gymnast
US three time
national champion
in the floor exercise
event.
Nancy Drolet
Professional Hockey player & Olympian
Winner of the Women's World
Hockey Championships many
times, the Nations Cup, as
well as a silver medal at the
Nagano Olympic Games.
Mark Tewksbury
Olympic swimmer & Gold Medallist
Olympics 100m
backstroke gold
medallist
1988 Olympics
won bronze & silver
medals
Harriet ("Holly") Morris Metcalf
Olympic rower & gold medallist
A six-time USA national/
Olympic team member
Gold medallist in 1984
Olympics for the
Women's Eight.
Mianne Bagger
Professional Golfer
In 1999, Bagger won her first
South-Australian championship,
repeating as champion in 2001
and 2002.
Brian Sims
American College Footballer
Captain of
Bloomsburg
University team,
leading them to
the 1999 Division
II Championship.
William "Billy" Bean
Professional American baseball player
Outfielder and left-handed hitter, with
487 at bats with a .226 batting
average in a career that lasted from
1987 through 1995:
Detroit Tigers 1987-1989,
Los Angeles Dodgers 1989,
San Diego Padres 1993-1995
Bean tied a major league record with
four hits in his first major league
game.
Natalie Cook
Volleyball Olympian
Australian professional beach volleyball
player and Olympic gold medallist.
Imke Duplitzer
Olympic fencer
German épée fencer.
2004 Olympics she
won the silver team
medal.
2006 World Fencing
Championships won
the bronze team
medal.
Lauren Lappin
Softball Olympian
2008 • Silver medallist at the Olympic
Games in Beijing, China
2007 • Gold medallist at Pan American
Games
2004 • Member of the 2004 National
Team, served as alternate for the Olympic
Games
2003 • Led USA Softball Elite team to
Canada Cup gold medal Named Top
Defensive Player at Canada Cup
Craig Rogerson
Diving Olympian
Represented Australia in Diving at
the Olympic Games in Seoul
(1988), and Barcelona (1992).
He won gold medals at the 1990
Commonwealth 3m springboard &
10m highboard events.
1996 Olympics in Atlanta, ranking
12th in the Mens Platform event.
Greg Louganis
World Champion & 4 times Olympic Gold Olympic medallist
1976 Montreal Olympics winning
a silver medal in the tower event.
1978 won his first world title
1982 won two world diving titles
1984 Los Angeles Olympics, gold
medals in both the springboard
and tower diving events.
1984 two more world
championship titles in
1988 Seoul Olympics two more
gold medals
Justin Fashanu
Professional Footballer (England & Premiership)
Alyson Annan
Hockey player and twice Olympic Gold Medallists
Won 228 international caps
playing for the Australian
Women's National Team, in
which she scored 166 goals.
Gold Medallist 1996 Summer
Olympics in Atlanta, Georgia
Gold Medallist 2000 Summer
Olympics
1998 Commonwealth Games
became Australia's highest ever
goal scorer with 110 goals.
Ian Roberts,
Australia & International rugby player
Robert Costello
equestrian Olympian
Part of gold-medal
winning team at 2003
Pan American
Championships.
Sydney Olympic Games
in 2000
Andrew Goldstein,
Professional lacrosse player
Produced for Schools Out/LGBT History Month by JGME
Gareth Thomas
Wales/International Rugby Player & Patron of LGBT History Month
Welsh rugby union played as a fullback.
On 26 May 2007, he surpassed Gareth
Llewellyn as the most-capped Wales
player with his 93rd appearance. A
prolific try scorer at international level,
Thomas is listed ninth in the world on the
all-time Test try scoring list. During the
2007 Rugby World Cup, Thomas created
sporting history when he become the first
Welshman to win 100 international caps
in rugby. Thomas created sporting history
when he become the first Welshman to
win 100 international caps in rugby union
Matthew Mitcham
Gold Medallist Olympic diver
Beijing Olympics
gold medallist in
the 10m platform
diving board
Sheryl Swoopes
Three time Olympic gold medallist
Three time WNBA MVP, Swoopes is
often referred to as the "Female
Michael Jordan". She is the first
women's basketball player to have a
Nike shoe named after her "Air
Swoopes." She married in 1995 and
had a son, but divorced and came
out 10 years later.
Pirinya Kiatbusaba
Kickboxer
Chris Dickerson
Bodybuilder/Mr America
Brian Orser
World Champion Skater
Chris Bergland
Triathlete & Author
Thomas Berling
professional footballer
Defender for the Norwegian
National team and played
professional football for:
• Nardo
• Lyn
• Drobak/Frogen
John Amaechi
Professional Basketball Player & Sports Reporter &
LGBT History Month Patron
Sherri Smith
World champion triathlete
Ireen Wüst
Speed skater & Olympic Medallist
Olympic sprint hurdler
Produced for Schools Out/LGBT History Month by JGME
Robert Newton
Orlando Jordan
Professional Wrestler
David Pichler
Olympic Diver
Patrick Jeffrey
Olympian diver
Member of two U.S. Olympic
diving teams. 1988 & 1996
Patrick Jeffrey is currently the
diving coach at Florida State
University.
In addition to his Olympic
success, in 1988 Jeffrey won
every diving event (one-meter,
three-meter, platform) at the 1988
NCAA Championships and was
named NCAA Diver of the Year.