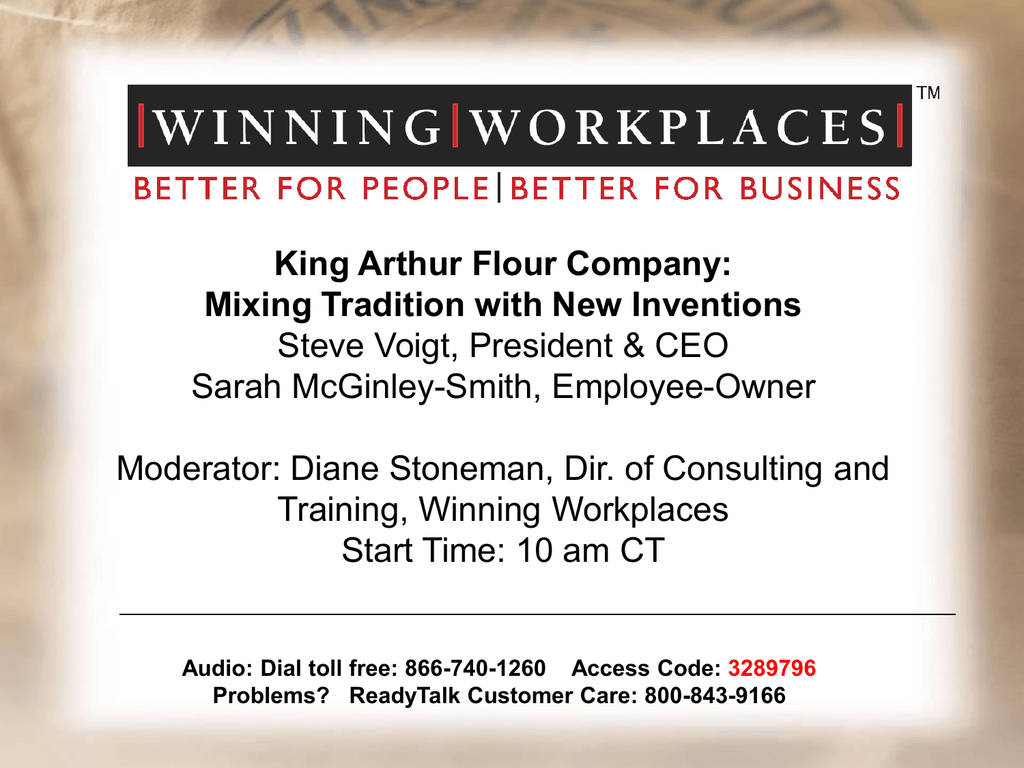 King Arthur Flour Company:
Mixing Tradition with New Inventions
Steve Voigt, President & CEO
Sarah McGinley-Smith, Employee-Owner
Moderator: Diane Stoneman, Dir. of Consulting and
Training, Winning Workplaces
Start Time: 10 am CT
Audio: Dial toll free: 866-740-1260 Access Code: 3289796
Problems? ReadyTalk Customer Care: 800-843-9166
Winning Workplaces
• Founded in 2001 by co-owners of Fel-Pro
Auto Gaskets
• Committed to small enterprises building
healthy, productive work cultures
• Triple bottom line: Business, People,
Community.
Winning Workplaces
Business Leader
Webinars
Online Clearinghouse
Consulting & Training
• The Wall Street Journal
• Winners profile @
WSJ.Com/Entrepreneur
• 2008 Best Practice
[email protected]
WinningWorkplaces.org
• Top Small Workplaces
conference Oct. 1& 2 in
Chicago
ATA Engineering
Decagon Devices
Integrated Project
Management (IPM)
JA Frate
Jackson's Hardware
Jump Associates
King Arthur Flour Company
Landscape Forms
Lundberg Family Farms
New Belgium Brewing
Phenomenex
Rainforest Alliance
Resource Interactive
The Paducah Bank & Trust
The Redwoods Group
2008 Winners at a Glance
• Steady rate of growth, 2005-2007 = 23%.
• Revenues range= $8-$107 mil.; average $36 million.
• Employees ranges from 48 to 477; average 154.
• Average tenure= 6 years; average turnover rate 13%.
• Stable leadership: avg. CEO tenure = 17 years.
• Long term business: average 42 years.
• 10 out of 14 firms= employees share in ownership.
Our Agenda Today
• King Arthur Flour History
• Evolution Over Time- Two Perspectives
• Lessons Learned
• Audience Questions
Meet our Presenters
Steve Voigt
President & CEO
Sarah McGinley-Smith
Employee-Owner
King Arthur Flour History
1790: Henry Wood began importing flour to Long Wharf in Boston
1896: Owners gave product a new brand name: King Arthur Flour
1984: Then-owner Frank Sands moved company to Norwich, Vermont
1990: Mail order catalogue established
1992: Baker's Store opened
1995: King Arthur Flour's new headquarters, Camelot, was built.
1996: Frank Sands decides to sell his company to his employees
2004: King Arthur Flour becomes 100% employee-owned
2007+2008+2009: Ranked in top 5 for best places to work in Vermont
Snapshot of Growth
1990
Employees:
3
Products offered: 142
Annual catalogues: 125,000
Annual emails:
0
Facilities (sq. ft):
4000
2008
160
1500
5,800,000
25,000,000
62,000
King Arthur Flour Today
•
•
•
•
•
170 employee owners
$73 million in sales
Flour: grocery, Bakery Food Service
Direct: web, catalogue, retail store
Education: Baking Education Ctr,
LifeSkills, Traveling Baking
Demonstrations
Company Transformation
•
•
•
•
Challenges
Culture
Leadership during change
What went right
Employee Involvement
at time of transition
• Employees already acting like
owners- now actually owners
• Stock price decrease
• Ownership vs. operational
involvement
• Maintaining culture after original
owners phase out
Employee Involvement Today= Teams
• Safety
• ESOP
• Stewardship
Employee Involvement Today=
Brown Bag Lunches
Employee Involvement Today=
Owner Meetings
Employee Involvement Today=
Intranet/Tablespoon/Wiki
Employee Involvement Today=
Brain food Classes
Ingredients for Success
•
•
•
•
Involvement (the Round Table)
Quality
Fun and Celebration
Pride
• Open Book
Lessons Learned
– Succession is tricky (it was in the
days of kings as well)
– Developing leaders from within to
match pace of new opportunities
– Communication even more critical
ROI Impact of Transformation
Questions or Feedback?
Steve Voigt
President & CEO
Sarah McGinley-Smith
Employee-Owner
Upcoming Webinar
Engaging Fresh Young Talent in the Workplace
Featuring:
Dave Schmitz, General Mgr, The Steppenwolf Theatre,
Tom Walter, CEO, Tasty Catering, Elk Grove Village, IL
October 20, 2009 @ 10:00 a.m. CST
Thank you for joining us.
Please fill out feedback evaluation form.