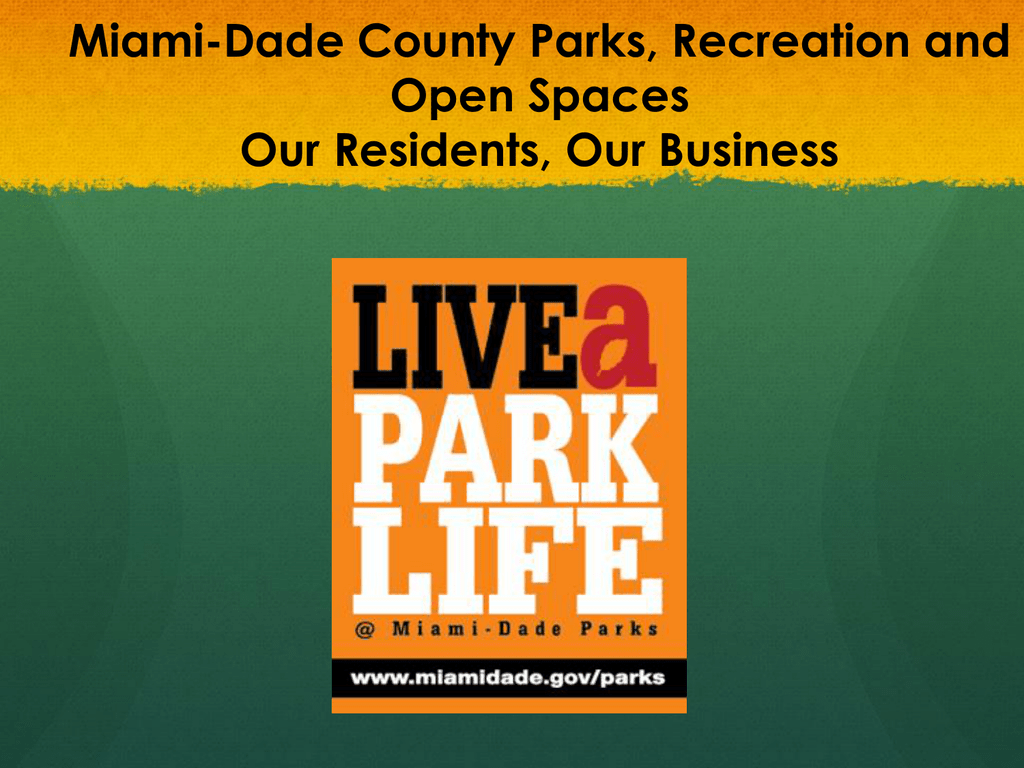 Miami-Dade County Parks, Recreation and
Open Spaces
Our Residents, Our Business
Miami-Dade County Parks,
Recreation and Open Spaces
We create outstanding recreational, natural
and cultural experiences to enrich you and
to enhance our community for this and future
generations.
Miami-Dade County Parks,
Recreation and Open Spaces
VISION
Connecting People and Parks for Life
CORE VALUES
Outstanding Customer Service
Enthusiastic Attitude and Teamwork
Accountability and Integrity
Creativity and Innovation
Stewardship
Inclusiveness and Accessibility
Leadership and Professional Development
About Miami-Dade County Parks,
Recreation and Open Spaces
Nationally accredited, a three-time winner of the NRPA National
Gold Medal Award and winner of the 2009 Florida Governor's
Sterling Award for excellence in management and operations
Serves 2.5 million residents and 10 million visitors annually
Serves 10,000 children in out-of-school and summer programs
and 25,000 children in organized youth leagues annually








263 parks & 12,848 acres of land including:
After school, sports, summer camp programs
Educational nature centers and nature preserves
Beaches, marinas, pools, golf courses, gun range
Zoo Miami
Deering Estate at Cutler
Arts and culture programs and events
And much more
Table of Organization
Total Employees
FT - 433
FTE – 369.2
PROS
Director
Jack Kardys
Executive Secretary
SPA 1
PSO 3
Park
Operations
George Parrado
Recreation &
Program Svcs.
Renae Nottage
Total # Parks - 204
Park Operations Mgt.
Assistant Director
Kevin Kirwin
Right-of-Way
Aesthetic &
Assets
Management
David Cardenas
Coastal Park &
Marinas
Enterprise
Tom Morgan
Grounds
Maint. &
STD
Gil Delgado
Park Security
George Poulus
Beach Operations
& Maintenance
John Ripple
Park Operations
Park Operations
Region Manager
George Parrado
Administrative Secretary
PSO 3
Account Clerk
North Zone
•
•
•
•
•
•
•
•
•
27th Avenue Boxing
Center
Ives Estates Park
Norman & Jean
Reach Park
Jefferson Reaves Sr.
Park
Little River Park
North Glade Park
Oak Grove Park
Marva Y.
Bannerman Park
West Little River
Park
Central Zone
VACANT
Amelia Zone
Frankie Yanes
•
Amelia Earhart
Park
• Amelia Earhart
Farm Village
• Amelia Earhart
Sports
Complex
• Amelia Earhart
Maintenance
•
•
•
•
•
Kendall Indian
Hammocks
Bird Lakes Park
Ron Ehmann Park
Kendall Soccer
Park
The Women's
Park
Tamiami Zone
Lars Bergquist
•
•
•
•
•
Tamiami Park
and Tennis
Rockway Park
Ruben Dario
McMillan
Park
Tamiami Park
Service Area
Total Employees
FT - 84
FTE – 113.32
Tropical Zone
Tim Byrnes
•
•
Tropical Park
Tropical
Equestrian Center
• A D Barnes Park
South Zone
Deallo Johnson
•
•
•
•
•
•
•
•
•
Homestead Air
Reserve Park
Hammocks
Community Park
Eureka Park
Devon Aire Park
Modello Park
Sgt. Delancy
Park
Wild Lime Park
Southridge Park
Eureka Villas
Park
Park Operations
Services
Core 'Essential'


Parks
Maintenance/Safety/Preservatio
n of Assets
Grounds
Maintenance/Preparing of
Fields/Clean and Green

Asset Inventory

General Plans
Important
Value Added
Landscape
Maintenance/Tree
Trimming Care

Special Events

Life Sports

CBO space provided

Skate Parks

Sports Development

Equestrian Center

Disability Sports
Kendall Soccer Park

Athletic Facilities



Security

Tennis Facilities

Park facilities and Open Spaces
Play Areas

Dog Parks

Recreation/community Centers

Concessions

District/Region
Park/Maintenance

Facility Rentals

Volunteer Programs
Customer Satisfaction
 Essential to Business Planning
 SWOT Analysis - strengths, weaknesses,
opportunities, and threats.
 Outcome Statements
 Measures and Targets
SWOT Analysis - OPs
Strengths (what's going well)
Geographically located shelters for rentals (
Large open recreational spaces
Opportunities
New Programming/concession RFPs, ITBs and
Permits
New sports programming i.e. Lacrosse, Rugby, Adult
sports
Marketing i.e. Web site, Facebook, social media
Specialized facilities (
venues, online schedules and results
Revenue producing partners - RFPs, ITBs, Permits,
i.e.
Local, Regional and National sports tournaments
Weaknesses (what's not going well) Threats (what's endangering us)
Reduction in Staffing levels/grounds maintenance
Regulatory agencies (life safety)
Building sizes (one dimensional)
Weather
Aging Fleet
Economy
Limits on offering new sports or expanding current
ones
Competing facilities of other municipalities/agencies
Aging facilities/accessibilities
Competitor pricing
EXTERNAL
INTERNAL
Geographically availability of large sport facilities ( Coordinated corporate rentals for all large facilities
SWOT - PROS
Responsiveness (high visibility and the first contact)
Support special events
Professionalism (certification & state license)
Laptop computers ( 5 supervisors)
Marina / boat ramp operations
Educating the public
Customer focus (Park Watch program)
AVL vehicle tracking system
Work cooperatively park operations
Communication, 800 mg radios
Weaknesses (what's not going well)
Opportunities
Grants [FDLE, DHS, DOJ, etc.]
MDPD relationship
Partnership with State Farm
Threats (what's endangering us)
Patrol vehicle condition
1 Incorporation
Bumping of Secretary (specialized duties)
2 Public unawareness of criminal activity
No capacity to staff overnight response
3 Privatizing
Internal partnership with Miami-Dade Police
Linking incident documentation
Cross training Guards
Laptop for Officer, cut back on paper Go Green
EXTERNAL
INTERNAL
Strengths (what's going well)
Outcome Statements
 For whom is the service provided?
 For what purpose?
 For what benefit?
 For what cost?
 For what outcome?
Outcome Statements examples
 Disability Services: To provide architectural and
program access to the Miami-Dade County Parks,
Recreation and Open Spaces Department to individuals
with disabilities through compliance with current legal
requirements and collaboration with individuals with
disabilities, their families, their communities, and the
organizations that represent them.
 Special Tax: To provide exceptional landscape and tree
care services to better serve our residents by improving
property values and aesthetics throughout Miami-Dade
while being financially sustainable.
Performance
Accountability
 Who are our customers?
 How can we measure if our customers are better off?
 How can we measure if we are delivering services
well?
 How are we doing on the most important of these
measures?
 Who are the partners that have a role to play in doing
better?
 What works to do better, including no-cost and lowcost ideas?
 What do we propose to do?
Balanced Scorecard
Structure
Groupings representing highest-level
areas of focus, Customer, Financial,
Internal, Learning & Growth
OBJECTIVES
Verb-Noun Statements, e.g.,
Improve Customer Satisfaction
Aligned with Strategic Plan
Should indicate if you are on
track to achieve objective
e.g. % of cost recovery
Numerical Goal: percentage,
average or quantity
INITIATIVES
Time based projects for:
-creating new measures
-improving poorly
performing measures
Balanced Scorecard
Measures – Maintain & Grow Customers
Measures – Remain Committed Stewards
Measure – # of Parks Programming
Registrants
Measure - Cleanliness Score: Beach
Measure –Customer Satisfaction
Summer Camp Score:Hub Sites
Measure – Avg. Customer
Satisfaction Score:Zoo
Measure – Avg. Sparkle Tour
Score
Measure – Avg. Sparkle
Tour Score
Measure – Avg. Employee
Satisfaction Score
Measure – Avg. Employee
Satisfaction Score:Marinas
Measure - % of Safety Tree
Trimming Requests
Measure - % of Tree Removal
Request Response
Secret Shopping:Tropical
Park
Scoring Summary Tropical Park
Environment
Office Interaction
Food and Beverage
Overall Impression
Overall
Score
Actual Possible Score
96%
9
10
90%
11
12
92%
25
25
100%
5
5
100%
Secret Shopping Environment
Was the parking area clean and free of debris?
Yes/No
Was the landscaping well maintained?
Yes/No
Were the grounds clean with no visible trash?
Yes/No
Were trash receptables usabe and not overflowing? Yes/No
Was signage visible and easy to read?
Were the fields, shelters and courts well
maintained?
Yes/No
Yes/No
Secret Shopping – Office
Interaction
Did the Employee:
Smile and make eye contact?
Yes/No
Speak clearly and in a pleasant voice?
Yes/No
Make you feel welcome?
Yes/No
Appear knowledgeable when asked questions?
Yes/No
Process you in an efficient manner?
Yes/No
Thank you and
any questions?