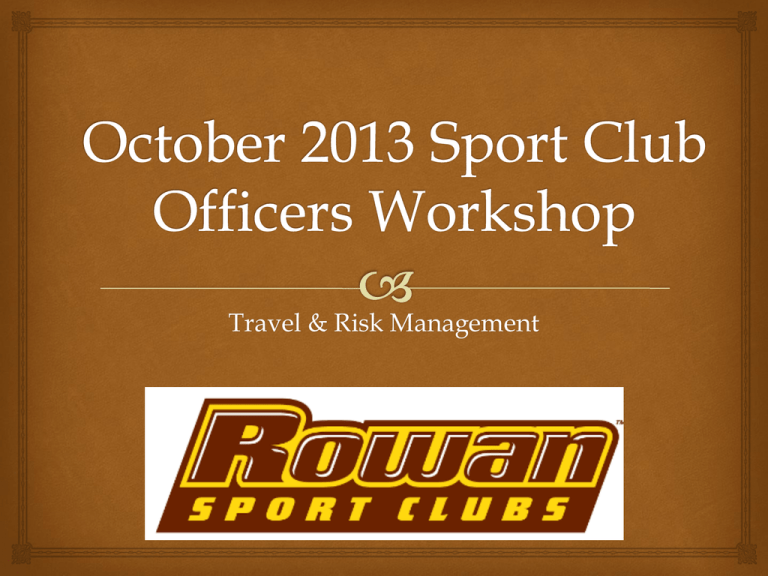 Travel & Risk Management
Celebrations!

 Share your celebrations!
 Welcome New Clubs!
Sign-in

 Please include name, club, and email address
Today's Goal

 Teach all club officers present how to create your
own Risk Management Guide/Emergency Action
Plan.
 These will be due by the end of this semester.
 Goal is to have all of this implemented by the start of
next semester (at least one person certified).
 Safety/Risk Management Officer are the same thing
Elements of Risk
Management

 Identification: Identify potential risks associated
with activity.
 Evaluation: Determine severity and probability of
risks and how to handle each.
 Treatment: Determine most effective method for
managing risks. Either eliminate, limit, or accept the
risk.
 Implementation: Implement risk management plan!
These are endless!
Key

 Required: Must be included in every club's
Emergency Action Plan.
 Required (If Applicable): Must be included if the
policy is applicable to the club.
 Club Specific: Each sport club must determine if the
club follows the policy. They may be removed or
changed.

General…
Required

 Participants must turn in a Sport Club Membership
Waiver and a Waiver, Release, and Indemnification
Agreement form.
 Must have one Safety Officer that is CPR and First Aid
certified. Must attend every practice and competition.
 Upon an injury, Safety Officer must fill out an Incident
Report and follow up with Rec Sport Club Staff member.
 All clubs must have three officers (President, Treasurer,
Risk Manager)
 In event of serious accident, clubs will follow their
Emergency Action Plan.
Required (If Applicable)

 For all high risk sports, include how the club
acclimates new members into the activity.
 Parkour, Rugby, Cheer, MMA, Equestrian, Ice
Hockey, RSSS, others? What conversations are you
having with new members?
Club Specific

 Include all specific insurance requirements for
participation (won't apply to most clubs).
 Include all insurance or safety policies set forth by
their national governing body.

Practices…
Required

 At least one CPR and First Aid certified Safety Officer will
be present at all practices
 First Aid Kit will be on scene and accessible at all times
 At least 2 officers will have a fully charged cell phone.
Always notify Rec after calling Campus Police/EMS.
 Outline a brief emergency action plan for emergencies
while practicing, including first responder
responsibilities, responsibility of calling Campus police,
etc.
 At least one Safety officer will be present and have the
Emergency Contact List, club emergency contact
information, and injury reports at the location.
Required (If Applicable)

 Document the location and nearest AED to your
practice location.
 If practices are off campus, be aware of flash/bang
system (outlined in handout for determining
lightning risk).
Club Specific

 Coaches and officers will encourage members to rest
of hydrate.
 Include injury prevention prior to practice
(stretching, hydration, equipment, etc.)
 Ensure area is safe.
 Walk the field beforehand.

Competitions/Events…
Required

 At least one CPR and First Aid certified Safety
Officer will be present at all competitions/events.
 First Aid Kit will be on scene and accessible at all
times.
 Staff Supervisors- First Aid/CPR Certified
 EMT's or Trainers?
 As defined by your association/conference. We will
assist with scheduling EMT's, but trainers are the
responsibility of the clubs.
Required (If Applicable)

 If Athletic Trainer or EMS are present and assigned to the
game, they have medical jurisdiction. If not, staff assigned
will.
 All official competitions must be officiated by a referee
that is certified with the league or the sponsoring national
governing body.
 Include any specific emergency action plans enforced by
external facilities used by the club for competitions.
 SC Staff will be present at home competitions within 5
miles of campus (or farther if specifically requested).

General Travel…
Required

 At least one CPR and First Aid certified Safety Officer will be present at all
travel events
 While traveling, a First Aid Kit will be available during travel and
competitions
 A Travel Itinerary MUST be turned into the Sport Club office no later than 5
days prior to travel. If traveling overnight, a Request for Travel form must be
submitted.
 If this is NOT submitted, clubs will NOT receive travel reimbursement.
 The group leader will travel with an Emergency Action Plan, Emergency
Contact list, and the emergency contact information for every traveling
member. In the event of an emergency, one Safety Officer will be responsible
for immediate contact with the Rec Sport Club Assistant Director.
 Ensure that all drivers (rental and personal) are insured and licensed drivers.
In the event a minor accident occurs:
 Report accident to rental vendor or personal insurance company
 Obtain a police report
 Advise the Sport Club Staff
Required (If Applicable)

 When traveling with vehicles, drivers will not drive
for more than 4 hours without taking a minimum of
30 minute break. Alternate drivers should be used
when available. Second driver with rentals must be
at least 21 years of age. When driving between the
hours of 12am-3am, drivers will have a 30 minute
break every 2 hours.
 A safety check on all vehicles is conducted before
departing.
Risk Management
Officer Checklist

 At least one Safety Officer must be present at practices,
competitions/events, and during travel
 Bring Emergency Contact List to practices,
competitions/events, and during travel (will share via
GoogleDocs next week).
 Must be CPR and First Aid Certified
 Upon injury, fill out Incident Report and follow up with
Rec Sport Club Staff Member.
 Outline a brief emergency action plan
 Have First Aid Kit on scene and accessible at all times.
 Ensure Travel Itinerary is completed and submitted.
On the road again…

 Submitting travel itineraries
 Accessing emergency contact list
 Knowing responder personnel at other sites
 Checking out a First Aid kit
Travel Itineraries

 Online form or Word Doc
 Available on the Website
 Traveling Overnight, also need to submit Rowan
'Request to Travel' form, even if not getting
reimbursed
 Plan Travel in advance, especially if it is complicated
Reimbursements

 Will not get reimbursed if you don't submit
itineraries (and request to travel if overnight)
 You don't get reimbursed for gas
 Instead you get a per mile reimbursement of $0.56 per
mile traveled… BUT this will drain your club's funds;
you can choose to reimburse a certain amount; on
reimbursement request, let us know 'up to $20'
 Don't purchase anything from companies out of the
country
 Don't pay cash!
Booking a bus for travel

 Responsibility of Clubs to contact bus companies
 This is costly! 3-Hour trip there/back is costing
$1200
 Bus Companies:





SGA- 856-256-4540, located in Student Center
McGough- 856-863-2000
Holcomb- 856-931-3632
STA- 856-740-1199
JC Tours- 1-800-952-1747
Accessing Emergency
Contact List

 Through GoogleDocs
 Print and take with you, or have on phone
 Will be shared next week
 Roster Tab Includes





Player Name
Forms Submitted
Phone/Email
Will be taking Banner ID's Off
Emergency Name/Contact #
CPR Course

 Friday 10/25 1:30-5:30pm, location TBD
 Does not cost you a dime
 Encourage each club to have someone certified
 If you have someone, get someone else!
 If you'd like to sign up or sign someone else up, see
me after the meeting or have someone email me
ASAP. Need name, phone number, name of club.
 If you no-show, your club will be charged.
Responding to Injuries

 Act within your certifications
 Get the proper help there ASAP
 Complete an injury report
 Consult a doctor when necessary
Emergency Contacts

 911
 Rowan Public Safety- 856-256-4911
 Rec Center- 856-256-4900
 Sport Club Office- 856-256-4900
 Gary Baker's Cell- 989-954-5146
 Bill Moylan's Cell- 201-693-5090
Practice/Competition
Requests

 Practice requests will be taken soon
 Turf time greatly reduced
 Morning/Afternoon times encouraged
 When you are emailed, abide by the deadlines for
priority consideration
 Start submitting Competition Requests now
ProfPoints
Opportunities

 Miles for Medals: 5k Run/1-Mile Walk to Support Special
Olympics – November 9, 2013 11am ($15 before November 4th. $20
after November 4th)
 1 Point per member (up to 10 members)
 Cystic Fibrosis Dance-A-Thon: November 8, 2013 7-10pm ($1 to
enter)
 1 Point per member (up to 10 members)
 5 Points for creating a basket to be raffled at event
 Anti-Bullying Walk: October 26, 2013 8-11:30 am Upper Deerfield
School District
 1 Point per member (up to 10 members)
 Members will attend walk and set up an activity for kids. (hula hoop
contests, limbo, team building, etc.)
 Contact Lisa Sienrukos if interested – sienru56@students.rowan.edu
Odds & Ends

 Watch to be a Ref?
 Pick up an application at the front desk
 Miles for Medals
 Saturday November 9th
 $15/person; buy a paper medal for $1
 RAH Co-Sponsorship
Questions?

 Submit an Emergency Action Plan for your club by
the end of the semester.
 Sign up for CPR Course.
 Turn in waivers and travel itineraries.
 Have a fantastic day!