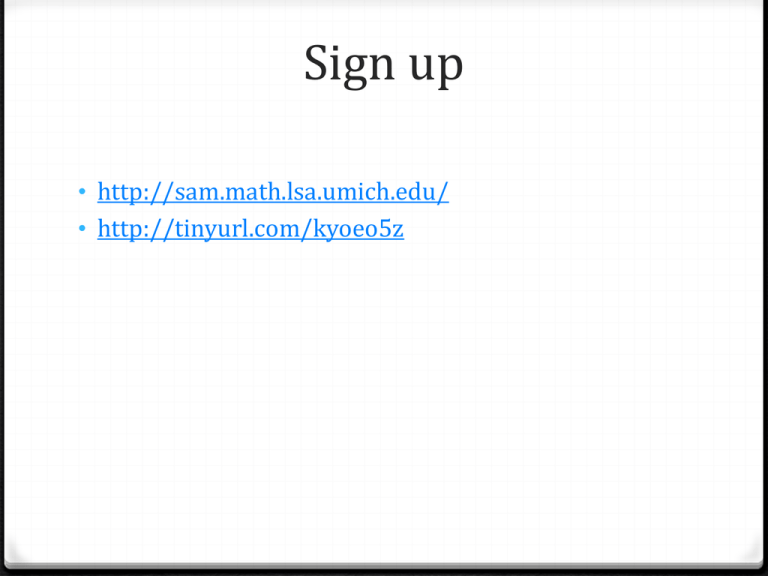 Sign up
• http://sam.math.lsa.umich.edu/
• http://tinyurl.com/kyoeo5z
SAM Board Members
Position
Officer
President
George You
Vice President
Huan Wang
Career Chair
Zachary Shaw
Joyce Zhang
Secretary
Scott Kim
Treasurer
Yuchen Lin
Webmaster
Chris Plumhoff
IM Sports Chair
Jillian Longton
Social Chair
Yuki Xin
Planning Committee Chair
Louis Paparella
Faculty
Actuarial Mathematics Faculty
B. Roger Natarajan
Actuarial Program Director
Joseph Marker
Lecturer IV
Kristen Moore
Associate Professor
Virginia R. Young
Cecil J. & Ethel M. Nesbitt Professor
Bradley P. Hinesman
Lecturer I
Objective & Overview
• Career Events
• Help members with recruiting
• Social Events
• Build up networks
• Sports Events
• We are not nerds
• Exam subsidies
• Encourage exam pass
Career Events
• Resume Workshop
9/24, 4-5 PM
Time: TBD
Location: Math Commons (tentative)
•
•
•
• Mock Interviews
Week of 9/29 - 10/3 (see SAM calendar)
•
• Information Sessions
First information session - 9/18
•
•
•
•
Company: Cigna
6 pm,Pizza House
Refer to SAM calendar for all future dates, times, etc.
• Company Visits
•
•
Towers Watson - 9/19
Blue Cross Blue Shield & Deloitte - 9/26
• Career Center Connector
•
•
Check career center for resume submission deadlines
Most of these will occur after the first information session
Social Events
• Coffee Chat
• BBQ
• Picnic
• Laser Tag
• Painting the Rock!
• Bar Crawl
News from Secretary:
1. SAM Newsletter
2. Case Study
3. Mass Meeting Survey
Intramural Sports
•
Easy way to earn attendance points, make
new friends and have tons of fun
•
Sports selected based on your preference
•
SAM pays all fees and takes care of
administrative business
•
Please fill out survey sent out after mass
meeting to indicate sports you'd be interested
in playing with SAM!
SAM Intramural Sand Volleyball
• Mondays at 6:30PM at Elbel Field (starting next Monday)
• How to join?
• Either come talk to me at end of meeting if you are
interested in playing
• Or indicate interest on survey sent out after mass
meeting
Webmaster
• Brand New Website
• http://sam.math.lsa.umich.edu/
• Calendar of Events
• Web Based Attendance
• Schedule Maker
How to become our member?
1. Membership dues
• Amount:
• $30 by 9/22
• $35 afterwards
• Basic info
• Name
• Uniqname
• UMID#
• T-shirt size
• Sign up at
sam.math.lsa.umich.e
du
2. Fill out survey
• Will be sent out
after mass meeting
Forget to bring membership dues?
• Yuchen (Treasurer) appointment
• Math Undergraduate Office (EH 2nd floor)
• Wrapped in an envelope
• Basic info
• Name
• Uniqname
• UMID#
• T-shirt size
• Notify SAM Board via email
Attendance/Subsidy Policy
Event Type
Attendance Points
Company Visit
6
Recruiting Event
3
Social Event
2
Survey
1
• Exam Subsidy Requirements:
• Membership dues paid
• Enough attendance points (Next Slide)
• Declared Actuarial or Financial Mathematics major
• Have not previously received support from the
Department for a particular examination
• Have a completed resume on file with the Career
Centre
Exam Sittings
Exam
Exam Date
Registration
Deadline
Attendance
Points
P
November 1-12
October 2nd
6
FM
December 9-20
October 29th
15
MFE
November 13-19
October 2nd
6
MLC
October 31
September 24th
3
ACTUARIAL SCIENCE MAJOR
Cognates
(Valuable)
ECON 406
(SOA VEE
Applied
Statistics )
FIN 302
(SOA VEE
Corporate
Finance)
CORE
( Min
C Minus)
MA 424
Compound
Interest &
Life Insurance
MA 520
Life
Contingencies
Part I
BASIC
(Min
C Minus)
MA 216
Differential
Equations OR
256/286/316
MA 423
Mathematics
of
Finance
P
R
E
R
E
Q
MA 215
Calculus III
OR
255/285/295
MA 217
Linear
Algebra
ECON 406 = ECON 452
TALK TO AN ADVISOR
BEFORE DECIDING
CONGNATES
MA 521
Life
Contingencies
Part II
MA 523
Risk
Theory
(or MA 522)
MA 425
Introduction
To
Probability
ECON 101
MicroEconomics
(SOA VEE)
STATS 426
Introductory
Theoretical
Statistics
ECON 102
MacroEconomics
(SOA VEE)
EECS 183
Elementary
Programming
Concepts
16
Actuarial Exams – SOA vs CAS
Description
SOA Exam
CAS Exam
Probability
Exam P
Exam 1
Interest Theory
Exam FM
Exam 2
Financial
Economics
Exam MFE
Exam 3 F
Life Contingencies
Exam MLC
Exam LC
Loss Models
Exam C
Exam 4
Statistics &
Stochastic Modeling
No Equivalent
Exam ST
If you take SOA Exams, then you get credit for CAS Exams.
If you take CAS Exams, we are not sure whether SOA will give credit
or not.
So, it might be a good idea to take SOA Exams, initially.
17
POSSIBLE SOA EXAM STRATEGIES
MA 115 or
156 or 186
MA 215
MA 425
MA 424
MA 215
MA
215
MA 217
MA 423
Exam P
Exam FM
And
Exam MFE
18
POSSIBLE SOA EXAM STRATEGIES
MA 425
MA 424
MA 520
MA 521
Fall Only
Winter Only
STATS 426
ECON 452
MA 215
MA
215
MA 215
Exam MLC
Exam C
MA 425
MA 523
19
Questions
Thank you for coming!