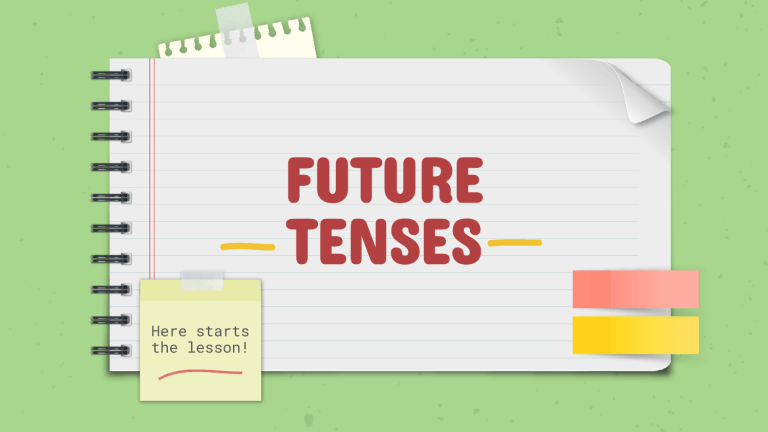 FUTURE
TENSES
Here starts
the lesson!
'Be going to'
Present Continuous
'Will'
01
'BE GOING TO'
'BE GOING TO'
To talk about
intentions, plans and
decisions:
To express a prediction
based on some evidence:
He's going to visit his uncle.
Look at those clouds! It's going to
rain.
He's not going to watch a film.
She can't speak German. She
isn't going to understand those
tourists.
02
PRESENT
CONTINUOUS
PRESENT
CONTINUOUS
PRESENT MEANING
Actions that happen at
the time we are
speaking and actions in
progress.
I am talking to Jim now.
He isn't sleeping at the moment.
FUTURE MEANING
Actions that are likely to
happen because they are
scheduled and arranged.
The plane is leaving in ten minutes.
We are travelling to Paris next week.
We've already paid the tickets.
03
FUTURE WITH
'WILL'
FUTURE WITH
WILL
Spontaneous decisions.
I like it. I'll get it!
To announce future
actions.
They won't come later.
Predictions based on
personal belief.
I think you will pass the test.
My brother will live in Australia in
2040.