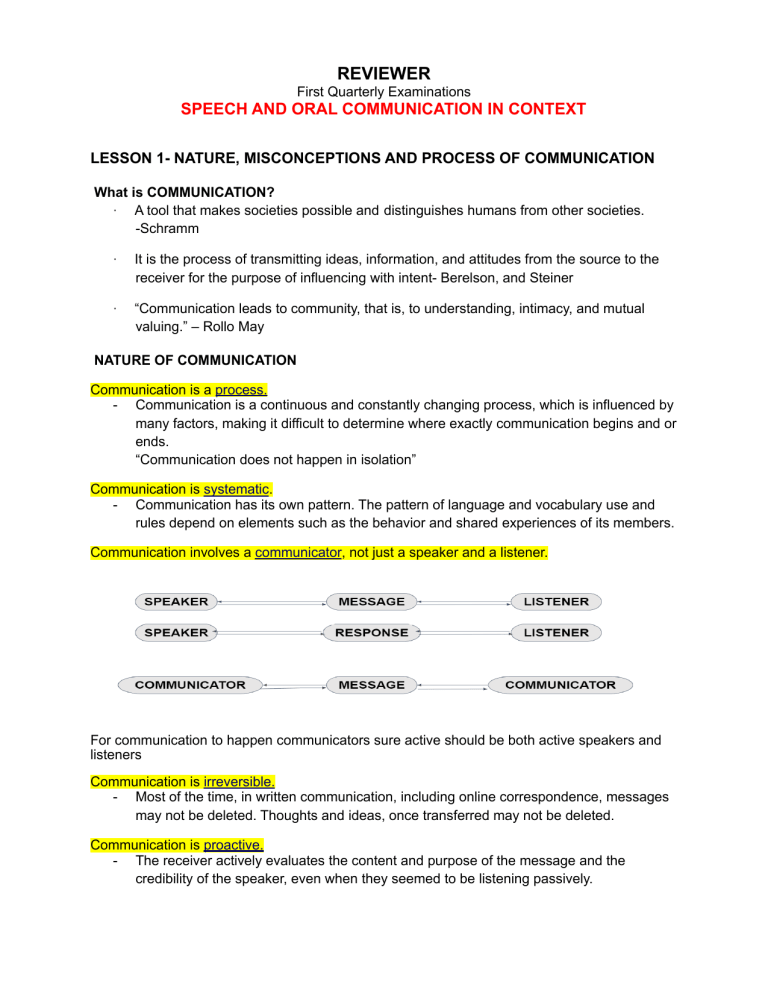 REVIEWER
First Quarterly Examinations
SPEECH AND ORAL COMMUNICATION IN CONTEXT
LESSON 1- NATURE, MISCONCEPTIONS AND PROCESS OF COMMUNICATION
What is COMMUNICATION?
· A tool that makes societies possible and distinguishes humans from other societies.
-Schramm
·
It is the process of transmitting ideas, information, and attitudes from the source to the
receiver for the purpose of influencing with intent- Berelson, and Steiner
·
"Communication leads to community, that is, to understanding, intimacy, and mutual
valuing." – Rollo May
NATURE OF COMMUNICATION
Communication is a process.
- Communication is a continuous and constantly changing process, which is influenced by
many factors, making it difficult to determine where exactly communication begins and or
ends.
"Communication does not happen in isolation"
Communication is systematic.
- Communication has its own pattern. The pattern of language and vocabulary use and
rules depend on elements such as the behavior and shared experiences of its members.
Communication involves a communicator, not just a speaker and a listener.
For communication to happen communicators sure active should be both active speakers and
listeners
Communication is irreversible.
- Most of the time, in written communication, including online correspondence, messages
may not be deleted. Thoughts and ideas, once transferred may not be deleted.
Communication is proactive.
- The receiver actively evaluates the content and purpose of the message and the
credibility of the speaker, even when they seemed to be listening passively.
Communication is symbolic.
- Symbols can be used as a representation to communicate and interpret one's thoughts
and feelings.
meaning in communication is individually construed.
- Individuals involved in communication play a significant role in meaning construction,
which means that they actively create meaning taken from their experiences or
phenomena through symbolic representation.
COMMUNICATION MISCONCEPTIONS
Communication occurs even without complete understanding
Communication doesn't always require a serious intention to transfer information on the part of
the communicators.
e.g.
Social rituals
Phatic communication
Communication doesn't always solve conflicts
Communication is only a tool for expression and depending on the way the communicators use
this tool, may bring about positive or negative results.
No single person and event causes another reaction
There are many factors that influence one's response to a message.
LESSON 2- MODELS OF COMMUNICATION
THREE MAJOR MODELS OF COMMUNICATION
1. Linear Model
a straight line of communication, leading from the sender directly to the receiver. In this
model, the sender creates a message, encodes it for the appropriate channel of delivery,
and pushes the message out to its intended audience.
In the Linear model of communication, there is no expected feedback from the receiver.
2. Interactive Model
a method of communication in which the sender and receiver exchange ideas,
messages, and information within physical and psychological contexts.
3. Transactional Model
a process in which communicators generate social realities within social,
relational, and cultural contexts.
COMMUNICATION SUBMODELS (refer to the ppt and/or recording for the explanation/definition)
LESSON 3- MODES OF COMMUNICATION
VERBAL COMMUNICATION
Features of Language
SYMBOLIC
LANGUAGE
Ambiguous
occurs when words or statements have more than one meaning and are interpreted in different
ways. In addition, is RELATIONSHIP AMBIGUITY, wherein the speaker should determine what
the other communicator would feel and identify the words that would be appropriate to say to
each other. It also lies in the interpretation of the symbol
Arbitrary
language is not planned or chosen for a particular reason. For example, there's no reason we
can call CAT a CAT (only applicable for English people who use the word to refer to an animal).
The arbitrariness of language is also illustrated by the terms being used to refer to the same
object. A cat is also called, GRIMALKIN (archaic term), PUSA (Filipino), GATO (Spanish), or
NEKO (Japanese)
Abstract
words do not always have to correspond to a tangible or concrete object in the physical world.
Abstract language allows us to subjectively describe an object phenomenon, which often results
to miscommunication. (e.g. JUDGES GIVING COMMENTS TO KIDS OR TO SENSITIVE
CONTESTANTS)
RULE-GOVERNED
Phonological
• How sounds should be pronounced
• Which sounds and corresponding letters can be combined
• Positions of sounds in words
Syntactics
• Structure of language or grammatical arrangement of words
S-V-O word order
Semantics
• Deals with linguistic meaning (analyzing form, meaning and context)
Pragmatics
• Govern language use within the context
• Deals with the linguistic and situational context
Concepts of Verbal Communication
CLARITY
-
language must be grammatically correct to avoid confusion.
Requires avoiding the use of abstract words
E.g. when you ask a teacher regarding your project. You do not want a vague answer like "It is
kind of okay." It is better if the teacher will identify the mistakes so you can learn from it and
improve your work.
APPROPRIATENESS
-
Language use must be appropriate to the audience, the situational context, purpose,
and personality of the speaker.
Regarding the audience, the topic should be relatable to the audience
Regarding situational context, the use of formal or informal language to the audience
For speech purposes, determine the language style to use. (e.g. Graduation Commencement
Speakers- what is the purpose of the speaker in presenting their speech? (inform, persuade,
congratulate, etc.)
Personality (is the person a comedienne, teacher, singer, senator, etc?
DIRECTNESS
-
Language should be direct and informal for friendly conversation.
Personal pronouns, idiomatic expressions, and repetitions also aid listening
comprehension
VIVIDNESS
-
Using IMAGERY to allow the audience to imagine the topic or words being used in the
conversation.
Principles of Nonverbal Communication
CONTEXTUAL
- In interpreting the meaning of NV symbols, we must also consider the context as cultures
attack different meanings to gestures, actions, or facial expressions
- Example: SMILE may convey happiness or can attempt to hide sadness or embarrassment
(student with a family problem)
NV BEHAVIOR OCCURS IN GROUPS
- NV symbols may be used to complement language or together with other NV symbols.
Congruence refers to the state in which all nonverbal symbols work together to communicate
the same thing.
NV SYMBOLS ALWAYS COMMUNICATE
- One cannot not communicate.
NV COMMUNICATION IS GOVERNED BY RULES AND IS CULTURE-BOUND
- Nonverbal symbols. Therefore, are learned and not governed by instincts
- Example: Kissing the hands of elders symbolizes respect.
- Teachers clap their hands to get the students' attention.
MOTIVATED
- Nonverbal behaviors are influenced by how one feels or what one thinks at a given time. We
may think that people are smiling out of nowhere but there is always a reason behind every
nonverbal behavior.
NVC HOLDS MORE CREDIBILITY THAN VERBAL COMMUNICATION
- Actions speak louder than words
NVC REINFORCES OR CONTRADICTS OTHER FORMS OF COMMUNICATION
- When someone is being asked if he or she is sick and the person said he or she is fine.
(Nonverbal Comm contradicts the verbal comm)
Functions of Nonverbal Communication
REPEATING
- Verbal can be done at the same time as nonverbal communication (saying NO while shaking
your head)
SUBSTITUTING
- Nonverbal communication may replace a verbal message especially when one refuses to
communicate verbally. (when a teacher asks you a question and you shrug your shoulders)
COMPLEMENTING
- Nonverbal behavior adds up to the meaning of a statement if it is consistent with the verbal
message. (When someone asked you how you were doing and smiles back)
CONTRADICTING
- Verbal comm may be contradicted if the nonverbal behavior is inconsistent with what is being
portrayed. (Saying the truth without making eye contact is contradictory)
REPEATING
- Verbal can be done at the same time as nonverbal communication (saying NO while shaking
your head)
SUBSTITUTING
- Nonverbal communication may replace a verbal message especially when one refuses to
communicate verbally. (when a teacher asks you a question and you shrug your shoulders)
COMPLEMENTING
- Nonverbal behavior adds up to the meaning of a statement if it is consistent with the verbal
message. (When someone asked you how you were doing and smiles back)
Categories of Nonverbal Communication
KINESICS
- Refers to the body motions and position. Kinesics affects how others perceive us and reflects
how we perceive ourselves. (student slouching appears to have low self-confidence and
students being asked questions tend to avoid eye contact)
HAPTICS
- Involves the sense of touch to convey emotions. In some cultures, skin contact between men
and women is considered offensive and reflects the power status depending on one's gender.
PHYSICAL APPEARANCE
- Judging according to one's physical appearance such as skin, color, height, and such.
Trustworthiness, introversion, and other characteristics can be merely based according to one's
face
ARTIFACTS
- Materials are worn by others to show identities. These include earrings, make-up, tattoos,
etc. Clothes affect people's impression of us/ Uniforms of doctors and teachers tend to
display professionalism and draw respect from people.
PROXEMICS
- Refers to the use of distance or space. Cultures dictate what distance is acceptable in terms
of distance in conversations and this often reflects the interlocutors' relationship with each
other.
ENVIRONMENTAL FACTORS
- Elements of a surrounding or setting. Colors, lighting, arrangement of furniture, and design,
among many others, affect our actions.
CHRONEMICS
- Use of time to reflect personal and cultural identities \
- In some cultures where time is valued highly, being late for a meeting is considered
disrespect
PARALANGUAGE
- involves vocal elements of communication such as pitch, vocal quality, volume, intonation and
others.
SILENCE
- A nonverbal symbol associated with different meanings including anger, awkwardness, or
contentment
LESSON 4- INTERCULTURAL COMMUNICATION
INTERCULTURAL COMMUNICATION is defined as communication which involves interaction
between people whose cultural perceptions and symbols are distinct enough to alter the
communication event". – Samovar, 2009
Factors that influence one's behavior in communication
- Culture
- Values
- Traditions
- Music
- Literature
- Religion
- Gender
Barriers in Intercultural Communication
Ethnocentrism
- The belief that one's culture is better than others.
Stereotyping
-mental categorization or general, often inaccurate representation of a particular group.
Prejudice
-positive or negative feelings held towards individuals belonging to a particular race, social
class, religion, and sexual identity.
Discrimination
- Refers to the negative behavior that is caused by prejudice.
Intercultural Competence
The ability to interact effectively with members belonging to another culture.
Cultural Knowledge
This is one's awareness and understanding of another culture's rules, traditions, and behavior
Communication Skill
Involves the ability to listen, observe and comprehend verbal and nonverbal symbols used in
communication.
MOTIVATION
Refers to the desire to communicate and understand the culture of others.
SENSITIVITY
Is characterized by being open to other cultures, demonstrating empathy having the
ability to adapt to certain situations.
CHARACTER
Is evaluated through trustworthiness, respect, and honor, among others
LESSON 5- COMMUNICATIVE COMPETENCE
Four Aspects of Communicative Competence
Standards of GRAMMATICAL COMPETENCE
•
•
•
•
•
Knowledgeable in punctuations
Conversant in word contractions
Well-versed In rules that govern sentence structure
Knows rules that largely govern the combinations of words
Discerns rules on Phonology
Standards of DISCOURSE COMPETENCE
•
•
•
Knowledgeable of how to produce and comprehend oral and written texts
Knows how to combine language structures
Organizes words and phrases to create conversations, speeches, poetry, email,
messages, and articles
•
Able to shift different deliveries of a certain speech or skill
Standards of STRATEGIC COMPETENCE
•
•
•
•
Able to recognize and repair communication breakdowns
Paraphrases statement for understanding
Knowledgeable of background and environmental noise so that the speaker can restore
communication
Knows how to go about a certain pressing situation through verbal and nonverbal
communication
Standards of SOCIOLINGUISTIC COMPETENCE
•
•
•
•
•
Knowledgeable of sociocultural rules
Knows how to use the language appropriately in terms of: setting, topic, and relationships
Knows taboos and cultures
Well-versed of politically-correct terms
Aware of specific attitudes such as authority, friendliness, courtesy, humor, irony, etc. is
expressed
LESSON 6- SPEECH STYLES AND SPEECH ACTS
FIVE SPEECH STYLES
1) Frozen style
2) Formal style
3) Consultative style
4) Casual style
5) Intimate style
EXAMPLES:
SPEECH ACTS by John Langshaw Austin
Classifications of Speech Acts
Check on the discussion regarding the classification of speech acts by clicking the link
https://www.youtube.com/watch?v=f2PJoe9Umxc
Grecian Maxims (Paul Grice, 1975)
There are maxims or conventions that should be followed in order to make conversations
successful. Rationale: It is necessary for communicators to be conversationally cooperative in
order to achieve the function and purpose of communication.
ACCEPTABLE MAXIMS IN COMMUNICATION
Maxims of Quality
A good communicator must provide the most helpful information.
Maxims of Relation
A good communicator must make the topic of the conversation relevant to the listener.
Maxims of Manner
A good communicator must say something in the clearest and most orderly manner.
LESSON 7- ACCEPTABLE AND POLITE COMMUNICATION STRATEGIES
Polite
-
marked by an appearance of consideration, tact, deference, or courtesy –Merriam
Webster
behaving in a way that is socially correct and shows respect for other people's feelingsCambridge Dictionary
Politeness Theory
People have a universal desire to be treated with politeness.
Face
Each individual has a desired self-image; a way he/she wants to be seen.
There are two aspects of the face which are the basic wants in any social interaction.
Face-threatening Act
one that would make someone possibly lose face, or damage it in some way.