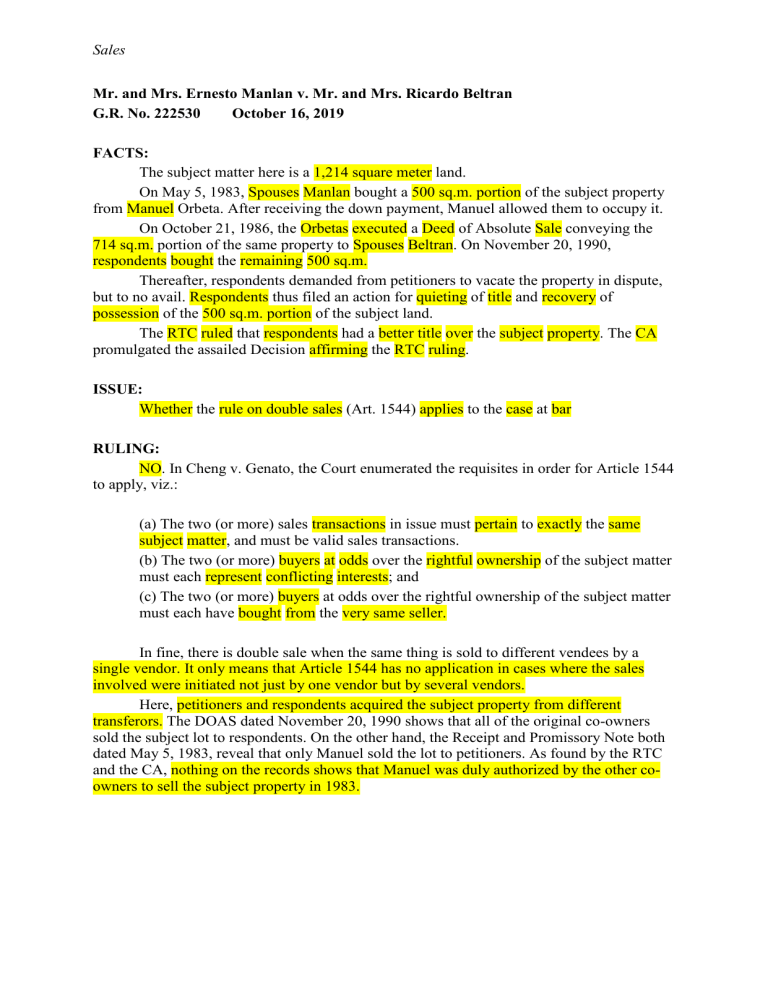 Sales
Mr. and Mrs. Ernesto Manlan v. Mr. and Mrs. Ricardo Beltran
G.R. No. 222530
October 16, 2019
FACTS:
The subject matter here is a 1,214 square meter land.
On May 5, 1983, Spouses Manlan bought a 500 sq.m. portion of the subject property
from Manuel Orbeta. After receiving the down payment, Manuel allowed them to occupy it.
On October 21, 1986, the Orbetas executed a Deed of Absolute Sale conveying the
714 sq.m. portion of the same property to Spouses Beltran. On November 20, 1990,
respondents bought the remaining 500 sq.m.
Thereafter, respondents demanded from petitioners to vacate the property in dispute,
but to no avail. Respondents thus filed an action for quieting of title and recovery of
possession of the 500 sq.m. portion of the subject land.
The RTC ruled that respondents had a better title over the subject property. The CA
promulgated the assailed Decision affirming the RTC ruling.
ISSUE:
Whether the rule on double sales (Art. 1544) applies to the case at bar
RULING:
NO. In Cheng v. Genato, the Court enumerated the requisites in order for Article 1544
to apply, viz.:
(a) The two (or more) sales transactions in issue must pertain to exactly the same
subject matter, and must be valid sales transactions.
(b) The two (or more) buyers at odds over the rightful ownership of the subject matter
must each represent conflicting interests; and
(c) The two (or more) buyers at odds over the rightful ownership of the subject matter
must each have bought from the very same seller.
In fine, there is double sale when the same thing is sold to different vendees by a
single vendor. It only means that Article 1544 has no application in cases where the sales
involved were initiated not just by one vendor but by several vendors.
Here, petitioners and respondents acquired the subject property from different
transferors. The DOAS dated November 20, 1990 shows that all of the original co-owners
sold the subject lot to respondents. On the other hand, the Receipt and Promissory Note both
dated May 5, 1983, reveal that only Manuel sold the lot to petitioners. As found by the RTC
and the CA, nothing on the records shows that Manuel was duly authorized by the other coowners to sell the subject property in 1983.