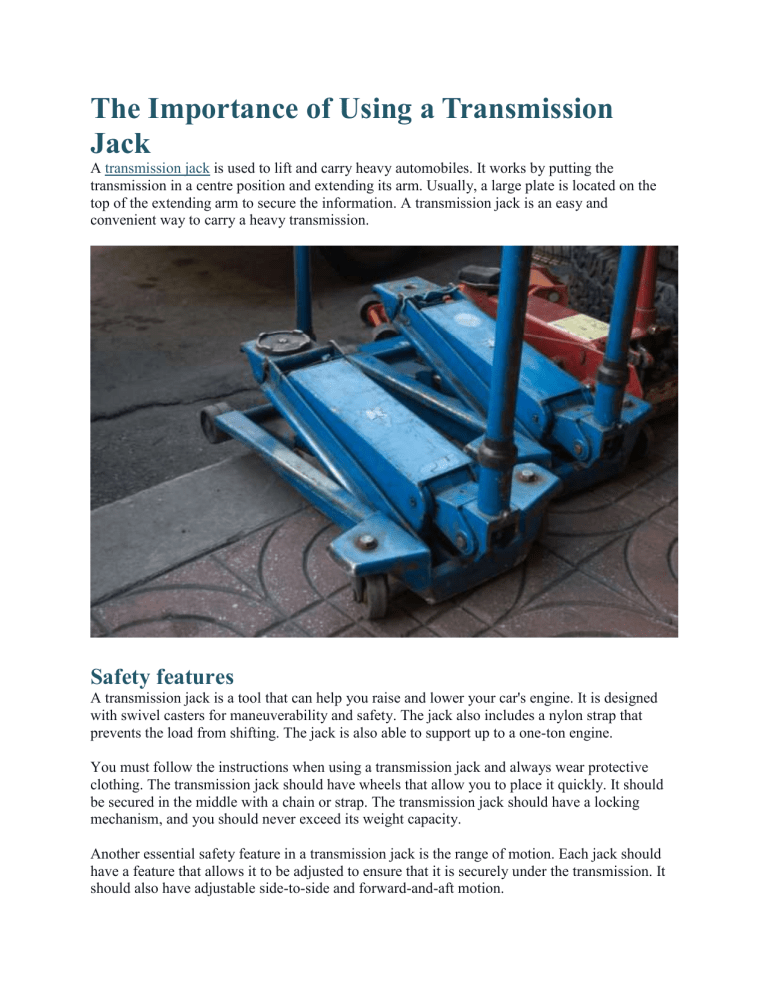 The Importance of Using a Transmission
Jack
A transmission jack is used to lift and carry heavy automobiles. It works by putting the
transmission in a centre position and extending its arm. Usually, a large plate is located on the
top of the extending arm to secure the information. A transmission jack is an easy and
convenient way to carry a heavy transmission.
Safety features
A transmission jack is a tool that can help you raise and lower your car's engine. It is designed
with swivel casters for maneuverability and safety. The jack also includes a nylon strap that
prevents the load from shifting. The jack is also able to support up to a one-ton engine.
You must follow the instructions when using a transmission jack and always wear protective
clothing. The transmission jack should have wheels that allow you to place it quickly. It should
be secured in the middle with a chain or strap. The transmission jack should have a locking
mechanism, and you should never exceed its weight capacity.
Another essential safety feature in a transmission jack is the range of motion. Each jack should
have a feature that allows it to be adjusted to ensure that it is securely under the transmission. It
should also have adjustable side-to-side and forward-and-aft motion.
Cost
Transmission jacks come in various styles with various capacities and features. Many of them
are made specifically for the type of car that you're working on. For example, most cars and light
utility vehicles have lightweight transmissions that attach directly to the engine block, and you
need a jack to handle the weight. An excellent example is the OTC 1728 transmission jack,
which is small enough for a single mechanic to use and durable and precision-built.
Most transmission jacks are heavy-duty steel and have an easy-to-roll saddle, and swivel pump
handles. These tools are great for working in tight spaces and are also made for many vehicles,
from light cars to large fleet trucks.
Transmission jacks vary significantly in terms of height and capability. Some models are only 7
inches high, while others can lift to 74 inches. Some models feature a broader base and tilting
saddles to improve traction while you're working underneath your vehicle. Many also feature an
overload valve and locking casters to help protect your car while you work on it.
Choosing a transmission jack
There are a variety of factors to consider when buying a transmission jack. These factors include
weight capacity, price, stability, range of motion, and structural design; You should also pay
attention to the quality of the product. Transmission jacks tend to have higher weight capacities
than other types of jacks.
A transmission jack should come with a warranty. Having a contract is essential, as it protects
you if something goes wrong with it. A limited warranty will cover the product for a certain
period, and some manufacturers even offer a full refund of your purchase if you're unsatisfied.
When choosing a transmission jack, it's essential to consider the weight capacity and the height
range. A low-profile jack is ideal for vehicles that are not too high, and a high-lift model is great
for trucks. It would help if you also looked for features such as a foot-operated pump and
telescoping design. The weight capacity of a transmission jack should range from 700 pounds to
over two thousand pounds.
Range of motion
When you buy a transmission jack, make sure to look at the range of motion it offers. While all
jacks should provide a range of motion, not all are designed for the same job. You need to find
one with the range of motion you need for the job you're doing and one that can securely hold the
vehicle you're working on. It would help if you also considered the price, durability, stability,
and structural design before you make your purchase.
One of the essential features of a transmission jack is its range of motion. This is the height and
angle of the jack at which you can raise and lower the vehicle. This is crucial when trying to
reach the underside of a car. You should also know whether you need a low-profile jack or one
that offers a high lift.
Another important consideration is the weight of the transmission system. Make sure that the
transmission jack you choose can support the weight of the transmission system. You should also
choose one with a broad leg base to provide stability. A hydraulic or air-assisted transmission
jack will be more accurate than a manual jack.