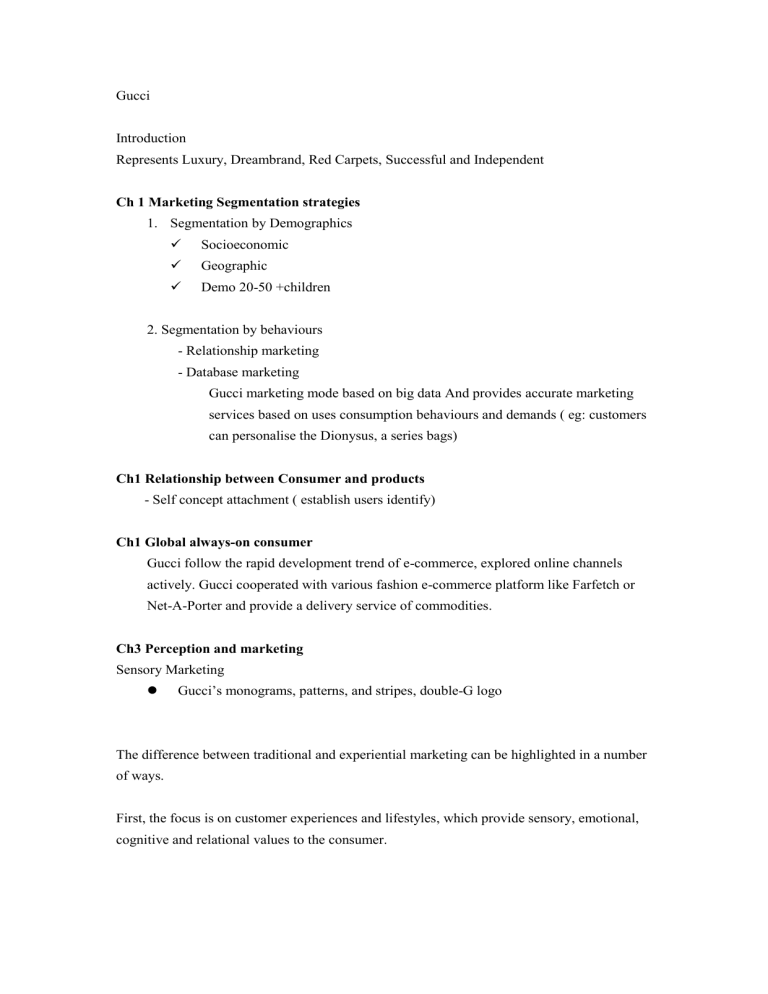 Gucci
Introduction
Represents Luxury, Dreambrand, Red Carpets, Successful and Independent
Ch 1 Marketing Segmentation strategies
1. Segmentation by Demographics

Socioeconomic

Geographic

Demo 20-50 +children
2. Segmentation by behaviours
- Relationship marketing
- Database marketing
Gucci marketing mode based on big data And provides accurate marketing
services based on uses consumption behaviours and demands ( eg: customers
can personalise the Dionysus, a series bags)
Ch1 Relationship between Consumer and products
- Self concept attachment ( establish users identify)
Ch1 Global always-on consumer
Gucci follow the rapid development trend of e-commerce, explored online channels
actively. Gucci cooperated with various fashion e-commerce platform like Farfetch or
Net-A-Porter and provide a delivery service of commodities.
Ch3 Perception and marketing
Sensory Marketing

Gucci's monograms, patterns, and stripes, double-G logo
The difference between traditional and experiential marketing can be highlighted in a number
of ways.
First, the focus is on customer experiences and lifestyles, which provide sensory, emotional,
cognitive and relational values to the consumer.
Second, there is a focus on creating synergies among meaning, perception, consumption and
brand loyalty.
Third, it is argued that customers are not rational decision-makers, but are rather driven by
rationality and emotion.