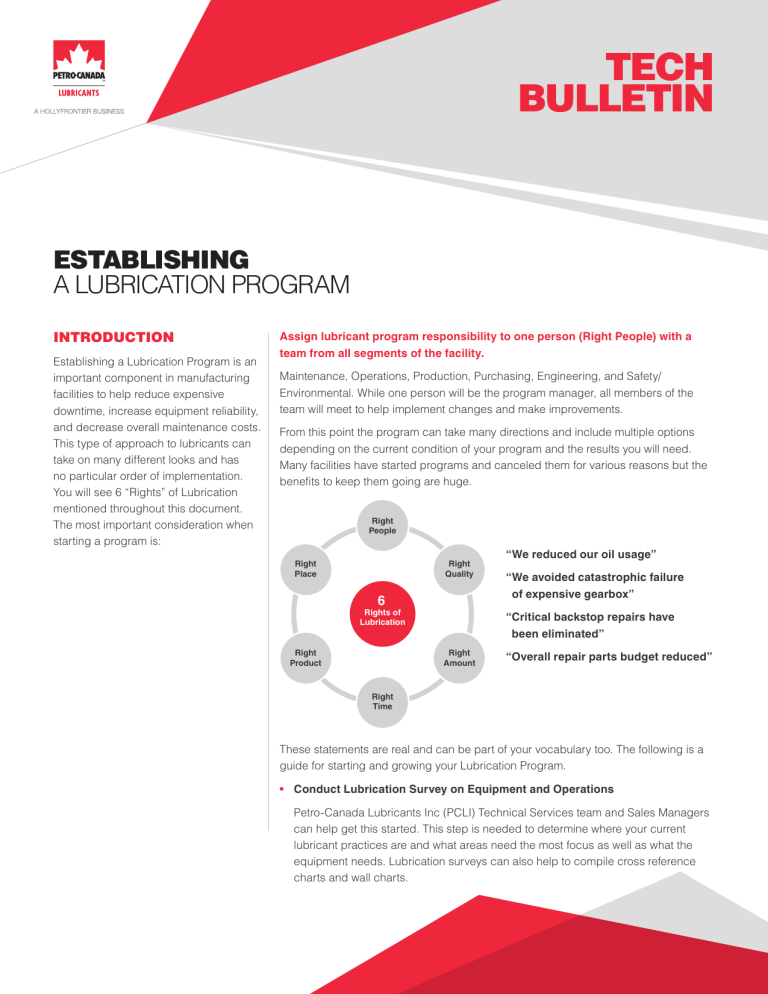 TECH
BULLETIN
ESTABLISHING
A LUBRICATION PROGRAM
INTRODUCTION
Establishing a Lubrication Program is an
important component in manufacturing
facilities to help reduce expensive
downtime, increase equipment reliability,
and decrease overall maintenance costs.
This type of approach to lubricants can
take on many different looks and has
no particular order of implementation.
You will see 6 "Rights" of Lubrication
mentioned throughout this document.
The most important consideration when
starting a program is:
Assign lubricant program responsibility to one person (Right People) with a
team from all segments of the facility.
Maintenance, Operations, Production, Purchasing, Engineering, and Safety/
Environmental. While one person will be the program manager, all members of the
team will meet to help implement changes and make improvements.
From this point the program can take many directions and include multiple options
depending on the current condition of your program and the results you will need.
Many facilities have started programs and canceled them for various reasons but the
benefits to keep them going are huge.
Right
People
Right
Place
Right
Quality
6
Rights of
Lubrication
Right
Product
"We reduced our oil usage"
"We avoided catastrophic failure
of expensive gearbox"
"Critical backstop repairs have
been eliminated"
Right
Amount
"Overall repair parts budget reduced"
Right
Time
These statements are real and can be part of your vocabulary too. The following is a
guide for starting and growing your Lubrication Program.
• Conduct Lubrication Survey on Equipment and Operations
Petro-Canada Lubricants Inc (PCLI) Technical Services team and Sales Managers
can help get this started. This step is needed to determine where your current
lubricant practices are and what areas need the most focus as well as what the
equipment needs. Lubrication surveys can also help to compile cross reference
charts and wall charts.
• Establish asset criticality list
Equipment that cannot fail or cause expensive downtime
• Determine if any asset needs to be chemically cleaned
or other type of cleaning and flushing to return them
to best operating condition. For example, reference
technical bulletins TB-1284E System Flushing Procedure
for large system conversions, or TB-1217E Guidelines
for converting to COMPRO® Compressor Fluids for more
information converting air compressors.
• Storage and handling (Right Quality)
• Establish lubrication service procedures (Right Time,
Right Place, Right Amount)
• Develop or purchase a CMMS (Computerized
Maintenance Management System) system for lubrication
scheduling
• For filling machines
• For changing lubricants
• Keep records of all lubricant activities
• Maintain regular group meetings to discuss progress
• Training Level II (Right People)
• Dedicate drum pumps and transfer containers
• Can be refresher on fundamentals
• Establish dedicated used oil container away from
new product
• Deeper into the chemistry of lubrication, etc.
• Discard all oil and containers that have exceeded shelf life
or are obsolete (consult with your PCLI Technical Services
Advisor for assistance)
• OEM requirements (Right Products)
• Compile database of equipment
• Include OEM lubricant and current lubricant in the
machine
• Consolidate where possible (Right Products)
• Consult with Petro-Canada Lubricants to avoid
compromising performance
• Training Level I (Right People)
• Identify a Champion so that the project maintains
momentum
• Hire and train exceptional employees for this responsibility
• Petro-Canada Lubricants can assist with training
• Introduction to basics of lubrication fundamentals
• Management and those with authority over budget should
also attend training
• Establish oil drain intervals based on OEM and
Petro-Canada Lubricants recommendations (Right Time)
• Color Code and tag equipment (Right Place)
• Implement a used oil analysis program
• Prioritize equipment by criticality. Not all equipment will
need to be sampled
• Analysis is important to help gauge the progress of the
program based on oil and equipment life improvements
• Leverage chosen laboratory to help establish sampling
procedures and frequencies and provide training
• Establish in-house procedures on how to react to results
from testing, review data with team and discuss plan of
action
• Begin filtering new oil and in-service oil in equipment
using external filtration
• Use oil analysis cleanliness data to set-up filtration events
• Proactively identify and minimize detrimental running
conditions and sources of contaminants that can be the
root cause of fluid degradation or equipment wear
• Consider desiccant breathers on
critical equipment
• Training Level III
• Training never stops;
and new people join
Environmental
and Disposal
Considerations
Receiving
and
Storage
Life Cycle
of Lubricant
• Explore viable Predictive
Maintenance options
Lubricant
Analysis and
Interpretation
• Equipment tags should match oil dispenser label for color
and/or shape
• Vibration analysis
• Reference wall chart
• Ultrasound
• Examples can be provided
• Oil monitoring sensors, etc.
Learn more about us: lubricants.petro-canada.com
Contact us: lubecsr@petrocanadalsp.com
Lubricant
Selection
• Remote temperature probes
Handling
and
Application
Control
Contamination
Filtration
Committed to the disciplined operation of our business.
CERTIFIED
ISO 9001: 2015
ISO 14001: 2015
IATF 16949: 2016
Petro-Canada Lubricants Inc.
2310 Lakeshore Road W. Mississauga, Ontario, Canada L5J 1K2
lubricants.petro-canada.com
TB-1307E (2019.09)
™ Owned or used under license.