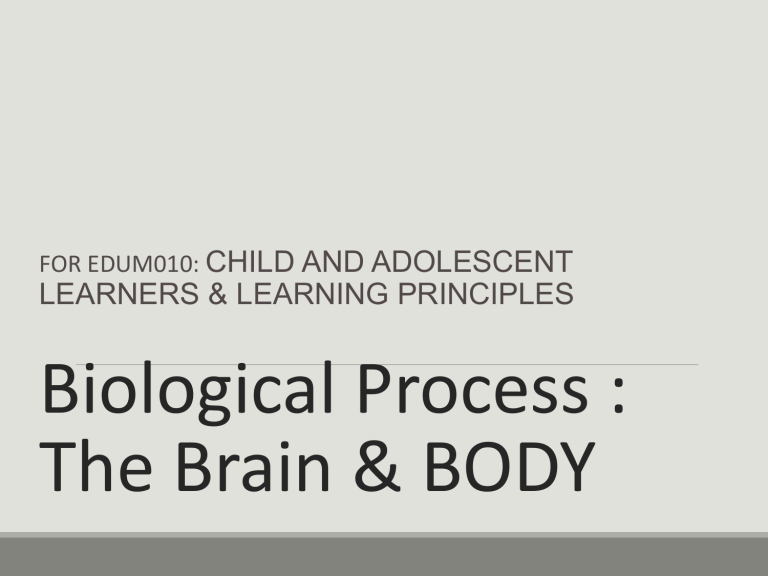 FOR EDUM010: CHILD AND ADOLESCENT
LEARNERS & LEARNING PRINCIPLES
Biological Process :
The Brain & BODY
BRAIN PHYSIOLOGY
Structure & Function
Frontal lobes- are involved in voluntary movement, thinking, personality and
intentionality or purpose.
Occipital lobes – function in vision
Temporal lobes – have an active role in hearing, language processing and
memory.
Parietal lobes- play important roles in registering spatial location, attention
and motor control
Deeper in the brain, lies amygdala (important in emotion) and hippocampus
(memory and emotion).
Neurons and its functions
◦ basic conducting
unit/building blocks of
nervous system
◦ the specialized cells that
conduct impulses through
the nervous system
◦ Are divided into 3 functions:
1. Sensory
2. Motor
3. Association
Brain's laterization
Left hemisphere
Right Hemisphere
-language (speaking, writing,
reading, speech and written
comprehension)
-Math and Logic (Reasoning and
numerical skills)
-intelligence
Visual-spatial relations (perception)
-emotions/emotional thinking
-Music processing
-nonverbal language
-language control
-difficulty understanding metaphors
-insensitive to emotional qualities of
speech
-attentional deficits
-unilateral neglect – blindness in
the left visual field
Brain during infancy
At birth, brain is about 25% of adult weight.
By 2nd year, it is about 75% of its adult weight.
Spreading connections of dendrites
Increase connections between neurons
After birth, environmental experiences guide the
brain's development.
The inflow stream of sights, sounds, smells,
touches, language and eye contact help shape the
brain neural connections.
Things to remember:
Because the brain is still developing so rapidly during infancy:
1. The infant's head should be protected
from falls or other injuries.
2. Baby should never be shaken (baby
shaken syndrome) to avoid brain swelling
and hemorrhaging.
Studying brain development in infant is
never easy. (see charles nelson's study)
Childhood Brain
▪From age 6 through puberty, the most dramatic
growth takes place in the temporal and parietal
lobes, esp in areas that play major role in language
and spatial relations.
▪The development of the brain and the
opportunities to experience the widening world
contribute to children's emerging cognitive
abilities.
Childhood
Continuing development of the brain and nervous
system.
Enable children to plan their actions, attend to stimuli
more effectively and make considerable strides in
language development.
Increase in brain size due to: growth of nerve endings
and myelination (eye-hand coordination and focusing
attention)
At age 3-6, most rapid growth takes place in the frontal
areas involved in planning and organizing new actions
and maintaining attention to tasks.
Adolescence
Using fMRI, scientist have recently
discovered that adolescent brain undergo
significant structural changes.
1. The corpus callosum thickens – improves
ability to process information
2. amygdala was more pronounced than in
the prefrontal cortex. (the reverse
occurred in adult).
3. The very last part of the brain to mature is the
prefrontal cortex where planning, setting priorities,
suppressing impulses and weighing the
consequences of one's actions take place.
4. Increase in dopamine and decrease in serotonin. (
mental disorder is more common in adolescence &
adulthood)
Questions to ponder….
How can the changes in the brain explain
adolescent's behavior?
What are the roles of the teachers in
stimulating brain development?
Height and weight
increase rapidly in
infancy, then they
take a slower course
during the childhood
years.
Infancy
95% of full term newborns are 18-22 inches long
and weighs between 5 and 10 pounds
In the first several days, they may lose 5-10% of
their body weight before they learn to adjust to
neonatal feeding.
They grow rapidly , gaining an average of 5-6
ounces per week during the first month
Infants growth is slower during the second year of
life.
At 2 years, infant weigh 26-32 pounds and 32-35
inches in height (half of adult height).
Early childhood
Height – the average annual increase in
height is 3 inches . By age six, the
average child measures 46.6 inches.
Weight – annual increase of 3 to 5
pounds. At age 6, children should weigh
approximately 7x as much as they did at
birth.
Body proportions- "baby look"
disappears, Facial features remain small
but the chin becomes more pronounced
and neck elongates
Early childhood
Body Build – 3 possible body builds:
Endomorphic "flabby", Mesomorphic "sturdy" and
Ectomophic "thin".
Bones and muscles – bones ossify at different
rates in different parts of the body. Children may
look thinner even though they weigh more.
Teeth- during the first 4-6 months of this stage,
the last four baby teeth erupts "back molars". Baby
teeth is replaced with permanent teeth.
Middle and Late childhood
Involves a slow, consistent growth.
Average of 2 to 3 inches in height
Gains about 5 to 7 pounds a year
increase in the size of skeletal and muscular system
(improved muscle tone)
Proportional changes, head circumference, waist
circumference and leg decrease in relation to body height.
ADOLESCENCE
1.
✔
✔
✔
✔
Physical growth tends to be both rapid and uneven.
Girls' growth spurt occurs earlier, and so they look
older than boys of same age.
After growth spurt, boys have greater strength and
endurance
Early maturing boys likely to draw favorable
responses; late maturing boys may seek attention
Late maturing girls likely to be popular and carefree
Determinants of puberty
Menarche (first menstrual flow for girls)
Heredity –programmed into the genes within the
boundaries of about 9-16 years of age.
Hormones – androgens (main class of male sex
hormones) and estrogen ( main class of female
hormones).
Testosterone is an androgen that is the key hormone in
the development of puberty in boys
Estradiol is an estrogen that play an active role in female
pubertal development.
Development of primary sex
characteristics
BOYS
GIRLS
Testes
Ovaries
Scrotum
Uterus
Penis
Fallopian tube
Seminal vesicles
Vagina
Prostate gland
Menarche – first
menstruation
Important
secondary sex characteristics
BOYS
GIRLS
Pubic hair & facial hairs
Hips becomes wider & rounder
Skin becomes coarser, less
transparent and pores enlarge
Breasts begin to enlarge
Sebaceous or oil producing gland
& apocrine glands become active
Voice becomes husky and later
drops in pitch
Breast knots
Pubic hair & Auxiliary hair
Skin becomes coarser, less
transparent, pores enlarge
Sebaceous & apocrine glands
become active
Muscles increase in size & strength
Voice becomes fuller and
melodious
Common Effects of Pubertal
changes on attitudes and
behaviors
Desire for isolation – withdraw from peers & family
activities, often daydream about how
misunderstood & mistreated they are.
Boredom – developing the habit of underachieving.
In coordination- clumsy & awkward for a time
Social Antagonism – uncooperative, disagreeable &
antagonistic.
Common Effects of Pubertal
changes on attitudes and
behaviors
Heightened emotionality – moodiness, sulkiness,
temper outbursts and a tendency to cry at a
slightest provocation.
Loss of self-confidence – due to lowered physical
resistance & constant criticisms of adults and peers
Excessive modesty – fear that others will notice the
changes and comment on them unfavorably.
Sleep restores,
replishes, and
rebuild our brain
and bodies.
How much do infants sleep?
Newborn sleep 16-17 hours a
day, although some sleep more
and others less.
Half of infant's sleep is REM
sleep. After 3 mo. old, infant's
REM sleep is only 40%.
The large amount of REM sleep
may provide the infant with
added self-stimulation, it also
promote brain development.
Would you allow shared
sleeping with your baby?
In the U.S. Sleeping in a crib in a
separate room is the most
frequent sleeping arrangement.
It promotes self-reliance and
independence.
In Guatamala, china and other
asian cultures, infants sleep in
their parents bed until the birth of
a new sibling .
They believe that it enhances
closeness, promotes
It eliminates the risk of the mother breastfeeding, a quicker response
rolling over her baby.
to the baby's cries and allows the
mother to detect potentially
To minimize risk if mother is
dangerous breathing pauses.
impaired by alcohol, smoking or
being overly tired.
Sudden Infant death syndrome
(SIDS)
In addition to sleeping in a prone position, the researchers have
found the ff risk factors:
1.
SIDS is less likely to occur in infants who use a pacifier when they
go to sleep.
2.
Low birth weight infants are 5 to 10x more likely to die of SIDS.
3.
Infants with sleep apnea die of SIDS.
4.
It is more common in lower socioeconomic status
5.
Common among infants who are passively exposed to cigarette
smoke.
6.
More common if infants sleep in soft bedding
7.
SIDS occurs more often in infants with abnormal brain stem
functioning.
How to help children sleep
better?
Read bed time story
Playing quietly with the child in the bath
Or letting the child sit on the caregivers lap while
listening to music.
Sleep problems include nightmares and night
terrors
These sleep disruptions reflect emotional problems
in children.
CHILDHOOD
Experts recommend that young children get 11 -13 hours of sleep
each night (national sleep foundation, 2008)
A national survey indicated that children who do not get adequate
sleep are more likely to:
1.
Show depressive symptoms
2.
Have problems at school
3.
Have a father in poor health
4.
Live in a family where disagreements and fights are common
5.
Live in an unsafe neighbourhood.
Nutrition
Nutritionists recommend that infants consume
approximately 50 calories per day for each pound
they weigh – more than twice an adult
requirement per pound.
Behaviorist John Watson espoused that schedule
feeding is superior because it increases the child's
orderliness.
Fat is very important for babies
BREAST VS. BOTTLE
FEEDING?
What's your view?
Every mother who is physically able should
breastfeed. Do you agree or disagree? Give
reasons.
Benefits of breast feeding
Appropriate weight gain and lowered risk of childhood obesity (Bergmann
and others, 2003)
Fewer allergies( Oddy and others, 2004)
Prevention or reduction of diarrhea, respiratory infections, bacteria and
urinary tract infections (Marild and others, 2004)
Denser bones in childhood and adulthood (Gibson and others, 2001)
Lower incidence of SIDS (Sudden Infant Death Syndrome) (fredrickson,
1993)
Improved neurological & cognitive development (Brody, 1994)
Improved visual acuity (Makrides & others, 1995)
Nutritional needs & Eating
habits of children
Young children need fewer calories than infants
and toddlers because their brains & body are
growing more slowly.
As a result, appetite typically decreases from ages
2-6, which causes some parents concern.
The best way to meet children's nutritional needs
each day is to provide access to a variety of foods
from all the food groups.
Nutritional needs & Eating
habits of adolescence
The dramatic physical growth and development during puberty
requires increases in energy, protein, vitamins, and minerals.
The total nutrient needs are higher than any other period of life
and they peak during the period where the growth is fastest.
Poor nutrition during adolescence can contribute to many adult
health problems such as diabetes, obesity, osteoporosis and
cancer.
Recommended daily calorie and
protein intakes for adolescents.
Calories per
Day
Proteins grams
Per day
Age
Male
Female
Male
Female
11-14
2,200
2, 500
46
49
15-18
2,200
3,000
44
59
19-24
2,200
2,900
46
58
Recommendations for teens
about nutrition and fitness
Remove TV from teen's bedroom and limit the time they spend looking at any screen to 2
hours or fewer a day.
Avoid beverages sweetened with sugar or high fructose corn syrup.
Strive to eat at least 5 servings of fruits and vegetable daily.
Engage in moderate to vigorous physical activity for at least 60 minutes a day.
Actually prepare and eat meals at home as a family at least 5-6 times a week.
Limit eating out, especially at fast food restaurants
Dont skip breakfast and make sure it is healthy
Limit portion sizes
Make lifestyle changes a whole family project
Perceptual
development
INVOLVES THE PROCESSING OF SENSORY
INFORMATION BY THE BRAIN.
Visual perception
A newborn infant will gaze at an object and track it to keep it in view.
Visual acuity is achieved at 12 months old.
Depth perception develops after 6 months when babies begin to move
around on their own.
Through a technique called "habituation procedure", researchers
learned a great deal about the type of visual stimulation infants prefer.
Infants preferred pattern over solid colored stimuli, prefer human faces
to other pattern stimuli, when gazing at a face, they focus on eyes and
facial expression.
Auditory perception
There is a substantial evidence that fetuses react to sound
by the sixth and seventh month of prenatal development.
3 day old infant prefer familiar rather than unfamiliar voice.
2 year old infants only produce the sounds of their native
language.
Auditory perception develops rapidly during infancy but it
does not reach adult levels until elementary school years.
Development of other senses
Taste
TOUCH AND PAIN
Babies seem to be born with
"sweet tooth".
Newborns are responsive to touch.
They are naturally attracted to
their mothers milk which is
sweeter than the cows milk.
Research on infants attachment also
supports the importance of human
contact.
SMELL
It is also developed at birth.
A sense of smell may play an
important role in bonding.
Touch is important for brain development
Attachment is the process by which infants
form strong , affectional ties with their
caregivers.
They can also feel pain as they respond to
injections and circumcision by fussing &
crying.
No evidence however, that the pain
experienced in routine medical care has
any long-term effects on physical or
emotional development.
Motor development
INVOLVES CHILDREN'S INCREASING ABILITY TO
MOVE AND CONTROL THEIR BODY
MOVEMENTS
Newborn reflexes
REFLEX
DESCRIPTION
FUNCTION
Eye blink
Infant closes eyes with bright light or
noise near eyes.
Protects infants from
strong stimulation.
Rooting
Head turn toward source when
stroked on cheek near mouth
Helps infant find nipple
Moro*
Infants attempt to cling when
startled
May have helped animal
ancestor cling to mother
Palmer
grasp*
Spontaneous grasp when object
placed in palm
Prepares infant for
voluntary grasping
Stepping
Infants lifts one foot after another
when held to permit feet to touch
flat surface
Prepares infant for
voluntary walking
Babinski
reflex*
Toes fan out and curl sole of foot is
stroked
Unknown
Gross motor skills
Involve the movement of the head, body, legs, arms and
large muscles.
The most significant for parents is the change in locomotion
skills.
Children are affectionately called toddlers because they
toddle from side to side.
During preschool years, children's muscles grow stronger
and their physical coordination improves.
The effective performance of some motor skills depends on
cognitive skills.
Fine motor skills
Refers to skill that involve
small body movements.
Development is continuous
and gradual
Follows a universal
sequence but each child has
his or her own individual
timetable.
Fine motor skills
Grasping reflex appear at 5 months onward
Pincer grasp appear around 1 year old. They can
use the thumb and index finger to pick up small
objects, such as blocks, buttons or puzzle pieces.
By age 2, they can turn knobs and faucets and play
with screw type toys.
By 3-5 years, they can assemble simple puzzles,
hold crayons, paint brushes, or marker pens.
Fine motor skills
By age 5-6, they can copy simple geometric shapes,
manipulate buttons and zippers and perhaps tie
their own shoes. They can also print the alphabet,
letters in their name, numbers 1 to 10. Hand
dominance appears.
By age 7, ready to master cursive writing
By age 10 and 12, they begin to show manipulative
skills similar to those of adults, can perform crafts,
play musical instruments and work with puzzles
with tiny pieces.
Fine motor skills
Sex difference exist in the level of perfection
of skills. Girls surpass boys in skills involving
fine motor skills, while boys are superior to
girls involving the grosser muscles.
The socio-economic status also influence
the skills that children will learn. Children
from lower status learn self-help and social
help skills, while children from middle/upper
status learn more on play skills.
Special health
concerns
4 major health issues facing
young people of today.
Eating disorders and obesity
Substance abuse
Adolescent sexuality and pregnancy
Depression and suicide
Schools can play an important role in the
prevention and intervention efforts.