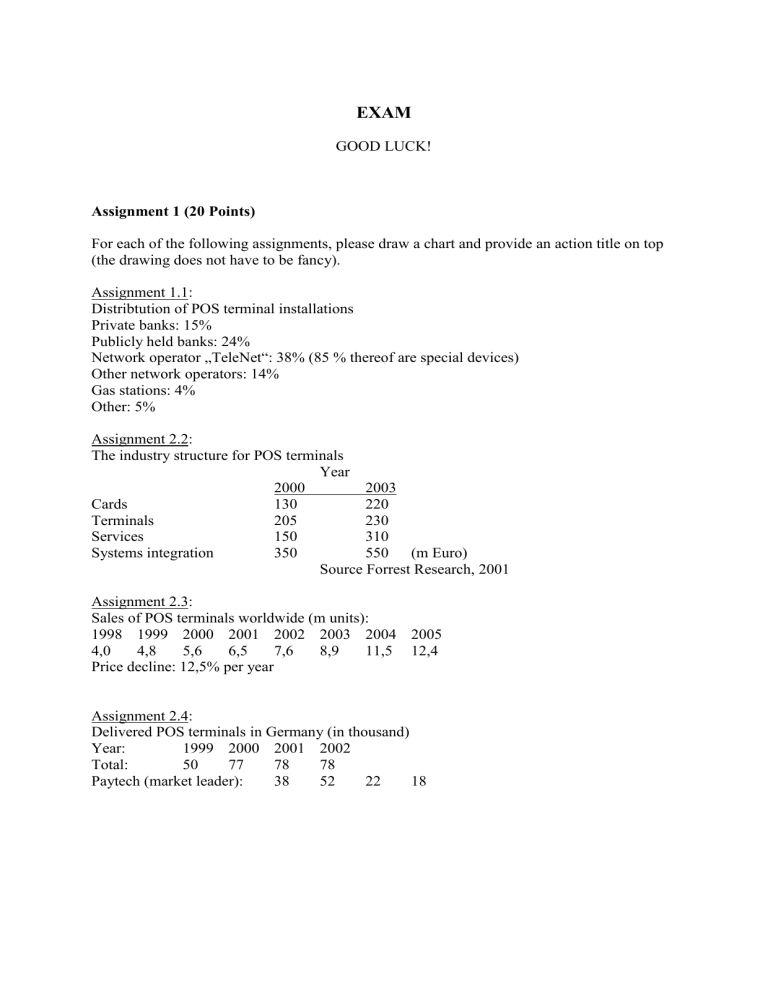 EXAM
GOOD LUCK!
Assignment 1 (20 Points)
For each of the following assignments, please draw a chart and provide an action title on top
(the drawing does not have to be fancy).
Assignment 1.1:
Distribtution of POS terminal installations
Private banks: 15%
Publicly held banks: 24%
Network operator "TeleNet": 38% (85 % thereof are special devices)
Other network operators: 14%
Gas stations: 4%
Other: 5%
Assignment 2.2:
The industry structure for POS terminals
Year
2000
2003
Cards
130
220
Terminals
205
230
Services
150
310
Systems integration
350
550 (m Euro)
Source Forrest Research, 2001
Assignment 2.3:
Sales of POS terminals worldwide (m units):
1998 1999 2000 2001 2002 2003 2004 2005
4,0
4,8
5,6
6,5
7,6
8,9
11,5 12,4
Price decline: 12,5% per year
Assignment 2.4:
Delivered POS terminals in Germany (in thousand)
Year:
1999 2000 2001 2002
Total:
50
77
78
78
Paytech (market leader):
38
52
22
18
Assignment 2 (20 Points)
a) You were introduced to a simple personality framework including as types: analyser,
synthesiser, friend and implementer. Pick two types and explain what kind of difficulties
these types may incur when working together. Then do the same for the two remaining types,
which you have not picked first.
b) You were introduced to models of personality (see above), leadership and conflict
behaviour. To recall the types:
- Conflict: compete, withdraw, collaborate, accommodate (for simplicity, we leave out the
compromise "middle" style for simplicity)
- Leadership: selling, telling, participating, delegating
Try to find a correspondence between the four personality types, the four conflict types, and
the four leadership types (hint: think of the underlying dimensions underlying each model,
and then link each type from one framework with a type each from the other frameworks).
Assignment 2 (20 Points)
a) What is the defining feature of a blue ocean strategy (what criteria identifies a strategy
as pursuing a blue ocean approach)?
b) What is it about Porter's five forces that is challenged by the blue ocean concept?
c) Blue ocean strategy has as a shaping framework called "raise-create-eliminate-reduce".
Take an example of your own choice (whether mentioned in class or not) to illustrate
how the use of this framework turns a red ocean to a blue ocean.
d) What could be a source of scepticism towards the blue ocean strategy concept?