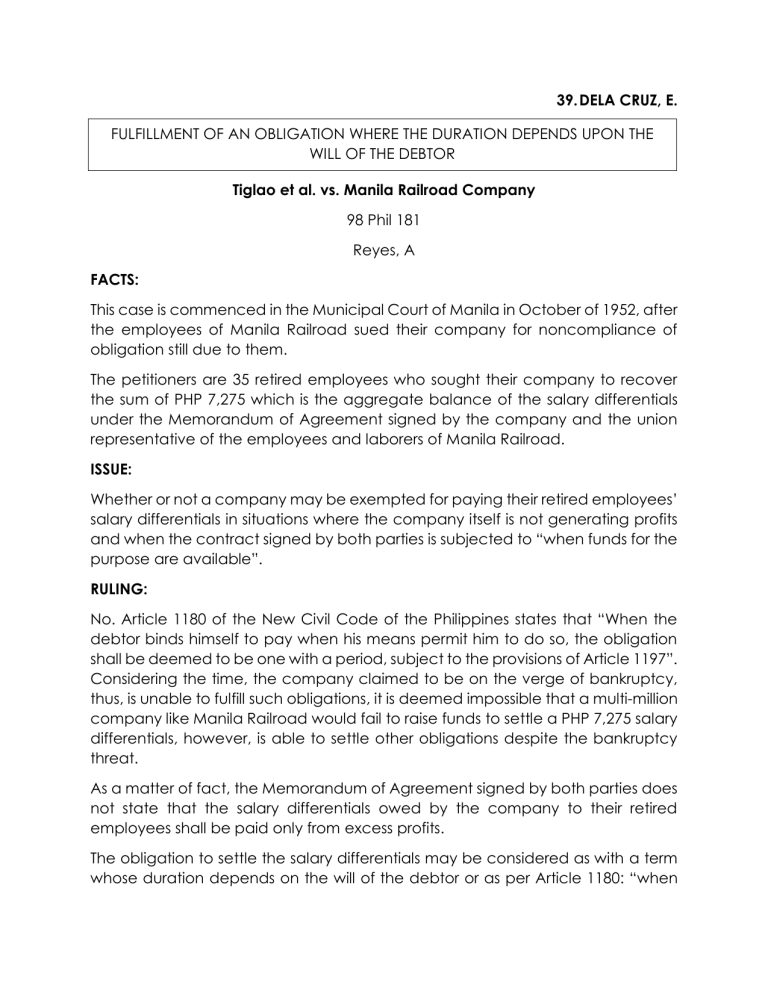 39. DELA CRUZ, E.
FULFILLMENT OF AN OBLIGATION WHERE THE DURATION DEPENDS UPON THE
WILL OF THE DEBTOR
Tiglao et al. vs. Manila Railroad Company
98 Phil 181
Reyes, A
FACTS:
This case is commenced in the Municipal Court of Manila in October of 1952, after
the employees of Manila Railroad sued their company for noncompliance of
obligation still due to them.
The petitioners are 35 retired employees who sought their company to recover
the sum of PHP 7,275 which is the aggregate balance of the salary differentials
under the Memorandum of Agreement signed by the company and the union
representative of the employees and laborers of Manila Railroad.
ISSUE:
Whether or not a company may be exempted for paying their retired employees'
salary differentials in situations where the company itself is not generating profits
and when the contract signed by both parties is subjected to "when funds for the
purpose are available".
RULING:
No. Article 1180 of the New Civil Code of the Philippines states that "When the
debtor binds himself to pay when his means permit him to do so, the obligation
shall be deemed to be one with a period, subject to the provisions of Article 1197".
Considering the time, the company claimed to be on the verge of bankruptcy,
thus, is unable to fulfill such obligations, it is deemed impossible that a multi-million
company like Manila Railroad would fail to raise funds to settle a PHP 7,275 salary
differentials, however, is able to settle other obligations despite the bankruptcy
threat.
As a matter of fact, the Memorandum of Agreement signed by both parties does
not state that the salary differentials owed by the company to their retired
employees shall be paid only from excess profits.
The obligation to settle the salary differentials may be considered as with a term
whose duration depends on the will of the debtor or as per Article 1180: "when
his means permits him to do so". Thus, by the provision of Article 1197, the court
may fix the duration of the term of the said obligation.