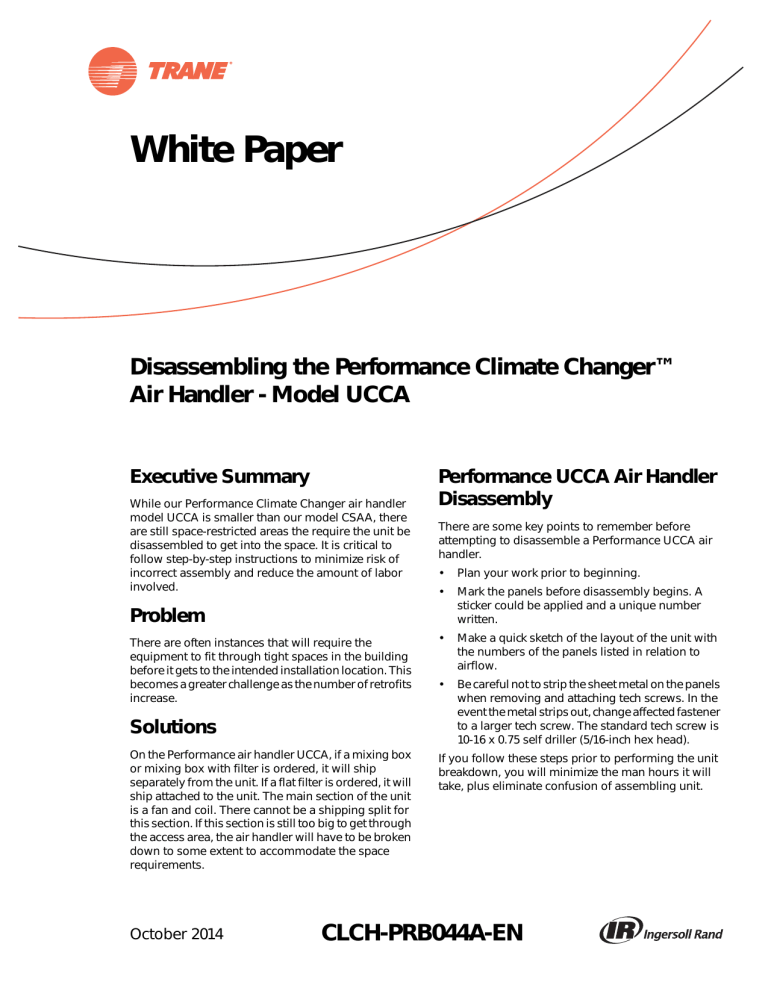 White Paper
Disassembling the Performance Climate Changer™
Air Handler - Model UCCA
Executive Summary
While our Performance Climate Changer air handler
model UCCA is smaller than our model CSAA, there
are still space-restricted areas the require the unit be
disassembled to get into the space. It is critical to
follow step-by-step instructions to minimize risk of
incorrect assembly and reduce the amount of labor
involved.
Performance UCCA Air Handler
Disassembly
There are some key points to remember before
attempting to disassemble a Performance UCCA air
handler.
•
Plan your work prior to beginning.
•
Mark the panels before disassembly begins. A
sticker could be applied and a unique number
written.
•
Make a quick sketch of the layout of the unit with
the numbers of the panels listed in relation to
airflow.
•
Be careful not to strip the sheet metal on the panels
when removing and attaching tech screws. In the
event the metal strips out, change affected fastener
to a larger tech screw. The standard tech screw is
10-16 x 0.75 self driller (5/16-inch hex head).
Problem
There are often instances that will require the
equipment to fit through tight spaces in the building
before it gets to the intended installation location. This
becomes a greater challenge as the number of retrofits
increase.
Solutions
On the Performance air handler UCCA, if a mixing box
or mixing box with filter is ordered, it will ship
separately from the unit. If a flat filter is ordered, it will
ship attached to the unit. The main section of the unit
is a fan and coil. There cannot be a shipping split for
this section. If this section is still too big to get through
the access area, the air handler will have to be broken
down to some extent to accommodate the space
requirements.
October 2014
If you follow these steps prior to performing the unit
breakdown, you will minimize the man hours it will
take, plus eliminate confusion of assembling unit.
CLCH-PRB044A-EN
Common Terminology Used for Performance UCCA Air Handler
Roof panel
Tech
screws
Door
handle
Door
panel
Striker
Wall panel
Tech
screws
VFD
Door
hinge
Control
interface
Roof Panel
Tech Screw Details
Remove 5/16-inch hex head tech screws that are used to
attach the roof panel to the side walls and/or center of unit
(COU) wall along the perimeter of the panel.
Figure 2.
Figure 1.
2
Top corner of
unit
Figure 3.
Bottom of unit
Remove roof panel
CLCH-PRB044A-EN
Low Voltage Harness
Roof Panel
If low voltage harness is installed loosen the metal clad
tape that is holding on the panel to free harness for
removal. This is important to eliminate possible damage
to the harness while removing roof.
Once tech screws are removed from perimeter of the roof
the panel can be lifted off.
Figure 4.
Figure 8.
Lift the roof panel off
Remove low voltage harness
Internal Walls and Blockoffs
Remove screws on internal components that are attached
to the walls and roof panels from the inside of unit.
Figure 5.
Filter blockoff
Figure 6.
Coil blockoff
There is gasket along top of the unit at the COU panel and
wall panels. The gasket should be in good condition to be
reused, but if not, the gasket will need to be replaced. The
door flange will have gasket along top and bottom as
shown above and not on the top like wall and COU panels.
Figure 9.
Figure 7.
Replace gasket if needed
Door
gasket
DDP fan COU panel
Door panel
Wall
gasket
Wall panel
CLCH-PRB044A-EN
3
Base Panel
Figure 10.
Gasket details at top corner
Figure 12. Base panel with wall and roof panels
removed.
Wall Panels
Remove tech screws from the wall panels along the
perimeter of the panel. 5/16-inch hex head along bottom
and sides of panels.
Figure 11.
Remove the wall panels
Fan Removal
WARNING
Hazardous Voltage!
Failure to disconnect power before servicing could
result in death or serious injury. Disconnect all electric
power, including remote disconnects before servicing.
Follow proper lockout/tagout procedures to ensure the
power can not be inadvertently energized.
The second level fan section of a vertical unit can be
removed to maneuver the unit into the space. Removal will
require field-supplied lifting lugs (part # LUG00180).
1. Remove screws located in front and rear panels of
second level fan portion.
WARNING
Risk of Unit Dropping!
Do not use skid tie down brackets to lift the unit. Tie
down brackets are designed only to secure the unit to
the floor, housekeeping pad, or platform. Improper use
of the tie down brackets could result in unit dropping
and crushing technicians which could result in death or
serious injury, and equipment damage.
2. Install four lifting lugs. Install two on front panel and
two on rear panel of second level fan using screws. See
Figure 13.
4
CLCH-PRB044A-EN
5. If unit is equipped with optional filter rack, insert
screws in vertical flanges on each side of the filter rack
(See detail A in Figure 14). Screws installed to support
filter rack are temporary and must be removed after
reassembly.
Figure 13. Install temporary lifting lugs
6. Lift second level fan portion vertically to clear
perimeter lip on first level top panels.
(1) Lifting lug # LUG00180
Temporarily use for
lifting second level.
Repeat steps 1-6 in reverse order to reinstall second level
fan portion on the first level portion of unit.
(2) Screw:
0.313 - 18 x 0.875
sheet metal
Lifting lugs should be removed once reassembly is
complete. Check gasket between the two sections. In the
event the gasket between the two sections is damaged,
replace with new gasket (Part # GKT03823). See Figure 15.
(3) Screw:
0.250 - 14 x 0.750
self-driller
ow
rfl
Ai
Figure 15. Replace gasket between sections if
necessary
Joint gasket
should overlap
1/2 inch
3. Use field-provided spreader bards and slings to rig as
shown Figure 14. Straps can be used but careful
consideration must be taken not to damage equipment
panels.
(4) Gasket: 0.188T x 1.50W
# GKT03823
Align to the edge of the panel.
2.25
4.25
Airflow
Figure 14. Use spreader bars to lift top unit
First Level
(1) Lifting lug #LUG00180
Temporarily use for lifting second level.
(2) Screw:
0.313 - 18 x 0.875 sheet metal
Note: If unit is equipped with a control interface, VFD or
electric heat, disconnect electrical wiring. Wiring
between fan motor and contactor or VFD can be
disconnected via quick connects in the control
interface or VFD box respectively. Electric heat
wiring should be disconnected from switch in
control interface box. Any controls low voltage end
devices located in second level fan portion should
be disconnected via quick connects at each device.
Vertical Fan Removal from Walls
(3) Screw:
0.250 - 14 x 0.750 self driller
Detail A
Airflow
1. Remove screws attaching shipping protection brackets
from center of isolation base to casing mounting
bracket.
2. Remove shipping protection brackets through door.
(3) Screw:
0.250 - 14 x 0.750
self-driller
4. Remove screws around parameter lip where second
level is attached to first level.
CLCH-PRB044A-EN
5
Figure 16. Remove screws attaching shipping tiedowns
Figure 18. Remove screw to remove isolation bracket
See Detail A
Screws 0.31318 x 0.875
Remove any screw ties from the walls that might be
supporting high voltage wiring harness prior to removal of
interior ½-inch screws on isolation channel.
Detail A
Figure 19. Remove screw ties holding high voltage
wiring harness
Tie-downs
Figure 17.
6
Isolation channels
CLCH-PRB044A-EN
The walls and fan need to be supported when the ½-inch
screws are removed.
Note: Caution the walls will fall if not supported during
the removal of screws.
Figure 20. Support walls to prevent falling
There are many different electrical components that may
have to be removed during disassembly.Only qualified
electrical personnel should work with electrical
components.
Low voltage harnesses are labeled, but distinguishable
markings should be added where multiple harnesses exist
such as electrical tape. This will eliminate the chance for
cross wiring.
Final Steps
•
Remove all the remaining wall panels.
•
Replace any damaged gasketing
– Foam gasketing 0.188T x 1.50W (GKT03823)
•
Reassemble in the reverse order as the instructions
above. Remember to start with panels on one side to
use as a guide and structural support for the internal
components that are added next.
Action
If space constraints are an issue, it's important to be proactive early in the ordering process to determine how best
to get the air handler to fit into the space.
Determine the size of the space that the air handler will
have to fit through in the building, including hallways,
elevators, stairs, doorways, etc.
Electrical Component Consideration
If the unit must be broken down at the job site, it is
important to follow the method described in this White
Paper to minimize risk and reduce the amount of labor
involved.
WARNING
Live Electrical Components!
Failure to follow all electrical safety precautions when
exposed to live electrical components could result in
death or serious injury. When necessary to work with
live electrical components, have a qualified licensed
electrician or other individual who has been properly
trained in handling live electrical components perform
these tasks.
Trane optimizes the performance of homes and buildings around the world. A business of Ingersoll Rand, the leader in
creating and sustaining safe, comfortable and energy efficient environments, Trane offers a broad portfolio of advanced
controls and HVAC systems, comprehensive building services, and parts. For more information, visit www.Trane.com.
Trane has a policy of continuous product and product data improvement and reserves the right to change design and specifications without notice.
© 2014 Trane All rights reserved
CLCH-PRB044A-EN 31 Oct 2014
We are committed to using environmentally
(NEW)
conscious print practices that reduce waste.