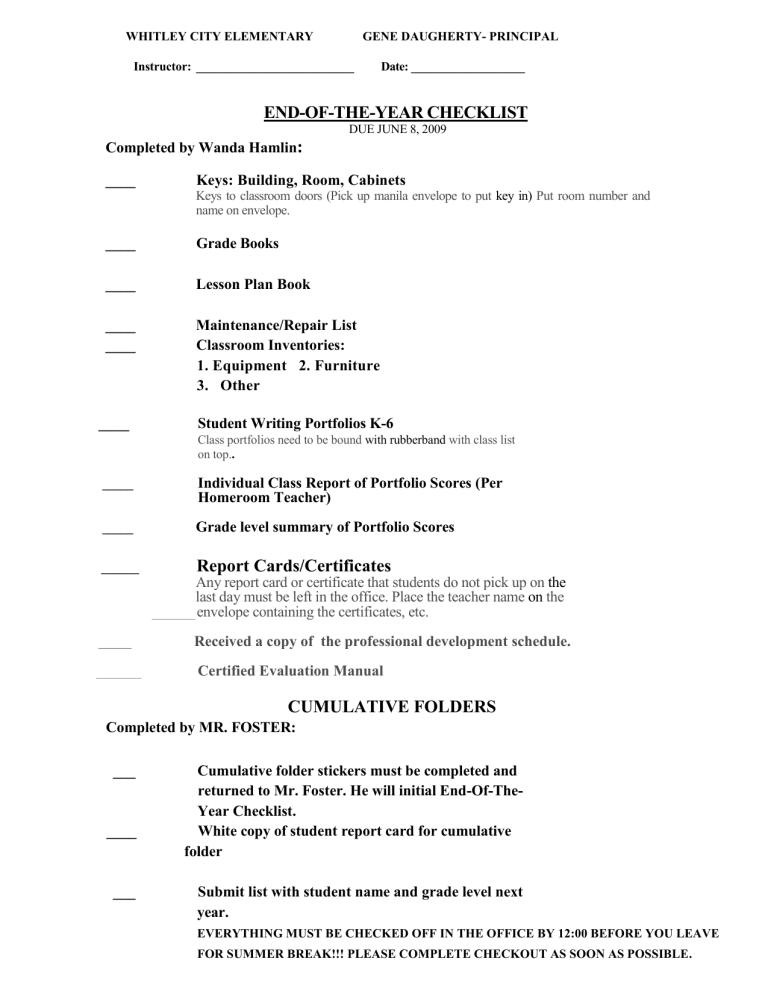 WHITLEY CITY ELEMENTARY
GENE DAUGHERTY- PRINCIPAL
Instructor: _________________________
Date: __________________
END-OF-THE-YEAR CHECKLIST
DUE JUNE 8, 2009
Completed by Wanda Hamlin:
____
Keys: Building, Room, Cabinets
Keys to classroom doors (Pick up manila envelope to put key in) Put room number and
name on envelope.
____
Grade Books
____
Lesson Plan Book
____
____
Maintenance/Repair List
Classroom Inventories:
1. Equipment 2. Furniture
3. Other
____
Student Writing Portfolios K-6
Class portfolios need to be bound with rubberband with class list
on top..
_____
Individual Class Report of Portfolio Scores (Per
Homeroom Teacher)
_____
Grade level summary of Portfolio Scores
______
Report Cards/Certificates
Any report card or certificate that students do not pick up on the
last day must be left in the office. Place the teacher name on the
______ envelope containing the certificates, etc.
_____
Received a copy of the professional development schedule.
______
Certified Evaluation Manual
CUMULATIVE FOLDERS
Completed by MR. FOSTER:
___
____
___
Cumulative folder stickers must be completed and
returned to Mr. Foster. He will initial End-Of-TheYear Checklist.
White copy of student report card for cumulative
folder
Submit list with student name and grade level next
year.
EVERYTHING MUST BE CHECKED OFF IN THE OFFICE BY 12:00 BEFORE YOU LEAVE
FOR SUMMER BREAK!!! PLEASE COMPLETE CHECKOUT AS SOON AS POSSIBLE.