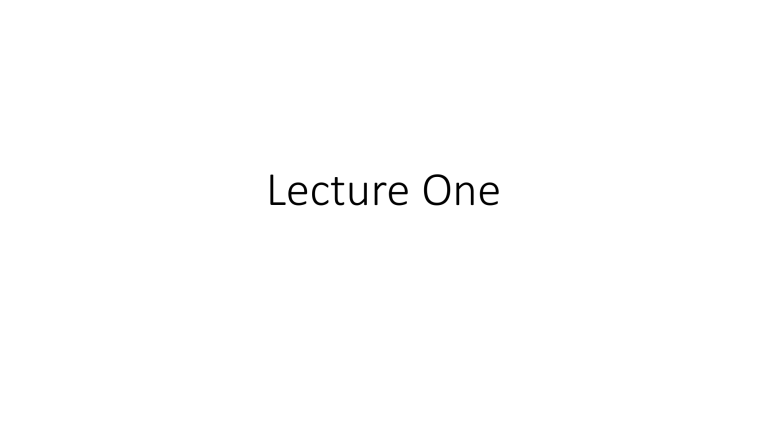 Lecture One
Worms of Disaster...
Tree of Life
• Phylogenetic tree of
the three domains
of life, with selected
species displayed
• Highlighted: C.
elegans, a
nematode and
model organism
• Several closely
related species
known as as
Helminths, or
parasitic worms
Helminths
• Estimated 300 000 pathogenic to
vertebrates
• Estimated 300 species pathogenic
to humans alone
• "Helminths" not a taxonomic
classification
• i.e. Helminths not necessarily
closely related evolutionarily
• Superficially similar taxa include:
• Annelida (ringed or segmented
worms)
• Platyhelminthes (flatworms)
• Nematoda (roundworms)
• Acanthocephala (thorny-headed
worms)
Steinauer, M. L., Nickol, B. B., Broughton, R., & Ortí, G. (2005). First
sequenced mitochondrial genome from the phylum Acanthocephala
(Leptorhynchoides thecatus) and its phylogenetic position within
Metazoa. Journal of molecular evolution, 60(6), 706-715.
Helminths - Nemathelminthes and
Platyhelminthes
• Some species medically significant to human health
• Nemathelminthes
• Also known as Nematodes
• Include many parasitic varieties: hookworms, pinworms, whipworms
• Platyhelminthes
• Two types of medical significance:
• Cestodes (tapeworms)
• Trematodes (flukes and blood flukes)
Intestinal Nematodes
and Eosinophilia
Patricia F Walker, MD, DTM&H
Medical Director, HealthPartners Center for International Health
Associate Professor, Division of Infectious Disease and International Medicine
University of Minnesota
Healthcare in the Global Village: Serving Refugees in Indiana
Indianapolis, Indiana
September 25, 2009
Parasitic Helminths
• Trematodes (flukes)
• Venous system: Schistosoma
• Biliary tract: Clonorchis, Fasciola
• Lung: Paragonimus
• Cestodes (tapeworms)
• Taenia saginata, Taenia solium, H. nana
• Nematodes (roundworm)
• Intestinal
• Blood, lymphatic, subcutaneous
Lecture Overview
1. General Facts about Intestinal Nematodes
2. 4 major intestinal nematodes: Ascaris, Trichuris,
hookworm and Strongyloides
•
•
•
•
Public Health Implications
Lifecycle
Clinical presentation
Treatment
3. Trends in Intestinal Parasitism
General Facts about Intestinal Nematodes
• Frequently nonspecific symptoms
• Often asymptomatic until worm burden becomes large
• Weight loss, GI discomfort
• Diarrhea or fever from nematodes is uncommon
• Polyparasitism
• Burden is greatest in children
General Facts about Intestinal Nematodes
• Tropical and subtropical predominance
• Don't multiply in host
• 2 exceptions
• Infection limited to life span of worm unless reinfection
occurs
• Lifespan: 2 months – 5 years
• Rare Exceptions:
• Strongyloides, C. philippinensis: autoinfection
• Pinworm: self-reinfection
Soil Transmitted Helminths (STH) = Geohelminths
• Part of development
occurs in the soil
• Average 3 – 4 weeks in
soil until infective
• Infection via eggs in
contaminated soil
(Ascaris, Trichuris) or
skin penetration
(hookworm)
Soil Transmitted Helminths (STH)
• Infection rates and burden of disease
greatest among conditions of poverty,
poor sanitation
Guatemalan Children With
Soil–Transmitted Helminth Infections
• Stunting, anemia, loss of
IQ, diminished school
performance
• Many years of lost primary
schooling attributable to
STH
Parasite Prevalence in Village of Paquila, Guatemala
Prevalence (%)
100
80
60
40
20
0
0–3
4–7
8 – 12
Age Class (y)
Ascaris
Trichuris
Hookworm
Strongyloides
Mean Worm Burden
Highest Worm Burdens
in School-aged Children
0
10
20
Mean Age (years)
30
40
Ascaris lumbricoides
• 1/8th the world's population infected
• Largest of nematodes infecting humans
• Adult habitat: small intestine (jejunum)
• Obligatory extra-intestinal migration
(eosinophilia)
• Lifespan: 1 – 2 years
• Intensity of infection greatest in children, ages 5
– 10 years
Ascaris Lumbricoides
Eighty-nine hookworms
and 81 Ascaris. This
demonstration induced
many to apply for
treatment (Brazil).
Ascaris
Geographic prevalence
highest in warm, wet
climates
1 adult female =
200,000 eggs/day
Pre-patency:
2 months
Pneumonitis:
4 – 16 days after
infection,
short duration
(~3 wks)
Löeffler Syndrome (Pneumonitis)
Transverse sections of
Ascaris larvae in
pulmonary alveoli
Ascaris lumbricoides
• Larval phase: eosinophilia, pneumonitis
• Adult phase:
• Malnutrition, Impaired Physical Growth
• Mild abdominal discomfort → → Small bowel obstruction
(in children, few as 60 worms)
• Wandering ascaris: biliary tract obstruction, cholangitis,
pancreatitis, liver abscess
• Treatment: Albendazole x 1 dose
Adult Ascaris
worms migrating in
liver
Ascaris causing
intestinal
obstruction.
Acute G.I. Obstruction from Ascaris
Ascaris
(roundworm):
The only
nematode ever
coughed or
vomited up
Whipworm:
Trichuris trichiuria
• Adult habitat: caecum, colorectum
• No extra-intestinal phase
• Lifespan: 1 - 3 years
• 90% infections are asymptomatic
• Symptoms with heavy infections
• Intensity of infection peaks by age 10
Pre-patency:
2 months
Whipworm:
Trichuris trichiuria
• Clinical Features:
•
•
•
•
•
•
•
Asymptomatic
Physical Weakness, Anemia
Stunted Growth, Cognitive Deficits
Stool frequency (12+/day), nocturnal stooling
Trichuris dysentery syndrome
Trichuris colitis
Rectal prolapse
• Treatment: Albendazole x 3 days.
Whipworm: Trichuriasis Colitis
Rectal Prolapse from Trichiuriasis
The Human Hookworms
Necator americanus
Ancylostoma duodenale
Hookworm:
Necator americanus & Ancylostoma duodenale
• One – tenth the world's population infected
• Significant cause of anemia & protein malnutrition
• Adult habitat: small intestine
• Lifespan:
~ 1 year (A. duodenale)
~ 3 - 5 years (N. americanus)
• Worm burdens do not decline in adult years
Typical Age and Intensity of Infection Relationship
Mean Worm Burden (%)
100
90
Trichuris
80
70
Hookworm
60
50
Ascaris
40
30
20
10
0
0
10
20
Mean Age (y)
30
40
Human Hookworm Infection
~600 million cases worldwide
(rural poverty >>> urban slums)
44 million pregnant women infected
Iron-deficiency anemia: Physical & Intellectual Retardation
Necator americanus is the predominant hookworm species
Life Cycle of Hookworm
Pre-patency:
months - year
Hookworm-Blood Loss
Adult worms injure their host by causing
intestinal blood loss:
• Anticoagulants, Hemolysins, and Hemoglobinases
• 30 to 200 μL blood per day per hookworm
• Intestinal blood loss and Iron Deficiency Anemia
Adult Hookworms in Situ (1 cm)
Adult size: 0.5
─ 1 cm
Daily eggs
per worm:
5 ─ 20,000
Hookworm:
• Clinical Features:
• Ground-itch –> Dry cough, wheezing
(1-2 wks later) in primary infection
• Abdominal discomfort
• Progressive iron-deficiency anemia
• 40 – 160 worms associated with
Hgb < 11 g/dL
• Failure to thrive, extreme fatigue
• IQ loss
• Treatment: Albendazole x 1 dose
At-Risk Populations for Hookworm Disease
• Women and Children: Low Iron Stores
• Children:
• Physical growth stunting
• Cognitive deficits and intellectual retardation
• Women of Child-bearing age
• Puberty
• Menstruation
• Pregnancy
• Increased Maternal Mortality (anemia)
• Low Birthweight
• Infant Mortality
School Based Deworming
• In 2001, (WHO) adopted a resolution aimed at the
"deworming" of 75 percent of all at-risk schoolage children by 2010, Prevention and
•
•
•
•
Improvements in iron, Hgb status
Improved Cognition, Educational Achievement
Reduction in school absenteeism
Reduction in community helminth transmission of
ascariasis & trichuriasis
Control
• Anti-helminthic drugs:
• 50 million tablets of mebendazole donated per year by
Johnson & Johnson
• Albendazole available from GlaxoSmithKline for 2¢ per
pill
• Currently no vaccine exists for ascariasis or
trichuriasis
• Human Hookworm Vaccine Initiative (HHVI):
Phase I trials
Strongyloidiasis:
Strongyloides stercoralis
• Worldwide prevalence: ~100 million
• Adult habitat: duodenum, jejunum
• Lifespan: unknown. Ongoing autoinfection.
Strongyloidiasis - Clinical Presentation
• Asymptomatic eosinophilia
• Abdominal pain
• Dermatitis - larva currens
• Pulmonary infiltrates with eosinophilia
• Dissemination with sepsis
Pruritic Larva Currens from Strongyloides
Larva currens = autoinfection with
Strongyloides filariform larvae
Moves rapidly (2 ─ 10 cm/hr), lasts shorter than CLM
Strongyloidiasis Hyperinfection:
Strongyloides stercoralis
• Hyper-Infection:
•
•
•
•
intestinal perforation
hemorrhagic pneumonia
shock, sepsis, gram-negative meningitis
eosinophilia may be limited
Acknowledgements for Slides
Stephen Swanson, MD, DTM&H,
Hennepin County Medical Center, Minneapolis
Peter Hotez, MD, PhD, FAAP
President, Sabin Vaccine Institute
Microbiology, Immunol, & Tropical Medicine
The George Washington University School of
Medicine
And Now………
• Stretch, move around, form groups, discuss and research the topic
further………………..