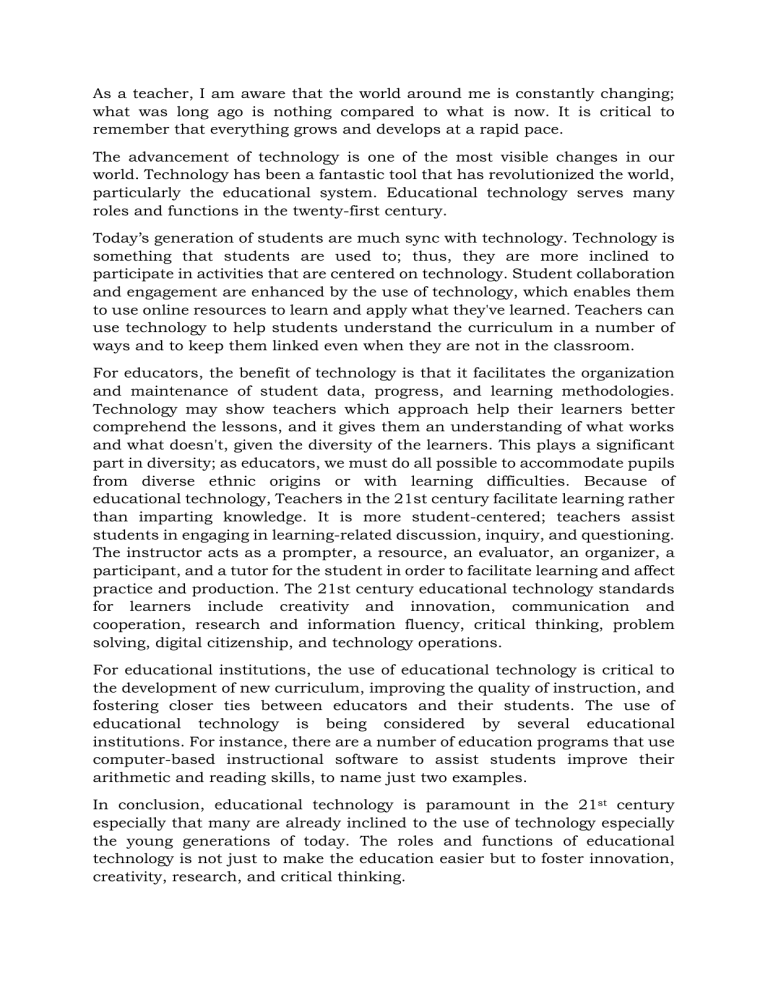 As a teacher, I am aware that the world around me is constantly changing;
what was long ago is nothing compared to what is now. It is critical to
remember that everything grows and develops at a rapid pace.
The advancement of technology is one of the most visible changes in our
world. Technology has been a fantastic tool that has revolutionized the world,
particularly the educational system. Educational technology serves many
roles and functions in the twenty-first century.
Today's generation of students are much sync with technology. Technology is
something that students are used to; thus, they are more inclined to
participate in activities that are centered on technology. Student collaboration
and engagement are enhanced by the use of technology, which enables them
to use online resources to learn and apply what they've learned. Teachers can
use technology to help students understand the curriculum in a number of
ways and to keep them linked even when they are not in the classroom.
For educators, the benefit of technology is that it facilitates the organization
and maintenance of student data, progress, and learning methodologies.
Technology may show teachers which approach help their learners better
comprehend the lessons, and it gives them an understanding of what works
and what doesn't, given the diversity of the learners. This plays a significant
part in diversity; as educators, we must do all possible to accommodate pupils
from diverse ethnic origins or with learning difficulties. Because of
educational technology, Teachers in the 21st century facilitate learning rather
than imparting knowledge. It is more student-centered; teachers assist
students in engaging in learning-related discussion, inquiry, and questioning.
The instructor acts as a prompter, a resource, an evaluator, an organizer, a
participant, and a tutor for the student in order to facilitate learning and affect
practice and production. The 21st century educational technology standards
for learners include creativity and innovation, communication and
cooperation, research and information fluency, critical thinking, problem
solving, digital citizenship, and technology operations.
For educational institutions, the use of educational technology is critical to
the development of new curriculum, improving the quality of instruction, and
fostering closer ties between educators and their students. The use of
educational technology is being considered by several educational
institutions. For instance, there are a number of education programs that use
computer-based instructional software to assist students improve their
arithmetic and reading skills, to name just two examples.
In conclusion, educational technology is paramount in the 21st century
especially that many are already inclined to the use of technology especially
the young generations of today. The roles and functions of educational
technology is not just to make the education easier but to foster innovation,
creativity, research, and critical thinking.