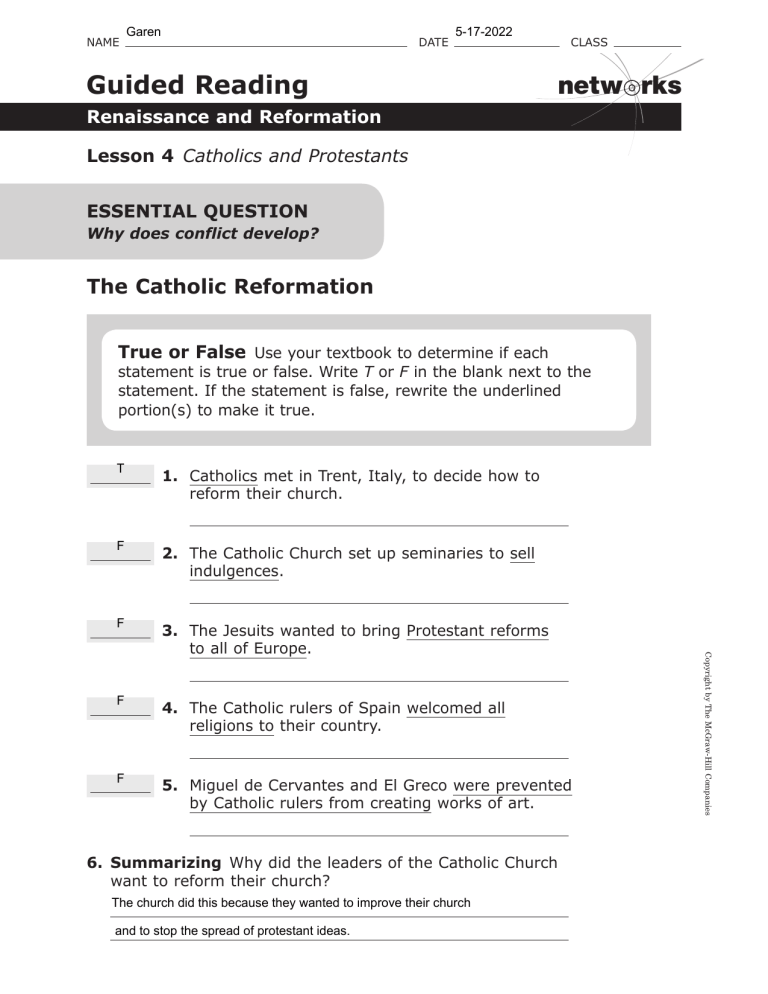 NAME
Garen
DATE
5-17-2022
Guided Reading
CLASS
netw rks
Renaissance and Reformation
Lesson 4 Catholics and Protestants
ESSENTIAL QUESTION
Why does conflict develop?
The Catholic Reformation
True or False Use your textbook to determine if each
statement is true or false. Write T or F in the blank next to the
statement. If the statement is false, rewrite the underlined
portion(s) to make it true.
1. Catholics met in Trent, Italy, to decide how to
reform their church.
F
2. The Catholic Church set up seminaries to sell
indulgences.
F
3. The Jesuits wanted to bring Protestant reforms
to all of Europe.
F
4. The Catholic rulers of Spain welcomed all
religions to their country.
F
5. Miguel de Cervantes and El Greco were prevented
by Catholic rulers from creating works of art.
6. Summarizing Why did the leaders of the Catholic Church
want to reform their church?
The church did this because they wanted to improve their church
and to stop the spread of protestant ideas.
Copyright by The McGraw-Hill Companies
T
NAME
Garen
Guided Reading
DATE
5-17-2022
Cont.
CLASS
netw rks
Renaissance and Reformation
Religious Wars
7. Sequencing Use the information in your textbook to
complete the time line below. Write the events that
occurred on the dates shown.
1559:
1572:
1588:
1589:
1598:
1618:
1643:
1648:
The 30 years war started when the holy roman emperor Ferdinan II tried to limit
the religions for his subjects. This caused a protestant rebellion.
9. Assessing Why was the defeat of the Spanish Armada
important?
It was important because when england beat them it made england a world power
and it also was the start of the use of long range weapons
Copyright by The McGraw-Hill Companies
8. Explaining How did the Thirty Years' War begin?