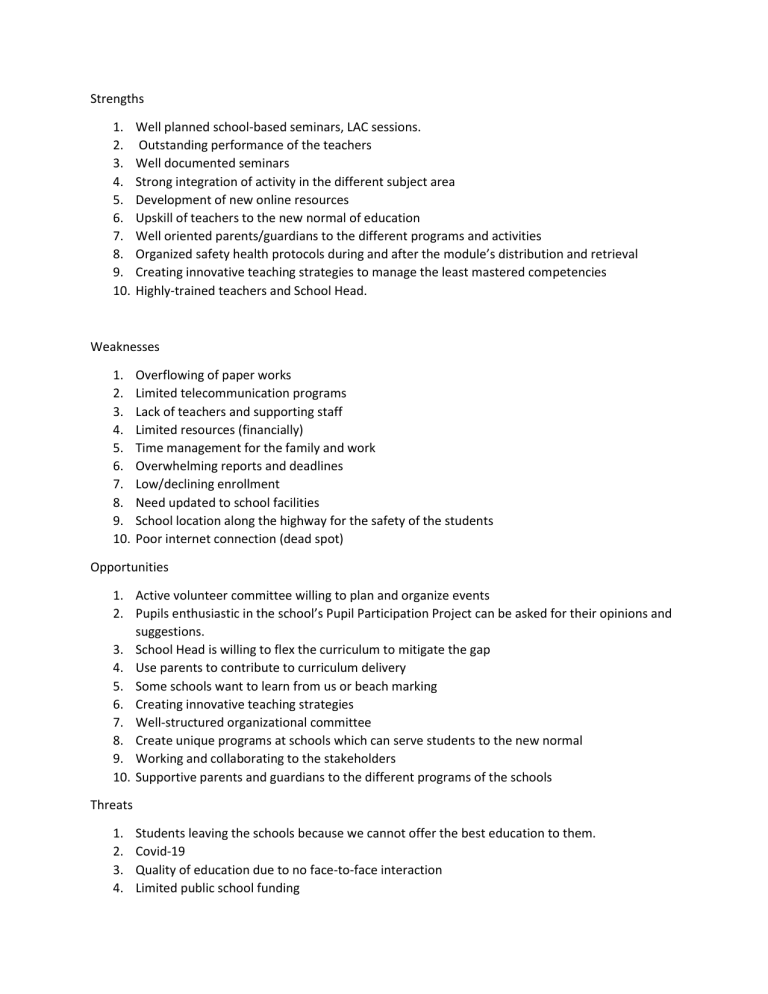 Strengths
1.
2.
3.
4.
5.
6.
7.
8.
9.
10.
Well planned school-based seminars, LAC sessions.
Outstanding performance of the teachers
Well documented seminars
Strong integration of activity in the different subject area
Development of new online resources
Upskill of teachers to the new normal of education
Well oriented parents/guardians to the different programs and activities
Organized safety health protocols during and after the module's distribution and retrieval
Creating innovative teaching strategies to manage the least mastered competencies
Highly-trained teachers and School Head.
Weaknesses
1.
2.
3.
4.
5.
6.
7.
8.
9.
10.
Overflowing of paper works
Limited telecommunication programs
Lack of teachers and supporting staff
Limited resources (financially)
Time management for the family and work
Overwhelming reports and deadlines
Low/declining enrollment
Need updated to school facilities
School location along the highway for the safety of the students
Poor internet connection (dead spot)
Opportunities
1. Active volunteer committee willing to plan and organize events
2. Pupils enthusiastic in the school's Pupil Participation Project can be asked for their opinions and
suggestions.
3. School Head is willing to flex the curriculum to mitigate the gap
4. Use parents to contribute to curriculum delivery
5. Some schools want to learn from us or beach marking
6. Creating innovative teaching strategies
7. Well-structured organizational committee
8. Create unique programs at schools which can serve students to the new normal
9. Working and collaborating to the stakeholders
10. Supportive parents and guardians to the different programs of the schools
Threats
1.
2.
3.
4.
Students leaving the schools because we cannot offer the best education to them.
Covid-19
Quality of education due to no face-to-face interaction
Limited public school funding
5. Unsatisfied parents complaining about the mode of learning especially to the modular printed
learning.