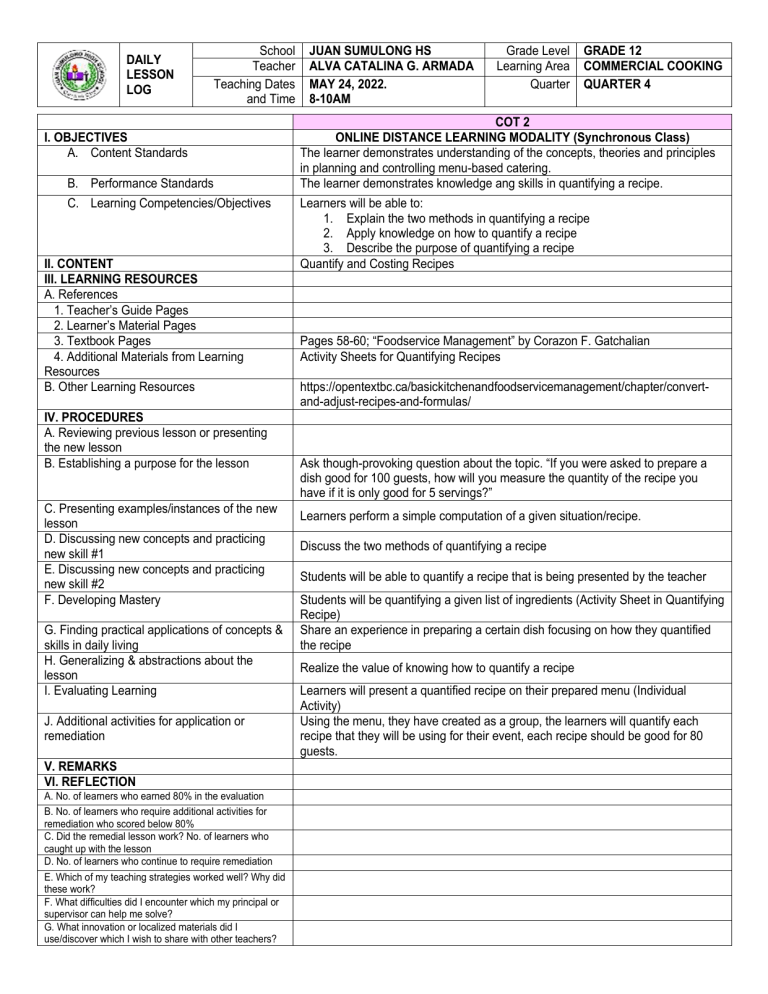 DAILY
LESSON
LOG
School
Teacher
Teaching Dates
and Time
I. OBJECTIVES
A. Content Standards
B. Performance Standards
C. Learning Competencies/Objectives
II. CONTENT
III. LEARNING RESOURCES
A. References
1. Teacher's Guide Pages
2. Learner's Material Pages
3. Textbook Pages
4. Additional Materials from Learning
Resources
B. Other Learning Resources
IV. PROCEDURES
A. Reviewing previous lesson or presenting
the new lesson
B. Establishing a purpose for the lesson
C. Presenting examples/instances of the new
lesson
D. Discussing new concepts and practicing
new skill #1
E. Discussing new concepts and practicing
new skill #2
F. Developing Mastery
G. Finding practical applications of concepts &
skills in daily living
H. Generalizing & abstractions about the
lesson
I. Evaluating Learning
J. Additional activities for application or
remediation
V. REMARKS
VI. REFLECTION
A. No. of learners who earned 80% in the evaluation
B. No. of learners who require additional activities for
remediation who scored below 80%
C. Did the remedial lesson work? No. of learners who
caught up with the lesson
D. No. of learners who continue to require remediation
E. Which of my teaching strategies worked well? Why did
these work?
F. What difficulties did I encounter which my principal or
supervisor can help me solve?
G. What innovation or localized materials did I
use/discover which I wish to share with other teachers?
JUAN SUMULONG HS
ALVA CATALINA G. ARMADA
MAY 24, 2022.
8-10AM
Grade Level GRADE 12
Learning Area COMMERCIAL COOKING
Quarter QUARTER 4
COT 2
ONLINE DISTANCE LEARNING MODALITY (Synchronous Class)
The learner demonstrates understanding of the concepts, theories and principles
in planning and controlling menu-based catering.
The learner demonstrates knowledge ang skills in quantifying a recipe.
Learners will be able to:
1. Explain the two methods in quantifying a recipe
2. Apply knowledge on how to quantify a recipe
3. Describe the purpose of quantifying a recipe
Quantify and Costing Recipes
Pages 58-60; "Foodservice Management" by Corazon F. Gatchalian
Activity Sheets for Quantifying Recipes
https://opentextbc.ca/basickitchenandfoodservicemanagement/chapter/convertand-adjust-recipes-and-formulas/
Ask though-provoking question about the topic. "If you were asked to prepare a
dish good for 100 guests, how will you measure the quantity of the recipe you
have if it is only good for 5 servings?"
Learners perform a simple computation of a given situation/recipe.
Discuss the two methods of quantifying a recipe
Students will be able to quantify a recipe that is being presented by the teacher
Students will be quantifying a given list of ingredients (Activity Sheet in Quantifying
Recipe)
Share an experience in preparing a certain dish focusing on how they quantified
the recipe
Realize the value of knowing how to quantify a recipe
Learners will present a quantified recipe on their prepared menu (Individual
Activity)
Using the menu, they have created as a group, the learners will quantify each
recipe that they will be using for their event, each recipe should be good for 80
guests.