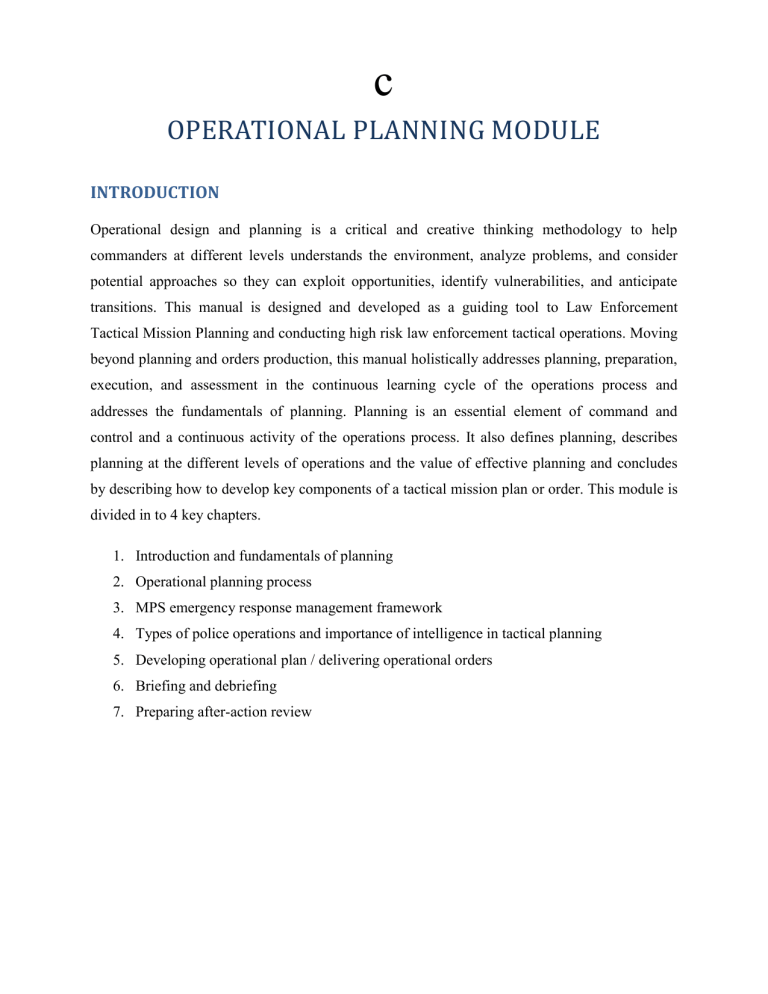 c
OPERATIONAL PLANNING MODULE
INTRODUCTION
Operational design and planning is a critical and creative thinking methodology to help
commanders at different levels understands the environment, analyze problems, and consider
potential approaches so they can exploit opportunities, identify vulnerabilities, and anticipate
transitions. This manual is designed and developed as a guiding tool to Law Enforcement
Tactical Mission Planning and conducting high risk law enforcement tactical operations. Moving
beyond planning and orders production, this manual holistically addresses planning, preparation,
execution, and assessment in the continuous learning cycle of the operations process and
addresses the fundamentals of planning. Planning is an essential element of command and
control and a continuous activity of the operations process. It also defines planning, describes
planning at the different levels of operations and the value of effective planning and concludes
by describing how to develop key components of a tactical mission plan or order. This module is
divided in to 4 key chapters.
1. Introduction and fundamentals of planning
2. Operational planning process
3. MPS emergency response management framework
4. Types of police operations and importance of intelligence in tactical planning
5. Developing operational plan / delivering operational orders
6. Briefing and debriefing
7. Preparing after-action review
LEARNING OUTCOMES
By the end of this module, participants will be able to:
1. Plan and conduct varieties of tactical missions
2. Apply the best practices for the briefing and debriefing session.
3. Develop quick and situational orders and understand how to execute these orders.
4. Conduct different situational assessments for the operations
5. Understand the liabilities of commander's action and the importance of command and
control for the operational assets.
6. Manage different tactical concepts and practices such as the theory of Hostage Rescue,
theory of Dynamic Entry, theory of Deliberate Entry, theory of Bomb/IED Threat, theory
of Insurgency, and theory of Terrorist Response.
7. Manage an incident command post and tactical operation center and what are the
resources requited for such management.
8. Respond to bomb/IED threat of call and how to manage such incidents.
9. Conduct varieties of internal security operations such as cordon and search, major event
security, Tactical VCP, High risk Patrolling, and Raid Operations.
MODULE OUTLINE
CONTENT (S) IN DETAIL
NO.OF PERIODS IN
HOURS
THEORY
PRACTICAL
Importance of Intelligence in Tactical Planning
1

Nature of intelligence

Levels of intelligence

Types of intelligence

Sources of intelligence

Intelligence in the modern era

Coordination and collaboration between intelligence and
1
operation

Actionable intelligence and accountability between
intelligence and operations
Types of Police Operations
2

Internal security operations

Counter terrorism operations

Anti-drug operations

Anti-gang operations

Disaster relief and humanitarian operations

Special and joint operations
1
Briefing & Debriefing (The IIMARCH Model)
3
4

Information

Intention

Method

Administration

Risk Assessment

Communication

Human rights and other legal issues
Developing & Delivering Operational Order

Operational Terminology
2
4
3
8
5

Five paragraph operational order

Delivering the order

How to conduct quick operational order
Conducting After Action Review

6
1
2
How to write an effective AAR
Assessment
TOTAL PERIODS IN HOURS
CONTENT (S) IN DETAIL
24
NO.OF PERIODS IN
HOURS
THEORY
PRACTICAL
1
1
1
2
1
2
1
2
Situation Development Process
1

Identify nature of the emergency

Identifying resource and constraints

Immediate actions

Alert process and monitoring

Shared awareness
Conducting Situation Assessment
2

Information gathering

Reviewing actions

Commanders assessment

Issue warning order
Course of Action Development and Selection
3
4

Developed cause of actions

Intelligence

Threat assessment

Commanders estimation

Recommended cause of action
Planning consideration

Higher commanders intent

Planning

Force protection

Alert protocols

Joint inter agency strategy

Deployment plan

Operational order
Execution
5
6

Execute orders

Situation reporting

Activating the contingency

Log keeping

Decision recording

After action review

Recovery management

Investigation
2
2
Assessment
TOTAL PERIODS IN HOURS
15
CHAPTER 1
INTRODUCTION AND FUNDAMENTALS OF PLANNING
PLANNING AND PLANS
Planning is the process by which commanders (and the staff, if available) translate the
commander's visualization into a specific course of action for preparation and execution,
focusing on the expected results. Put another way, planning is the art and science of
understanding a situation, envisioning a desired future, and laying out an operational approach to
achieve that future. Based on this understanding and operational approach, planning continues
with the development of a fully synchronized operation plan or order that arranges potential
actions in time, space, and purpose to guide the force during execution.
Planning is both a continuous and a cyclical activity of the operations process. While planning
may start an iteration of the operations process, planning does not stop with production of an
order. During preparation and execution, the plan is continuously refined as situational
understanding improves. Subordinates and others provide feedback as to what is working, what
is not working, and how the force can do things better. In some circumstances, commanders may
determine that the current order (to include associated branches and sequels) is no longer
relevant to the situation. In these instances, commanders reframe the problem and initiate
planning activities to develop a new plan.
Planning may be highly structured involving commanders, staff, subordinate commanders, and
others to develop a fully synchronized plan. Planning is also less structured, such as platoon
leaders and squad leaders rapidly determining a scheme of maneuver for a hasty attack. Planning
is conducted for different planning horizons, from long-range to short-range. Depending on the
echelon and circumstances, units may plan in years, months, or weeks, or in days, hours, and
minutes.
A product of planning is a plan or order—a directive for future action. Commanders issue plans
and orders to subordinates to communicate their understanding of the situation and their
visualization of an operation. A plan is a continuous, evolving framework of anticipated actions
that maximizes opportunities. It guides subordinates as they progress through each phase of the
operation. Any plan is a framework from which to adapt, not a script to be followed to the letter.
The measure of a good plan is not whether execution transpires as planned, but whether the plan
facilitates effective action in the face of unforeseen events. Good plans and orders foster
initiative.
Plans and orders come in many forms and vary in scope, complexity, and length of time
addressed. Generally, a plan is developed well in advance of execution and is not executed until
directed. A plan becomes an order when directed for execution based on a specific time or an
event. Some planning results in written orders complete with attachments. Other planning
produces brief fragmentary orders issued verbally and followed in writing.
TYPES OF PLANS
OPERATIONAL PLANS
Operational plan (OPLAN) is any plan for the preparation, execution and assessment of an
operation. An OPLAN becomes an operation order (OPORD) when the commander sets an
execution time. If time permits you may begin preparation for possible operation by issuing
OPLAN.
SERVICE SUPPORT PLANS
A service support plan provides information and instructions covering service support for an
operation. Estimates of the commands operational requirements are the basis for the service
support plan. The service support plan becomes a service support order when commander sets an
execution time for the OPLAN that the service support plan supports.
CONTINGENCY PLANS
A contingency plan is a plan for major contingencies that the command can reasonably
anticipate. Operational teams prepare contingency plans as part of all operations. Contingency
plans may take the form of the branches of sequels. Operations never proceed exactly as planned.
You prepare contingency plans to gain flexibility.
VALUE OF PLANNING
1. Planning helps leaders understand and develop solutions to problems
A problem is an issue or obstacle that makes it difficult to achieve a desired goal or objective. In
a broad sense, a problem exists when an individual becomes aware of a significant difference
between what actually is and what is desired. In the context of operations, an operational
problem is the issue or set of issues that impede commanders from achieving their desired end
state. Planning helps commanders and staffs understand problems and develop solutions. Not all
problems require the same level of planning. For simple problems, leaders often identify them
and quickly decide on a solution—sometimes on the spot. Planning is critical, however, when a
problem is actually a set of interrelated issues, and the solution to each affects the others. For
complex situations, planning offers ways to deal with the complete set of problems as a whole.
Some situations require extensive planning, some very little. Just as planning is only part of the
operations process, planning is only part of problem solving. In addition to planning, problem
solving includes implementing the planned solution (execution), learning from the
implementation of the solution (assessment), and modifying or developing a new solution as
required.
2. Planning helps anticipate events and adapt to changing circumstances
The defining challenges to effective planning are uncertainty and time. Uncertainty increases
with the length of the planning horizon and the rate of change in the operational environment.
Planning horizon refers to how far into the future commanders try to shape events. The farther
into the future the commander plans, the wider the range of possibilities and the more uncertain
the forecast. Planning keeps the force oriented on future objectives despite the requirements of
current operations. By anticipating events beforehand, planning helps the force seize or retain the
initiative. To seize the initiative, the force anticipates events and acts purposefully and
effectively before the enemy can act or before situations deteriorate. Effective planning also
anticipates the inherent delay between decision and action, especially between the levels of war
and echelons. Sound plans draw on fundamentals of mission command to overcome this effect,
fostering initiative within the commander's intent to act appropriately and decisively when
orders no longer address the changing situation sufficiently.
3. Plans task organize the force and prioritize efforts
When developing their concept of operations, commanders first visualize the decisive operation
and develop shaping and sustaining operations to support the decisive operation. The decisive
operation is the focal point around which commanders develop the entire operation and prioritize
effort. When developing their concept of operations and associated tasks to subordinate units,
commanders ensure subordinates have the means to accomplish them. They do this by task
organizing the force and establishing priorities of support.
Task organizing is the act of configuring an operating force, support staff, or sustainment
package of specific size and composition to meet a unique task or mission. It includes allocating
available assets to subordinate commanders and establishing their command and support
relationships. Through task organization, commanders establish relationships and allocate
resources to weight the decisive operation. Task organizing results in task organization—a
temporary grouping of forces designed to accomplish a particular mission. Appendix F contains
guidelines and formats for developing task organizations.
In addition to task organizing, commanders establish priorities of support. Priority of support is
a priority set by the commander to ensure a subordinate unit has support in accordance
with its relative importance to accomplish the mission. Priorities of movements, fires,
sustainment, and protection all illustrate priorities of support that commanders use to weight the
decisive operation.
The concept of operations may also identify a main effort if required; otherwise, the priorities of
support go to the unit conducting the decisive operation. The main effort is the designated
subordinate unit whose mission at a given point in time is most critical to overall mission
success. It is usually weighted with the preponderance of combat power. Designating a main
effort temporarily gives that unit priority of support. Commanders shift resources and priorities
to the main effort as circumstances and the commander's intent require. Commanders may shift
the main effort several times during an operation. A unit conducting a shaping operation may be
designated as the main effort until the decisive operation commences. However, the unit with
primary responsibility for the decisive operation becomes the main effort upon execution of the
decisive operation.
4. Plans direct, coordinate and synchronize action
Plans and orders direct, coordinate, and synchronize subordinate actions and inform those
outside the unit how to cooperate and provide support. Effective plans clearly stipulate end state
conditions and objectives that help coordinate the activities of the force. Good plans direct
subordinate actions by stating who, what (the task), where, when, and why (the purpose to
perform the task). They leave much of the how (the method to perform the task) to subordinates.
Directing and coordinating actions synchronize the force as a whole to accomplish the mission.
A key aspect of planning is synchronization—arranging actions in time, space, and purpose to
generate maximum effort or combat power at the decisive point and time.
2-36. Synchronization is a way, not an end. Commanders balance it with agility and initiative.
However, overemphasizing the directing and coordinating functions of planning can result in
detailed and rigid plans that stifle initiative. Mission command encourages the use of mission
orders to avoid creating overly restrictive instructions to subordinates. Mission orders direct,
coordinate, and synchronize action while allowing subordinates the maximum freedom of action
to accomplish missions within the commander's intent.
FUNDAMENTALS OF PLANNING
Effective planning requires dedication, study, and practice. Planners must be technically and
tactically competent, be disciplined to use doctrinally correct terms and symbols, and understand
fundamentals of planning. Fundamentals of planning that aid in effective planning include the
following:
1. Commanders focus on planning
2. Commanders plan for full spectrum operations
3. Commanders continuously test the validity of assumptions
4. Planning is continuous
5. Planning is time sensitive
a. One-third, two-thirds rule
b. Collaborative and parallel planning
c. Planning in time
6. Simple flexible plans work best
7. Commanders avoid planning pitfalls
KEY COMPONENTS OF A PLAN
While each plan is unique, all plans seek a balance for combining ends, ways, and means against
risk. Ends are the desired conditions of a given operation. Ways are actions to achieve the end
state. Means are the resources required to execute the way.
The unit's mission statement, commander's intent, concept of operations, tasks to subordinate
units, coordinating instructions, and control measures are key components of a plan.
Commanders ensure their mission and end state are nested with those of their higher
headquarters. Whereas the commander's intent focuses on the end state, the concept of
operations focuses on the way or sequence of actions by which the force will achieve the end
state. The concept of operations expands on the mission statement and commander's intent. It
describes how and in what sequence the commander wants the force to accomplish the mission.
Within the concept of operations, commanders may establish objectives as intermediate goals
toward achieving the operation's end state. When developing tasks for subordinate units,
commanders ensure that the purpose of each task nests with the accomplishment of another task,
with the achievement of an objective, or directly to the attainment of an end state condition
1. MISSION STATEMENT
The mission is the task, together with the purpose, that clearly indicates the action to be taken
and the reason therefore. Commanders analyze a mission in terms of the commander's intent two
echelons up, specified tasks, and implied tasks. They also consider the mission of adjacent units
to understand how they contribute to the decisive operation of their higher headquarters. Results
of that analysis yield the essential tasks that—with the purpose of the operation—clearly specify
the action required.
2. COMMANDERS INTENT
The commander's intent is a clear, concise statement of what the force must do and the
conditions the force must establish with respect to the enemy, terrain, and civil considerations
that represent the desired end state. The commander's intent succinctly describes what
constitutes success for the operation. It includes the operation's purpose and the conditions that
define the end state. It links the mission, concept of operations, and tasks to subordinate units. A
clear commander's intent facilitates a shared understanding and focuses on the overall conditions
that represent mission accomplishment.
The commander's intent must be easy to remember and clearly understandable two echelons
down. The shorter the commander's intent, the better it serves these purposes. Typically, the
commander's intent statement is three to five sentences long.
3. CONCEPT OF OPERATIONS
The concept of operations is a statement that directs the manner in which subordinate units
cooperate to accomplish the mission and establishes the sequence of actions the force will use to
achieve the end state. It is normally expressed in terms of decisive, shaping, and sustaining
operations. The concept of operations expands on the mission statement and commander's intent
by describing how and in what sequence the commander wants the force to accomplish the
mission.
Commanders ensure they identify the decisive operation and units responsible for conducting the
decisive operation. From this focal point, commanders articulate shaping operations and the
principal task of the units assigned each shaping operation.
When writing the concept of operations, commanders consider nested concepts, the sequence of
actions and phasing, decisive points and objectives, and lines of operations and lines of effort.
3.1. Nested Concepts
Nested concept is a planning technique to achieve unity of purpose whereby each
succeeding echelon's concept of operations is aligned by purpose with the higher echelons'
concept of operations. An effective concept of operations describes how the forces will support
the mission of the higher headquarters and how the actions of subordinate units fit together to
accomplish the mission. Commanders do this by organizing their forces by purpose.
Commanders ensure the primary tasks for each subordinate unit include a purpose that links the
completion of that task to achievement of another task, an objective, or an end state condition.
3.2. Sequence of action phasing
3.3. Decisive points and objectives
3.4. Lines of operation and lines of effort
4. TASKS TO SUBORDINATE UNITS
The commander's intent describes the desired end state while the concept of operations
broadly describes how to get there. In contrast, tasks to subordinate units direct individual
units to perform specific tasks. A task is a clearly defined and measurable activity
accomplished by individuals and organizations.
When developing tasks for subordinate units, commanders and staffs use the same who, what
(task), when, where, and why (purpose) construct as they did to develop the unit's mission
statement.
5. COORDINATING INSTRUCTIONS
Coordinating instructions apply to two or more units. They are located in the coordinating
instructions subparagraph of paragraph 3 (execution) of plans and orders. Examples include
fire support coordination and airspace coordinating measures, rules of engagement, risk
mitigation measures, and the time or condition when the operation order becomes effective.
6. CONTROL MEASURES
Planners develop and recommend control measures to the commander for each considered
COA. A control measure is a means of regulating forces or warfighting functions.
Control measures assign responsibilities, coordinate actions between forces, impose
restrictions, or establish guidelines to regulate freedom of action.
Control measures are essential to coordinating subordinates' actions and are located
throughout the plan.
Control measures can free up subordinate commanders to conduct operations within their
assigned area of operations without having to conduct additional coordination.
Control measures can be permissive or restrictive. Permissive control measures allow
specific actions to occur; restrictive control measures limit the conduct of certain actions.
PRINCIPLES OF PLANNING
Appointees must consider the following 6 key principles when developing operational plans:
1. COMPREHENSIVE
2. SIMPLICITY
Operational strategies communicated in a clear, concise, logical, timely and structured form
3. COORDINATION
Effective management (deployment) of both internal and external resources and personnel
4. EFFICIENCY
Implementation of effective risk management/ appreciation processes to inform the safe and
efficient utilization of operational resources
5. FLEXIBILITY
Incorporation of credible contingencies
6. FORESIGHT
Anticipation of potentially realistic developments
7. SECURITY
Consideration of security implications during all stages of the planning process.
PRIMARY PURPOSE AND FUNCTIONS OF PLANNING
Provides a baseline template and framework for all operators to draw from,
1.1. Clearly defined task / purpose
1.2. Commanders intent
1.3. Providing consistent – continuous guidance to all members of the team
1.4. Allows key leaders and subordinates a means by which to adequately prepare for all missions
and operations
1.5. Ensuring the most effective means of accomplishing any given task.
1.6. Represents an ever evolving process that guides members of the team through all phases of the
operation.
1.7. Allows key leaders and subordinates a means by which to adequately prepare for all missions
and operations
1.8. Ensuring the most effective means of accomplishing any given task.
1.9. Represents an ever evolving process that guides members of the team through all phases of the
operation.
1.10. Think critically
1.11. Develop situational understanding
1.12. Anticipate decisions
1.13. Simplify complexity
1.14. Task and organize teams and allocate resources
1.15. Direct and coordinate actions
1.16. Guide preparation activities
KEY PLANNING CONCEPTS
1. NESTED CONCEPTS
2. SEQUENCING OPERATIONS
3. CONTROL MEASURES
4. RISK MITIGATION
5. HASTY AND DELIBERATE OPERATIONS
6. INTELLIGENCE, SURVEILLANCE AND RECONNAISSANCE
7. PLANNING HORIZONS
8. PARALLEL AND COLLABORATIVE PLANNING
9. FORWARD AND REVERSE PLANNING
10.
ONE-THIRD/TWO-THIRDS RULE
11.
PLANNING PITFALLS
TYPES OF MISSION PLANNING

High-risk search warrant planning

Tactical raid planning

Open area mission planning

Barricaded subject planning

Hostage rescue planning

Contingency planning
CHAPTER 2
PRIMARY PLANNING METHODS
This chapter covers various planning methods including the operational planning process, the
deliberate planning and the crisis action planning process or time sensitive planning process. It
gives a detail insight about the functions of every stage within both the planning process.
1. Deliberate planning
2. Crisis action planning
TROOP LEADING STEPS
1. Receive the mission
2. Issue warning order
3. Make a tentative plan (conduct situational estimate)
4. Initiate movement
5. Conduct reconnaissance
6. Complete the plan
7. Issue operation order
8. Supervise – inspect – rehearse
CRISIS ACTION PLANNING PROCESS
1. SITUATION DEVELOPMENT

Nature of emergency

o Unlawful assembly
o Airport emergency
o Major crime
o Health and safety
o Terrorist attack
o Arson
o Disaster
o Sea borne incident
Estimated impact

Shared awareness

o Monitoring
o Informing
o Information gathering
Activate protocols

Initial report

Action in progress

Major constraints

Notify relevant authorities
2. ANALYSE THE SITUATION

Commanders assessment

Nature of emergency

Expected impact area

Identifying course of action

Operational limitations
o Organizational
o Legal
o Technical/technological
o Manpower/resources

Knowing the emergency

Commanders estimation

Assumptions

Risks related to national security

Own requirement

Inter-agency coordination requirement

Identify level of alert
3. COURSES OF ACTION DEVELOPMENT

Intelligence briefing report

Threat assessment report

Commanders assumption/estimation

Course of action development process

COA approval

Final decision/high command intention

Activate protocols

Activate contingency plans

Issue planning order
4. COURSES OF ACTION SELECTION
5. EXECUTION PLANNING

High commanders intention

Concept plan

Task organization

Unity of command

Force protection plan

Operational order

Deployment plan

Operational contingencies
6. EXECUTION

Executing the plan

Monitor the situation

Log all the actions

Log all the decisions

After action review

Recovery management

Investigation
TACTICAL THOUGHT PROCESS
1. Estimate of the Situation – METT-TC
2. Suspects most likely course of action
3. Exploitation plan
4. Scheme of maneuver development
5. Task development
TACTICAL THOUGHT PROCESS
1. Estimate of the Situation – METT-TC
b. Mission analysis
i. Tasks analysis
a. Identify the tactical task
b. Identify the specified task
c. Identify the implied task
ii. Purpose analysis
c. Enemy
i. Composition, disposition and strengths (SALUTE)
a. Size
b. Activity
c. Location
d. Unit
e. Time
f. Equipment
ii. Capabilities and limitations
d. Terrain and weather
i. Observation and fields of fire
ii. Cover and concealment
iii. Obstacles
iv. Key terrain
v. Avenues of approach
vi. Weather
e. Troops and fire support
i. Organic units
ii. Attachments and detachments
iii. Fire support available
iv. Higher and adjacent units
f.
Time/space/logistics
i. Time
ii. Space
iii. Logistics
g. Civil considerations
i. Area
ii. Structure
iii. Capabilities
2. Suspects most likely course of action



Mission
Current activity
On contact
3. Exploitation plan


Center of gravity
Critical vulnerability
4. Scheme of maneuver development
5. Task development
RUNNING ESTIMATES
The commander and staff use the running estimate throughout the operations process. A running
estimate assesses the current situation to determine if the current operation is proceeding
according to the commander's intent and if future operations are supportable. In their running
estimates, the commander and each staff section continuously consider the effect of new
information and update the following:

Facts

Assumptions

Friendly force status

Enemy activities and capabilities

Civil considerations

Conclusions and recommendations
Effective plans and successful execution hinge on current running estimates. Running estimates
always include recommendations for anticipated decisions. During planning, commanders use
these recommendations to select feasible courses of action for further analysis. During
preparation and execution, commanders use recommendations from running estimates in
decision making. Failure to maintain running estimates may lead to errors or omissions that
result in flawed plans or bad decisions.
The commander's running estimate includes a summary of the problem and all variables that
affect the mission. Commanders integrate personal knowledge of the situation, analysis of the
operational and mission variables, assessments by subordinate commanders and other
organizations, and relevant details gained from running estimates. Commanders use their
personal estimates to cross-check and supplement the running estimates of the staff.
The commander and staff sections maintain their running estimates between operations, even
when not deployed. At a minimum, the commander and staff must maintain their situational
awareness of friendly force capabilities. Upon receipt or anticipation of a mission, each staff
section begins updating its estimate based on information requirements related to the mission.
CHAPTER 3
CHAPTER 5
DEVELOPING OPERATION ORDERS
CHAPTER 6
PREPARING AFTER ACTION REVIEW
CHAPTER 5
BRIEFING AND DEBRIEFING
IMPORTANCE OF INTELLIGENCE IN TACTICAL PLANNING
TYPES OF POLICE OPERATIONS
BRIEFING AND DEBRIEFING
IIMARCH
HOW TO CONDUCT QUICK SITUATIONAL ORDERS
KEY TERMS
COMMANDER'S INTENT
A clear, concise directive, verbal or written, that outlines the basic purpose of any given
operation. It describes a command authority's desired end-state and thus is the unifying factor for
focusing subordinates on what has to be accomplished in order to achieve the intended outcome.
CONCEPT OF OPERATIONS
A planning document, informed by strategic direction, which outlines in broad terms the
proposed operational activity and the baseline and intent for all further operational planning.
INITIATING DIRECTION
A specific strategic-level direction (verbal or written) issued to a nominated operation
commander, which describes the broad concept of an impending major operational activity. The
primary purpose for issuing an initiating direction is to formalize commencement of strategic and
operational level planning.
MAJOR OR SPECIAL EVENT
An event that is considered to be a non-routine operational or security related activity that
requires implementation of special arrangements by one or more functional areas.
OPERATION
A specific policing issue or activity requiring a planned response.
OPERATION COMMANDER
A command function (not a rank) and means the designated member or protective service officer
responsible for the overall management of an operation, and for generating the commander's
intent. Only a member of the rank of Assistant Commissioner or above can designate an
appointee, who is not a member or protective service officer, to perform the function of
operation commander.
OPERATION PLAN
A detailed single-use plan which is developed for a particular situation at a particular period in
time.
OPERATION PROJECT PLAN
The project plan that establishes what the operation is, the outcomes, the timelines and the
resources required to accomplish it.
OPERATIONAL SITE SURVEY
A detailed security survey and assessment of a venue or location prior to the implementation of
any additional security measures. It does not support the requirements of a specialist policing
tactical level site survey.
PLANNED OPERATION OR EVENT
An operation where there has been opportunity and time to develop strategies, tactics, and
contingencies prior to an anticipated operation taking place.
STANDING PLAN
A plan put in place to address ongoing risks in an operational environment (e.g. specific hazards,
events or regularly occurring operational situations).
TASK COMMANDER
A command function (not a rank) and means the designated member or protective service officer
responsible to an operation commander for the command of a specific function or operational
activity associated with a planned operation or event.
THREAT
A condition, event or circumstance that could lead to or contribute to an unplanned or undesirable
situation.
RISK
A combination of the impact and likelihood for harm, loss or damage to the operation from the exposure
to threats.
WARNING ORDER
A WARNORD, issued by the commander, is a planning directive that initiates the development
and evaluation of COAs by a supported commander and requests that the supported commander
submit a commander's estimate.
PLANNING ORDER
A PLANORD is a planning directive that provides essential planning guidance and directs the
initiation of plan development before the directing authority approves a COA.
ALERT ORDER
An ALERTORD is a planning directive that provides essential planning guidance and directs the
initiation of plan development after the directing authority approves a COA. An ALERTORD
does not authorize execution of the approved COA.
EXECUTE ORDER
An EXORD is a directive to implement an approved CONOPS.
OPERATION ORDER
An OPORD is a directive issued by a commander to subordinate commanders for the purpose of
effecting the coordinated execution of an operation.
FRAGMENTARY ORDER
A FRAGORD is an abbreviated form of an OPORD (verbal, written, or digital), which
eliminates the need for restating information contained in a basic OPORD while enabling
dissemination of changes to previous orders. It is usually issued as needed or on a day-to-day
basis.
MISSION ANALYSIS
Commanders (supported by their staffs and informed by subordinate and adjacent commanders) gather,
analyze, and synthesize information to orient themselves on the current conditions of the operational
environment.
The commander and staff conduct mission analysis to better understand the situation and problem, and
identify what the command must accomplish, when and where it must be done, and most importantly
why - the purpose of the operation.
SPECIFIED TASKS
Those specifically assigned to a unit by its higher headquarters. Paragraphs 2 and 3 of the higher hq's
order state specified tasks, but may be listed in annexes, overlays, directives, and/or assigned verbally
during collaborative planning sessions.
IMPLIED TASKS
Those that must be performed to accomplish a specified task or the mission, but are not stated in the
higher headquarters order. These are derived from a detailed analysis of the higher order and METT-TC
factors.
ESSENTIAL TASKS
Those specified and implied tasks that must be executed to accomplish the mission. Essential tasks are
always included in the unit's mission statement.
INTEROPERABILITY
The ability to act together coherently, effectively and efficiently to achieve combined tactical,
operational and strategic objectives.
CENTER OF GRAVITY
The primary source of power that provides an actor its strength, freedom of action or will to fight.
TARGETING
The process of selecting and prioritizing targets and matching the appropriate response to them, taking
into account operational requirements and capabilities.
RUNNING ESTIMATE
The continuous assessment of the current situation used to determine if the current operation is
proceeding according to the commander's intent and if planned future operations are supportable.
CONSTRAINTS
RESTRAINTS
ASSUMPTIONS
LIMITATIONS
RECONNAINSANCE
CONCEPT OF OPERATION
SCHEME OF MANUEVER
MISSION STATEMENT
A mission statement is a short sentence or paragraph describing the unit's essential task(s) and purpose
- a clear statement of the action to be taken and reason for doing so. It contains the elements of who,
what, when, where, and why, but seldom specifies how.
• Who will execute the operation (unit/organization)?
• What is the unit's essential task or tasks?
• When will the operation begin (by time or event) or what is the duration of the operation?
• Where will the operation occur (AO, objective, grid coordinates)?
• Why will the force conduct the operation (for what purpose)?
HIGH VALUE TARGET
A list on which targets are compiled. HVT is a target the enemy commander requires for the successful
completion of the mission. The loss of high-value targets would be expected to seriously degrade
important enemy functions throughout the friendly commander's area of interest.
LIAISON OFFICER
An officer with an assigned task to maintain contact between the unit and other agencies
COURSE OF ACTIONS
DELIBERATE PLANNING
CRISIS ACTION PLANNING
BREACHING
COURSE OF ACTIONS
CENTER OF GRAVITY
The element or capability which allows the enemy to execute his mission. A CG is the answer to the
below questions:
1. Which factors are critical to the enemy?
2. Which can the enemy not do without?
3. Which, if eliminated, will bend him most quickly to our will?
CRITICAL VULNERABILITY
A vulnerability that, if exploited, will do the most significant damage to the enemy's ability to resist us. It
is a pathway to the CG, it is directly related to the center of gravity.
REFERENCES
1.
2.
3.
4.
United States Army FM 5-0 (101-5), 2005 version, army planning and orders production.
United States Army FM 5-0, 2010 version, the operations process.
Australian Federal Police national guideline on operational planning.
Joint publication 5-0, 2011 version, Joint operation planning.