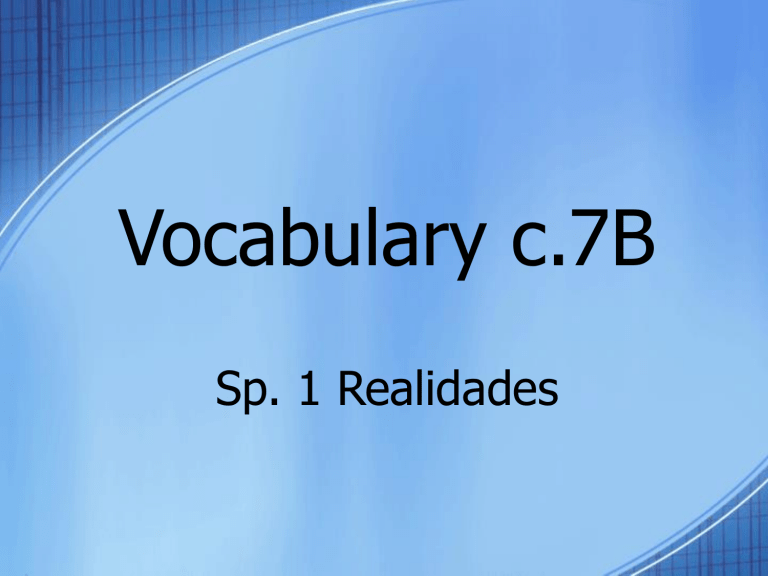 Vocabulary c.7B
Sp. 1 Realidades
el almacén
the department store
Yo necesito ir de compras en el almacén.
en la Red
online
Yo puedo encontrarlo en la Red.
la joyería
the jewelry store
El dependiente vende anillos.
la librería
the bookstore
El dependiente vende libros y revistas.
la tienda de descuentos
the discount store
Los precios son mejores en la tienda de descuentos.
la tienda de electrodomésticos
the household appliance store
Voy a comprar una nueva lavadora y secadora.
la zapatería
the shoe store
Ella está en la zapatería.
el anillo
the ring
Ellos compraron el anillo en la joyería.
los anteojos de sol
the sunglasses
Los anteojos de sol son de moda.
los aretes
the earrings
Los aretes están juntos con el collar.
el bolso
the purse
El bolso es de cuero.
la cadena
the chain
Marta lleva una cadena de plata.
la cartera
the wallet
Paco tiene muchas tarjetas de crédito en la cartera.
el collar
the necklace
El collar de perlas es carísimo.
la corbata
the tie
Marta compra una corbata gris para Paco.
los guantes
the gloves
Pancho siempre lleva guantes para manejar.
el llavero
the key chain
El llavero tiene todos las llaves.
el perfume
the perfume
Me gusta mucho el olor de este perfume.
la pulsera
the bracelet
Luisa lleva pulseras de muchos colores.
el reloj pulsera
the wristwatch
Paco nunca lleva un reloj pulsera.
el software
the software
Ya no tengo el nuevo software para mi computadora.
el novio
the boyfriend, fiancé
Marco es el novio de Martina Juarez.
la novia
The girlfriend, fiancé
A Paco le gusta pasar tiempo con su novia.
barato (desc.)
cheap, inexpensive
Ella quiere encontrar un vestido barato.
caro (desc.)
expensive
Este vestido cuesta mucho dinero.
mirar (reg)
miro
miramos
miras
------------
mira
miran
to look at, to watch
Nosotros vamos a mirar un partido de tenis.
pagar (por) (reg)
pago
pagamos
pagas
------------
paga
pagan
to pay (for)
Paco va a pagar por la cena.
vender (reg)
vendo
vendemos
vendes
------------
vende
venden
to sell
Paco quiere vender su motocicleta.
Other Useful Expressions
¡Uf! - Ugh, Yuck!
¡Ay caramba! - Oh darn!
¡Diós mío! - My goodness!
¡Qué lástima! - What a pity!
¡Es un robo! - It's a rip-off!
Expressions to talk about the past
anoche - last night
el año pasado – last year
la semana pasada – last week
ayer - yesterday
anteayer - day before yesterday
hace …(time expression) - … ago
Reg. AR Preterite
é
amos
aste
------------
ó
aron
Drop AR from the infinitive and add the
endings.
Reg. ER / IR Preterite
í
imos
iste
------------
ió
ieron
Drop ER/IR from the infinitive and add the
endings.
Direct Object Pronouns
me
nos
te
------------
lo, la
los, las
Paco los vendió en la tienda de descuentos.