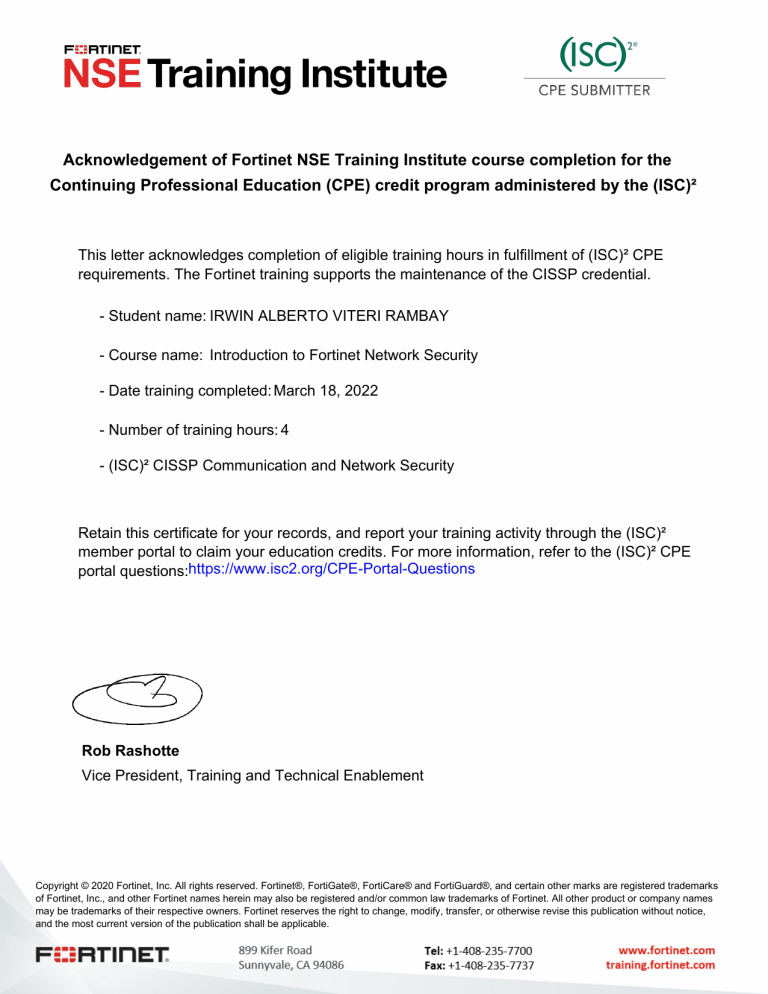 Powered by TCPDF (www.tcpdf.org)
Acknowledgement of Fortinet NSE Training Institute course completion for the
Continuing Professional Education (CPE) credit program administered by the (ISC)²
This letter acknowledges completion of eligible training hours in fulfillment of (ISC)² CPE
requirements. The Fortinet training supports the maintenance of the CISSP credential.
- Student name: IRWIN ALBERTO VITERI RAMBAY
- Course name: Introduction to Fortinet Network Security
- Date training completed: March 18, 2022
- Number of training hours: 4
- (ISC)² CISSP Communication and Network Security
Retain this certificate for your records, and report your training activity through the (ISC)²
member portal to claim your education credits. For more information, refer to the (ISC)² CPE
portal questions:https://www.isc2.org/CPE-Portal-Questions
Rob Rashotte
Vice President, Training and Technical Enablement
Copyright © 2020 Fortinet, Inc. All rights reserved. Fortinet®, FortiGate®, FortiCare® and FortiGuard®, and certain other marks are registered trademarks
of Fortinet, Inc., and other Fortinet names herein may also be registered and/or common law trademarks of Fortinet. All other product or company names
may be trademarks of their respective owners. Fortinet reserves the right to change, modify, transfer, or otherwise revise this publication without notice,
and the most current version of the publication shall be applicable.