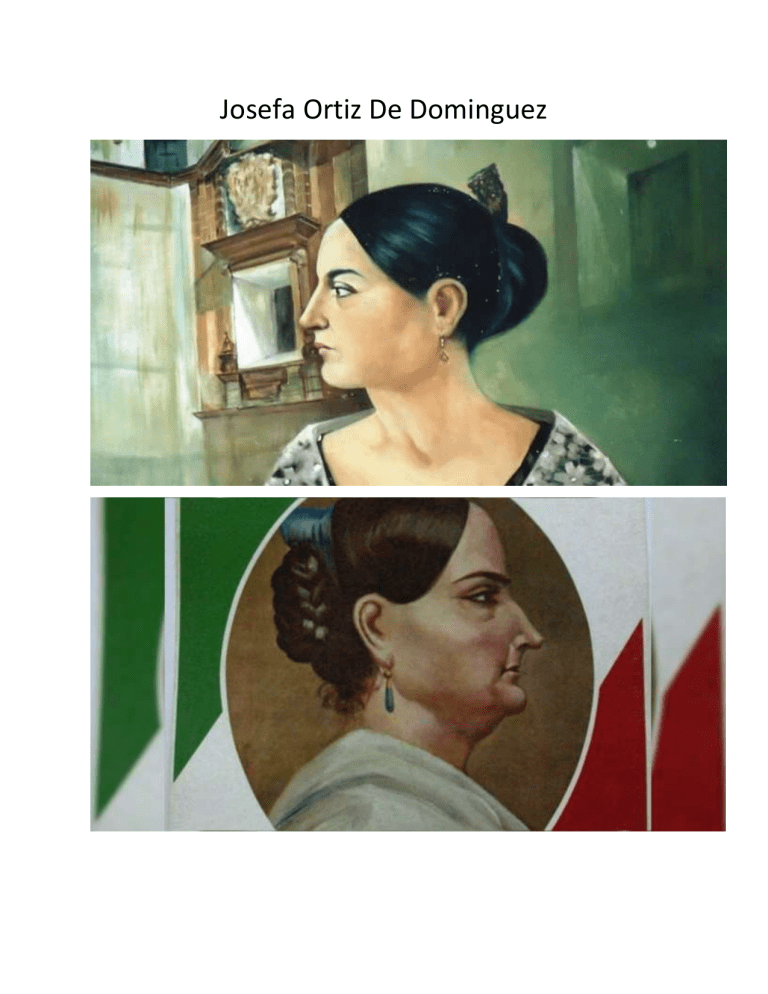 Josefa Ortiz De Dominguez
Biography
Doña Josefa Ortiz de Dominguez, a Mexican patriot as well as a heroine of Mexico's Independence
War, made her name in history for her bravery when she risked her own life alerting the rebel
insurgents about the discovery of the Queretaro Conspiracy for Independence.
Thanks to her, Father Miguel Hidalgo moved forward the date in which the Independence movement
would start to the early hours of September 16th, 1810. Without her timely notice, the struggle for
independence would have been discovered and the efforts of the conspirators would never have
achieved their ultimate purpose: Mexico's Independence from the Spanish Crown.
Maria de la Natividad Giron Josefa Ortiz is best known as Doña Josefa Ortiz de Dominguez,
"La Corregidora" (the Chief Magistrate) of Queretaro. She was the daughter of the
Spaniards Juan Jose Ortiz and Maria Manuela Giron.
She was born in Valladolid– what is now Morelia– in 1768 and was raised in Mexico City. Her parents
died when she was a small child so her older sister Maria Sotero was granted custody. Maria enrolled
her sister in the Colegio de las Vizcaínas, a very prestigious school to which she was accepted because
she was a criolla, creole, that is, the children of Spaniards born in the New Spain.
While still a college student she met Miguel Dominguez, a widower who often visited the
school. They fell in love and were married secretly in 1791; they had 14 children.
As secretary of the Royal Court, Miguel Dominguez was subsequently appointed
magistrate of Queretaro in 1802 where the family settled. They quickly won over the
sympathy of the Queretaro society of the time, joining various social groups.
It is well known that Doña Josefa was vehemently against the abuse that the Spaniards– that is,
the European-born Spaniards – exercised over the natives considering and treating them as
second-class citizens. She always identified with the native's social problems, for they were
relegated to secondary positions in public administration as well as in the military.
Fun Facts
Born
1768
She was born in Morelia.
Married
1791
She is said to have married Miguel Domíngez, the corregidor of Querétaro.
1810
She sent a message to Ignacio Allende that instigated the call to arms in 1810.
1813
She was re-arrested by the royalists.
1816
She was imprisoned in Santa Catalina convent.