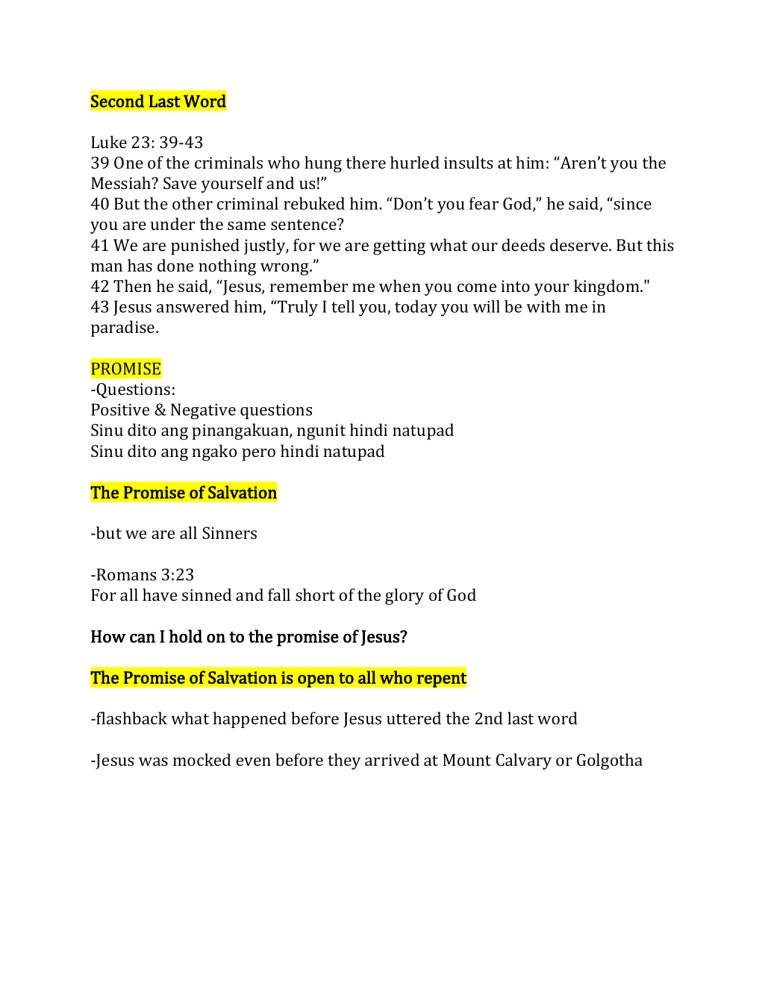 Second Last Word
Luke 23: 39-43
39 One of the criminals who hung there hurled insults at him: "Aren't you the
Messiah? Save yourself and us!"
40 But the other criminal rebuked him. "Don't you fear God," he said, "since
you are under the same sentence?
41 We are punished justly, for we are getting what our deeds deserve. But this
man has done nothing wrong."
42 Then he said, "Jesus, remember me when you come into your kingdom."
43 Jesus answered him, "Truly I tell you, today you will be with me in
paradise.
PROMISE
-Questions:
Positive & Negative questions
Sinu dito ang pinangakuan, ngunit hindi natupad
Sinu dito ang ngako pero hindi natupad
The Promise of Salvation
-but we are all Sinners
-Romans 3:23
For all have sinned and fall short of the glory of God
How can I hold on to the promise of Jesus?
The Promise of Salvation is open to all who repent
-flashback what happened before Jesus uttered the 2nd last word
-Jesus was mocked even before they arrived at Mount Calvary or Golgotha
The two criminals represents us
One of the Highlight:
Compare ourselves with the two criminals
We are like the two criminals crucified on the cross
BIBLE VERSE
-He is in a state of denial and did not acknowledge what he did wrong.
-He acknowledged that he is a sinner, admitted on his own wrongdoings, and
humbled himself before God.
Repentance cannot be attained without humility.
Are you the first one or the second one?
The Promise of Salvation is certain
When Jesus answered the truly on the statement " Truly..." we notice that
there is an assurance.
Romans 5:8
But God demonstrates his own love for us in this: While we were still sinners,
Christ died for us
The Promise of Salvation is between Jesus and you
From the statement, Truly, I tell you. There are no other factors, influences,
and people that could save you.
Gods' promise is personal. Tayong lahat ay pinangakuan ng kaligtasan ngunit
iba-iba tayo ng experience o journey kung paano ito makakamit.
The Promise of Salvation is always available
Whenever we need it, it is always at present. Just like on the statement "
Today...". Napakagandang pakinggan na tayong lahat ay pinangakuan ng
kaligtasan at kaya natin itong makamit at any time.
We all know that the second person is a sinner and an unbeliever
Sinu dito ung mga bago at hindi pa tinatanggap si Jesus as our Lord and
Personal Savior. I tell you Today is a great chance for repentance and
acceptance.
RECAP
Overall we must bear in mind that...
Salvation is received by grace
No matter how good and great things you've done in this world it does count
for your salvation. Tandaan na ang good works ay bunga ng salvation.
Ephesians 2:8
For it is by grace you have been saved, through faith and this is not from
yourselves, it is the gift of God.
Can we still give our trust to God if we are put into trial?
Sure ka na ba na makaksama mo si Hesus sa Paraiso?