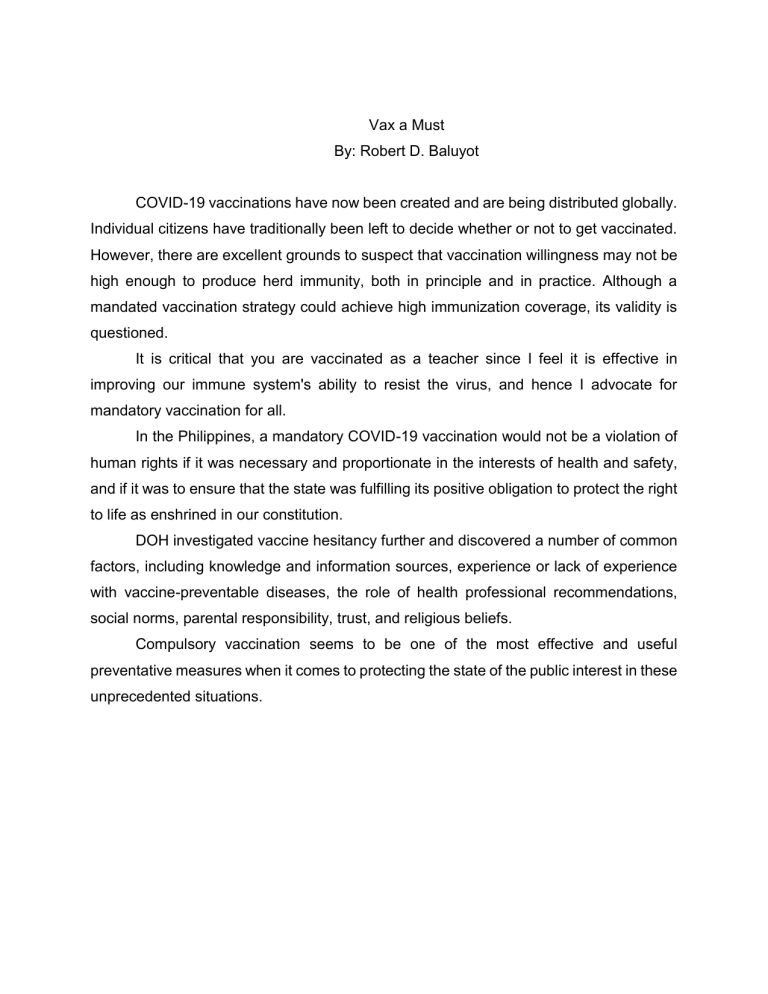 Vax a Must
By: Robert D. Baluyot
COVID-19 vaccinations have now been created and are being distributed globally.
Individual citizens have traditionally been left to decide whether or not to get vaccinated.
However, there are excellent grounds to suspect that vaccination willingness may not be
high enough to produce herd immunity, both in principle and in practice. Although a
mandated vaccination strategy could achieve high immunization coverage, its validity is
questioned.
It is critical that you are vaccinated as a teacher since I feel it is effective in
improving our immune system's ability to resist the virus, and hence I advocate for
mandatory vaccination for all.
In the Philippines, a mandatory COVID-19 vaccination would not be a violation of
human rights if it was necessary and proportionate in the interests of health and safety,
and if it was to ensure that the state was fulfilling its positive obligation to protect the right
to life as enshrined in our constitution.
DOH investigated vaccine hesitancy further and discovered a number of common
factors, including knowledge and information sources, experience or lack of experience
with vaccine-preventable diseases, the role of health professional recommendations,
social norms, parental responsibility, trust, and religious beliefs.
Compulsory vaccination seems to be one of the most effective and useful
preventative measures when it comes to protecting the state of the public interest in these
unprecedented situations.