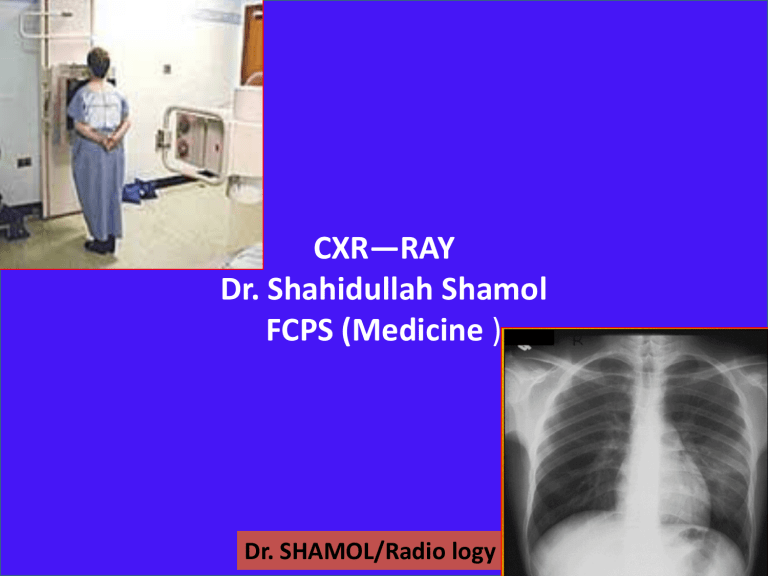 CXR—RAY
Dr. Shahidullah Shamol
FCPS (Medicine )
Dr. SHAMOL/Radio logy
What is PA view
WHAT IS AP view
Dr. SHAMOL/Radio logy
AP
PA
TRACHEA
SPIN0US PROCESS
CLAVICLE
The trachea and
bronchi are visible branching at the
carinaThe trachea
passes to the right of
the aorta and so may
be slightly off mid-line
to the right
is the trachea is straight and midline?
is there any evidence of narrowing?
is the carina wide (more than 100 degrees)?
SHIFTING OF TRACHEA
ROTATION
A well centred x-ray. Medial ends of clavicles
are equidistant from the spinous process.
Dr. SHAMOL/Radio logy
The patient must Straight (not tilted)(not rotated)
Dr. SHAMOL/Radio logy
Patient rotation. (a) Rotation to the left.
(b) Male. Age 43. AP CXR. Rotation to the right projects the manubrium
and aortic arch vessels (arrows) over the right upper zone, mimicking a
mass.
Dr. SHAMOL/Radio logy
At first glance the left costophrenic angle appears blunt. This is because
the patient was in a rotated position when the X-ray was taken. This has
resulted in a greater thickness of breast overlying the costophrenic
angle on the left, compared to the right.
BONEY THORAX
You have to identify the anterior
and posterior end of rib
Clavicle end
Scapula
Cervical rib
lavicle, scapula, and humerus
The clavicle, scapula and humerus are often
clearly seen on a chest X-ray. Occasionally you
will see evidence of important disease such as
metastases in these bones.
Key
1 - Clavicle
2 - Acromioclavicular joint
3 - Acromion process of scapula
4 - Body of scapula
5 - Glenoid fossa of scapula
6 - Head of left humerus
7 - Glenohumeral joint
8 - Coracoid process of scapula
Dr. SHAMOL/Radio logy
Dr.SHAMOL/Radio
SHAMOL/Radiology
logy
Dr.
Normally ant end of 6th
touch the diaphragm and
post end of 10 th rib
touch the diaphragm
touch at diaphragm
Diaphragm will be told
low if 7 th rib touch ant
and 11 th rib touch post
Dr. SHAMOL/Radio logy
Diaphragm will be told
low if 7 th rib touch
anteriorly and 11 th rib
touch posteriorly
Cervical rib
BEFORE COMMENT THE X-RAY
SEE IT IS IN INSPIRATORY OR EXPIRATORY
FILM
An example of poor inspiratory effort.
Only four complete anterior
ribs are visible. This results in several
spurious findings: cardiomegaly,
a mass at the aortic arch and patchy
opacification in both lower zones
Same patient following an adequate
inspiratory effort. The CXR now appears
normal.
Identify
the diaphragm
Costo and cardiophrenic angle
Which diaphragm is higher
Low and flat diaphragm
Diaphragm is elevated or not
Dr. SHAMOL/Radio logy
Dr. SHAMOL/Radio logy
Carefully examine each diaphragm. The highest point of the right diaphragm is
usually 1–1.5 cm higher than that of the left. Each costo-phrenic angle should be
sharply outlined. The outlines of both hemidiaphragms should be sharp and clearly
visible along their entire length (except the medial most aspect of the left
hemidiaphragm).
On a lateral
view the
costophrenic
recesses are
seen in the
region of the
anterior and
posterior
costophrenic
angles formed
by the chest
wall and the
dome of each
hemidiaphragm
Dr. SHAMOL/Radio logy
Dr. SHAMOL/Radio logy
Identify cardiomegaly
LV—type enlargement
RV-type enlargement
Assessment of heart size
• The cardiothoracic ratio should
be less than 0.5.
• i.e. A/B<0.5.
• A cardiothoracic ratio of greater
than 0.5 (in a good quality film)
•suggests cardiomegaly.
Dr. SHAMOL/Radio logy
1
3
2
4+6=10)/20=50%)
Cardiomegaly
1
2
3
5+7=12)/20=60%)
Angle of the heart
Angels
Left ventricular hypertrophy
produces rounding of the left
heart border A View: lateral and
downward displacement
of the cardiac apex and angle is
more than 900
It causes rounded and upwards or
uplifted apex and straightens the
left heart border. Cardiophrenic
angle is less than 90 0
Dr. SHAMOL/Radio logy
Left Ventricular Enlargement
PA View: lateral and downward displacement of the cardiac apex
Left Ventricular
Enlargement
Lateral view:
posterior displacement of
the posterior inferior border
of the heart
Right Ventricular
Enlargement
PA View: Rounding and
upliftment of cardiac apex
Lateral View:
Retrosternal fullness
(contact of anterior
cardiac border greater
than 1/3 of the sternal
length
Dr. SHAMOL/Radio logy
Dr. SHAMOL/Radio logy
Left
ventricular
enlarge
Dr. SHAMOL/Radio logy
LV enlargement
RV enlargement
Prominent inferior aspect of the left heart border.
LA enlargement
Left atrium A bulge of the left heart border just inferior
to the main pulmonary trunk. This bulge is the left atrial
appendage.
May give a similar appearance to left ventricular
enlargement…but often the upper part of the left heart
border is most prominent and the cardiac apex is
elevated.
Double shadow seen through the heart. This represents
the enlarged atrium emerging posteriorly from the
cardiac
contour and consequently its left and right margins have
become outlined by the air in the lungs.
Gross enlargement can displace and separate the left
and right main bronchi so that the carinal angle widens
and exceeds 100°. The normal angle does not exceed
100°.
RA enlargement
The right heart border becomes prominent.
Cardiomyopathy—LV type
HILUM
The hilar shadows are due to pulmonary arteries and pulmonary
veins. X marks the main pulmonary trunk. Blue = pulmonary trunk
and pulmonary arteries; brown = pulmonary veins; pink = part of
left atrium...atrial appendage not shown.
RPA-right pulmonary artery
LPA-left pulmonary artery
MPA—main pulmonary artery
The main lower lobe pulmonary arteries can be likened to
a little finger pointing downwards. Sometimes—particularly on the
left side—this arterial shadow comprises only the proximal phalanx of
the finger. We should see these little fingers (or at least their proximal
phalanges) on virtually all normal CXRs.
Normal pulmonary angiogram.
Right lung. Showing the large,
finger-like, descending lower
lobe pulmonary artery.
Normal pulmonary angiogram.
Right lung. Showing the large,
finger-like, descending lower
lobe pulmonary artery.
Figure 6.6 Normal horizontal vees (green) and
descending pulmonary arteries (red).
Both hilar should be concave.
This results from the superior pulmonaryvein crossing the lower lobe pulmonary artery.
The point of intersection is known as the hilar point (HP).
Both hilar should be of similar density.
The left hilum is usually superior to the right by up to 1 cm
rst — make sure that rotation is not causing one hilum to appear more
conspicuous than the other. This is a very common explanation for a seemingly
enlarged hilum. All the same, deciding whether a hilum is abnormal is a
common problem. Even the experts have the occasional difÄ culty.
Second — always enquire if a previous CXR is available for comparison. If a
previous CXR is not available, then ask yourself three questions. If the hilum is
normal then the answer to all three questions will be "yes".
Question 1 Is the left hilum in a normal position? The left hilum must never
be lower than the right hilum.
Question 2 Do the branches of the pulmonary artery clearly originate from
the site of concern? Normal arteries can be prominent and give
an initial impression that enlarged lymph nodes are present.
Question 3 Are the densities of the two hila approximately equal? Anything
more than a slight difference in density always raises the
suspicion that there is abnormal tissue at the hilum — e.g. a hilar
mass.
If the answer to any of these three questions is in the negative, th
Zone of lung
&
Pleura
Dr. SHAMOL/Radio logy
Tracing the pluera
Start and end at the
hilaIs there pleural
thickening?Is there a
pneumothorax? The
lung markings should be
visible to the chest wallIs
there an effusion? The
costophrenic angles and
hemidiaphragms should
be well defined
VISCERAL
PLEURA
PARIETAL
PLEURA
Cardiac
Borders
Dr. SHAMOL/Radio logy
Mediastinal structures on the PA CXR
1. SVC Edge
2. Right Paratracheal Line
3. Left Stripe (both red and white lines)
4. Aortic Arch
5. Descending Aorta (only left edge seen, and
not always)
6. Right Atrium
7. Azygoesophageal edge
8. Left Ventricle
9. Main Pulmonary Artery (also known as:
trunk, middle mogul)
Dr. SHAMOL/Radio logy
Features
of
LVF
RA
LV
RV
Early LVF.
Change in size of the
upper lobe vessels.
in (a):
The pulmonary
venous pressure was
normal
in (b),
prior to developing Å
forid pulmonary
oedema. Venous
pressure is increased
The upper lobe vessels
are dilated in (b) as
compared
with (a)
'Kerley B' lines (arrow).
Septal lines (Kerley B lines)
Horizontal lines reaching the lung edge
FISSURE
LOBE
Lobes
• Right upper lobe:
Lobes (continued)
• Right middle lobe:
Lobes (continued)
• Right lower lobe:
Lobes (continued)
• Left lower lobe:
Lobes (continued)
• Left upper lobe with Lingula:
Lobes (continued)
• Left upper lobe - upper division:
Lobes (continued)
• Lingula:
AT A GLANCE
HEART
&
VESSEL
Pulmonary circulation
Pulmonary arteries are usually
easily visible centrally in the
hila and progressively less so
more peripherally.
Dr. SHAMOL/Radio logy
Oligaemic
lung
field
Peripheral
pruning of
vessel
Bulge
Pulmonary
conus
Dilated
RDPA
Normal blood flow to lung
Dr. SHAMOL/Radio logy
Dr. SHAMOL/Radio logy
Pulmonary Vascular Pattern
Pulmonary Vascular Pattern
Dr. SHAMOL/Radio logy
Dr. SHAMOL/Radio logy
major arteries -central, the clearly distinguishable
midsized pulmonary arteries (third or
fourth order branches) are in the middle zone
small arteries and arterioles
-normally below the limit of resolution
-in the outer zone. visible small and midsized
arteries
-sharp, clearly definable
margins because of the
sharp border between water
density and air density
structures
SOME LATERAL VIEW
Hemidiaphragms - lateral view
The left and right hemidiaphragms are almost superimposed on a
lateral view. Anteriorly the left hemidiaphragm blends with the heart
and becomes indistinct.
o 1. Rib
o 2. Sternum
o 3. Breast
o 4 .Oblique fissure
o 5. Horizontal fissure
Diaphragms
•The right hemidiaphragm is usually
'higher' than the left.
•The outline of the right can be seen
extending from the posterior to
anterior chest wall.
•The outline of the left
hemidiaphragm stops at the
posterior heart border.
•Air in the gastric fundus is seen
below the left hemidiaphragm.
Lateral radiograph demonstrating the anterior (A), middle (M), posterior (P) and
superior (S) mediastinalcompartments
.