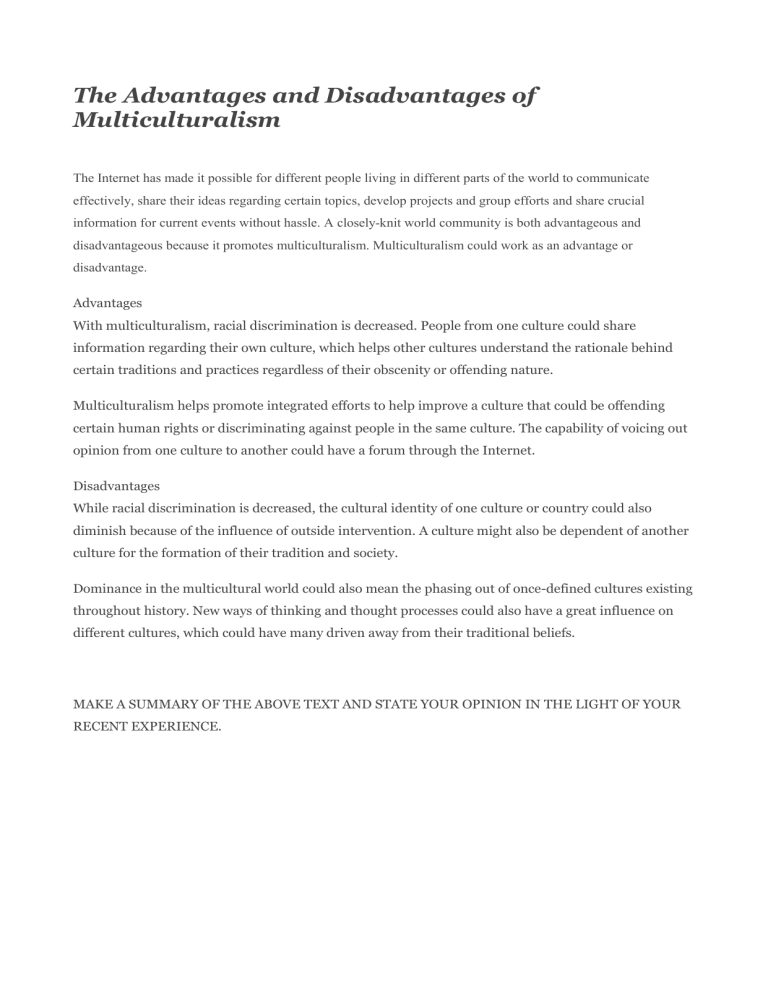 The Advantages and Disadvantages of
Multiculturalism
The Internet has made it possible for different people living in different parts of the world to communicate
effectively, share their ideas regarding certain topics, develop projects and group efforts and share crucial
information for current events without hassle. A closely-knit world community is both advantageous and
disadvantageous because it promotes multiculturalism. Multiculturalism could work as an advantage or
disadvantage.
Advantages
With multiculturalism, racial discrimination is decreased. People from one culture could share
information regarding their own culture, which helps other cultures understand the rationale behind
certain traditions and practices regardless of their obscenity or offending nature.
Multiculturalism helps promote integrated efforts to help improve a culture that could be offending
certain human rights or discriminating against people in the same culture. The capability of voicing out
opinion from one culture to another could have a forum through the Internet.
Disadvantages
While racial discrimination is decreased, the cultural identity of one culture or country could also
diminish because of the influence of outside intervention. A culture might also be dependent of another
culture for the formation of their tradition and society.
Dominance in the multicultural world could also mean the phasing out of once-defined cultures existing
throughout history. New ways of thinking and thought processes could also have a great influence on
different cultures, which could have many driven away from their traditional beliefs.
MAKE A SUMMARY OF THE ABOVE TEXT AND STATE YOUR OPINION IN THE LIGHT OF YOUR
RECENT EXPERIENCE.