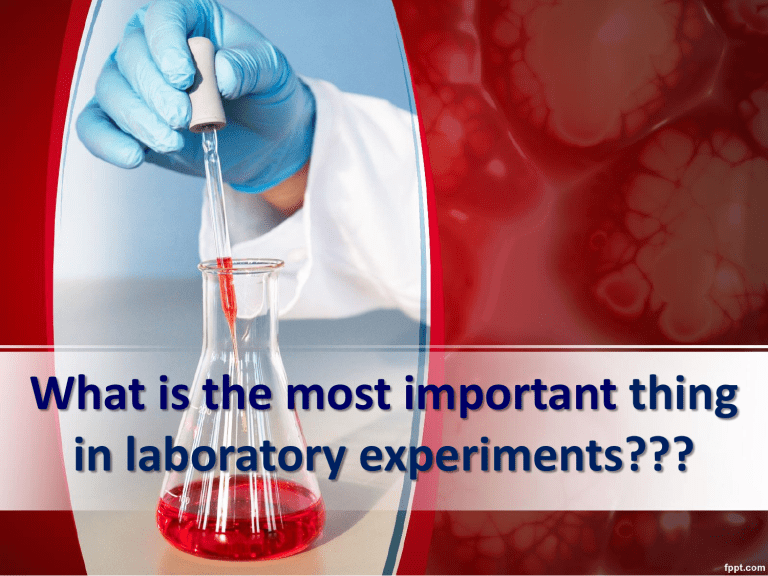 What is the most important thing
in laboratory experiments???
Hine Marae Palma-Arboleda
Asso. Prof. 1, School of Arts & Sciences
Aklan State University
SAFETY IN THE ACADEMIC
SCIENCE LABORATORY
Objectives:
• Safety is a primary concern in a chemical
laboratory because of potential hazards working
with chemicals
• Laboratory safety seminar aims to:
1. Educate on the different types of hazards and
their impacts to human health as well as the
environment
2. Protect users from the hazards of chemicals
3. Reduce or minimize incidents of chemically
induced illnesses or injuries resulting from the
use of chemicals
4. Enhance protection of the public as well as the
environment
• The laboratory is a "discovery" based
experience.
 It introduces new
concepts and
other time,
expands on some
of the concepts
first developed in
class.
• laboratory can be a place of discovery
and learning
– However, by the very nature of laboratory
work, it can be a place of danger if safety
precautions aren't taken seriously
• The ultimate responsibility for health
and safety within laboratories lies with
each individual who works in the
laboratory
– Safety in the laboratory is everyone's
responsibilities
– however, it is the responsibility of the
faculty and laboratory supervisor to
ensure that students have been provided
with all the necessary information to
work safely in laboratories under their
control
ROLES
Management/Administrators
• Refers to Vice President of
Academic Affairs, Dean,
Laboratory-In-Charge,
Department heads, Chair, or
Principal
Users
• Chemists, laboratory
technician/assistants, students,
workers using chemicals
Suppliers
• Refer to the seller of chemicals,
distributors, etc.
RESPONSIBILITIES
Management/Administrators
• Establish a policy
on safety in the
use of the
laboratory
facilities specially
the chemicals
• Communicate
the policy
Management/Administrators
• Ensure that all necessary
apparatus/equipment and
chemicals used are properly
labeled and marked
Management/Administrators
• Comply with appropriate
standards, codes and guidelines
formulated, approved or
recognized by the competent
authority concerning safety in
the use of chemicals
Management/Administrators
• Ensure adequate and competent
supervision of laboratory work
and practices, and the
application and use of the
control measures provided
• Equip supervisors/teachers with
safety training
Immediate Supervisor/Teacher/
Laboratory Technician
• Facilitate in obtaining an M(SDS)
• Ensure that all chemicals used are
labelled with all the hazards and
precautions given on the label
• Ensure chemicals and apparatus are
properly stored and secured
• Conduct safety inspection
Ignites at normal
temperature
Stable
Slightly hazardous
Personal Protection (H)
Teacher
• Provide appropriate supervision:
– Ensure safety rules are followed
– Account for the chemicals before, during
and after laboratory activities
– Ensure wastes are properly disposed
– Report accidents and/or unsafe conditions
to the principal or department head or
other appropriate administrators
Teacher
• Prepare safety checklists which need to
be accomplished:
– Work habits of your students
– Safety wear
– Facilities and equipment
– Proper disposal of chemicals
– Safety and Emergency Procedure
• Accident prevention requires an
effective safety program, which must
have direct and enthusiastic support
from the top administrative officer.
– With direct and strong support and active
involvement of all faculty and staff
members, few accidents will be prevented
Safety Officer
• Appropriately trained, qualified, and
with the authority to act, is also
essential.
– Laboratory-in-charge
– Faculty
– Staff
– Students
Doing things sagely is not
merely the right way to work
it is the ONLY way.
• Academic institutions have the moral
and professional responsibility to
train students in safe laboratory
practices.
• Students are expected to comply with
the local accident-prevention rules
and to participate conscientiously in
any training exercises
• Inform students that they have the
responsibility to obtain advice and
guidance whenever they are in doubt
about accident-prevention
procedures or potential hazards in
their laboratory work.
Protect Yourself & Your Institution
BASIC PRINCIPLES
OF LABORATORY
SAFETY
1. Conduct a risk assessment for each
laboratory activity your students
will perform for the purposes of
determining appropriate safety
control measures
– identify all the hazards associated
with the experimental activity
• Familiarize with the different
laboratory symbols
• Familiarize with the MSDS (Material
Safety Data Sheet) of chemicals to be used
A material safety data sheet (MSDS) is
a form containing basic information
regarding the chemical and physical
properties of a substance and
guidelines on how to safely use it.
MSDS (Material Safety Data Sheet)
• You will find the following essential
information in an MSDS:
– Physical and chemical properties of the substance;
– Health hazard information, including both shortand long-term health effects;
– Permissible Exposure Limits, or PELs, and
symptoms of exposure;
– A description of how to safely handle the
substance under normal and emergency
conditions; and
– A description of first-aid and medical treatment if
overexposed.
Ignites at normal
temperature
Stable
Slightly hazardous
Personal Protection (H)
• Briefly review an MSDS for a common lab
chemical, pointing out where to find
necessary health and safety information.
• Make sure students know
where they can obtain
copies of MSDSs
2. Select appropriate safety
measures
– Work practices and personal protective
equipment/gear to minimize or
eliminate those risks
Personal Protective
Equipment/Gear
Laboratory Gown
Goggle or Safety glass
Contact lenses are not allowed.
• Even worn under safety goggles
• Fumes may accumulate under lens
and cause serious injuries
Face mask
Gloves
Close Shoes
Hair
Control
Mechanism
Work Practices/Conduct
Control Mechanism
•
•
•
•
Anticipation
Recognition
Evaluation
Control of health hazards
ANTICIPATION
• Make sure that your students are
physically prepared
for example, don't do lab work on an empty
stomach, or without sleep
Anticipation
• Advance Experiment Planning
– Pre-Laboratory Discussion
– Acquire safety information (MSDS)
– Risk analysis
•
•
•
•
•
Which chemicals to use?
How much?
Special equipment needed?
Can the experiment go wrong?
Do you have emergency plan?
Dress appropriately for the lab period.
Safety glasses or goggles must be
worn at all times when in the
laboratory
• If you have any existing physical
conditions that might affect your
performance, your health, or
other peoples' health in the lab,
please inform your instructor.
– This information will be kept
confidential; examples might include
pregnancy, medications, allergies,
epilepsy. Special arrangements may
be possible.
RECOGNITION
Some of the Laboratory Hazards
You Should Never…
• Engage in….
– practical jokes
– games of any kind
Never directly smell the source of any
vapour or gas
Never taste anything.
EVALUATION
Maintain a safe laboratory
environment
– includes safe housekeeping and proper
storage of chemicals
– What are the anticipated risks?
• Are the equipment and facilities adequate?
• Are staff/teacher properly and sufficiently
trained?
• Risks if experiment goes wrong
• Is there are plan for this?
Personal items, including, but not limited to, book
bags and books, should be put in the area of the
lab room designated for that purpose. Do not put
personal items on the lab bench
Clear aisle for easy movement
Know how to use and where to find
CONTROL
Proper waste disposal
Proper waste disposal
Chemical Reagent Preparation
Segregate and
Store Chemicals
Safely
Segregate and Store Chemicals Safely
• Hazardous chemicals must be
segregated (stored separately) in
chemical storage cabinets by chemical
hazard when possible.
– Take time to read each chemical Safety
Data Sheet (SDS) to determine the
hazard(s) of your chemicals.
Guidelines for Segregating
and Storing Chemicals
• Store all hazardous liquids
in secondary containment.
Guidelines for Segregating
and Storing Chemicals
• Physically look at chemical containers monthly
• Hazardous chemicals must be stored at or
below eye level so that everyone in the lab can
reach them.
Guidelines for Segregating
and Storing Chemicals
Guidelines for Segregating
and Storing Chemicals
• Chemicals should never be stored underneath a
laboratory sink, in the fume hood, or on the lab floor.
• Return chemicals to proper storage cabinets areas daily.
Proper Storage of Laboratory
Apparatus/Equipment
Safety Precaution Guidelines
Posted in Science Laboratory Rooms
What to follow . . .
• Guidelines in borrowing and
returning laboratory
apparatus/equipment
• Guidelines in requesting chemical
reagents
What to follow . . .
• The institution must have
– Procedural Manual in Laboratory
– Laboratory Safety Manual/Handbook for
Students and Faculty
Prepare for emergencies
– Even though we hope that by taking the
first three steps, you can avoid fires,
spills, injuries, and other emergencies,
you must be prepared to deal swiftly and
effectively with emergency situations
should they arise.
Chemical Spills
Neutralize spilled acid or base as follows:
a) Acid on clothing – use acid bicarbonate solution
b) Base on clothing – use boric acid solution
c) Acid or base on the desk – use solid sodium
bicarbonate, followed by water
Chemical Spills
If your skin (or clothing) comes in contact with
the spill, immediately flush the skin or clothing
with water for 15 minutes.
• If a student is injured, even slightly, the
teacher should apply first aid
immediately. Then, seek medical
attention immediately.
Minor burns, cuts, and scratches are
fairly common injuries in laboratory.
- The teacher should know how to
determine the appropriate first aid
procedure to utilize.
Learn where the nearest fire extinguisher is and
how to use it.
- If students' hair or clothing catch fire, smother
the fire by dousing him/her in the shower.
Fire/Emergency Exits
Fire/Emergency Exits
REMEMBER . . .
When in doubt – DON'T ACT, ASK!!!
• Exercise Caution and
Good Judgment
• Do not carry out a new or
unfamiliar procedure
until you have been fully
trained & understand the
precautions necessary for
safety
• DO NOT GUESS!!!!
A Competent Teacher
• Always Prepared – Know the
procedure in the lab
– Research and understand the known
hazard
– Plan for handling and control of toxic
by-products
– Familiar with the location and use of
safety facilities
– Observe proper conduct at all times
– Alert to Unsafe conditions and actions
Able Technicians/Lab In-charge
•
•
•
•
Skilled
Alert
Familiar with First Aid
Energetic/Enthusiastic
• L -- Label everything clearly
• A -- Appropriate containers in good
condition
• B -- Be neat and orderly
•
•
•
•
•
•
S
A
F
E
T
Y
-- Store only what you will use
-- Always wear protective clothing
-- Food allowed in eating areas only
-- Everything in its place on a shelf
-- Time to inventory & organize
-- Your safety is important
Doing this safely is not merely the right
way to work IT IS THE ONLY WAY.
Thank you
very much!!!