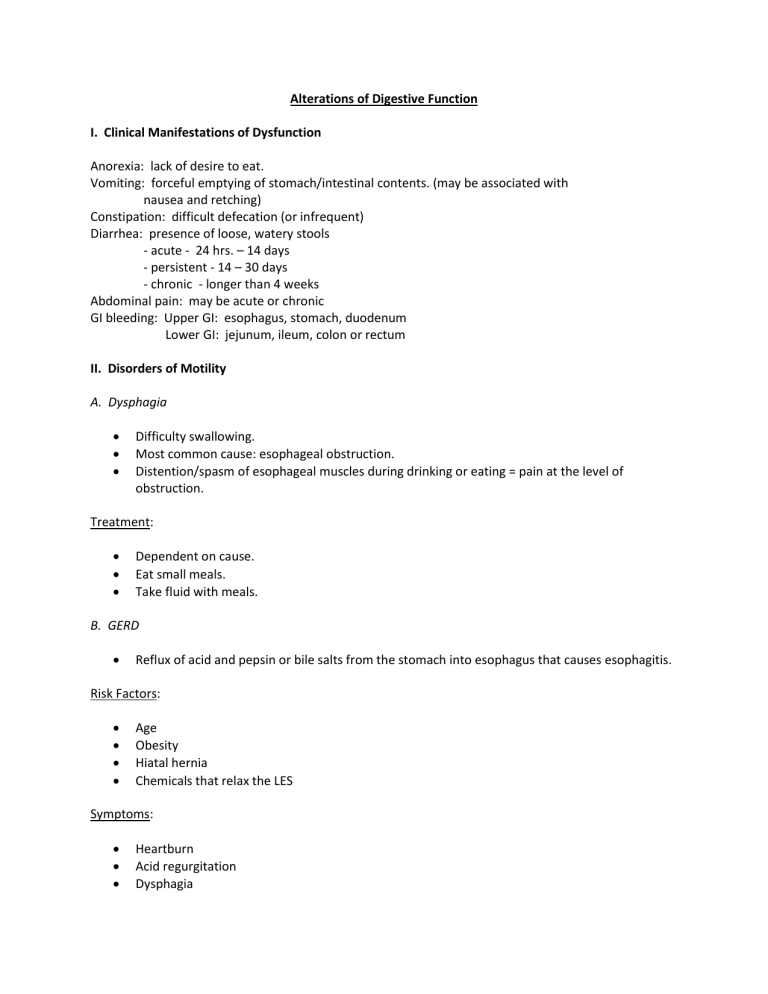 Alterations of Digestive Function
I. Clinical Manifestations of Dysfunction
Anorexia: lack of desire to eat.
Vomiting: forceful emptying of stomach/intestinal contents. (may be associated with
nausea and retching)
Constipation: difficult defecation (or infrequent)
Diarrhea: presence of loose, watery stools
- acute - 24 hrs. – 14 days
- persistent - 14 – 30 days
- chronic - longer than 4 weeks
Abdominal pain: may be acute or chronic
GI bleeding: Upper GI: esophagus, stomach, duodenum
Lower GI: jejunum, ileum, colon or rectum
II. Disorders of Motility
A. Dysphagia



Difficulty swallowing.
Most common cause: esophageal obstruction.
Distention/spasm of esophageal muscles during drinking or eating = pain at the level of
obstruction.
Treatment:



Dependent on cause.
Eat small meals.
Take fluid with meals.
B. GERD

Reflux of acid and pepsin or bile salts from the stomach into esophagus that causes esophagitis.
Risk Factors:




Age
Obesity
Hiatal hernia
Chemicals that relax the LES
Symptoms:



Heartburn
Acid regurgitation
Dysphagia


Cough
Pain (upper abdomen)
*will worsen when you lie down or if intra-abdominal pressure increases.
Diagnosis/Treatment: (via esophageal endoscopy)

PPIs, antacids, weight reduction, elevation of head while sleeping.
C. Eosinophilic Esophagitis


Inflammatory disease of the esophagus characterized by an infiltration of eosinophils.
Associated with asthma and food allergies.
Symptoms:



Dysphagia
Vomiting
Weight loss
 Diagnosis via endoscopy w/biopsy
 Treatment w/elimination diet and steroids
D. Hiatal Hernia

Protrusion (herniation) of the upper part of the stomach through the diaphragm into the thorax.
Symptoms: (can be asymptomatic)




Heartburn
Dysphagia
Epigastric pain
Regurgitation
similar to GERD
 may also cause chest pain
Treatment:




Eat small, frequent meals.
Avoid recumbent position after eating.
Weight control.
Surgery
E. Pyloric Obstruction


Narrowing/obstruction of the pylorus.
Maybe caused by peptic ulcer (or duodenal ulcers)

Food may not enter the intestine (malnutrition)
Symptoms:




Fullness
Pain (w/muscle spasms)
Severe obstruction will lead to gastric distention.
Vomiting (copious) (may lead to dehydration)
Treatment:




Suction of stomach contents – relieve distention
PPI (Prilosec)
Histamine receptor antagonists (Pepcid, Zantac)
Surgery (pyloric stents)
F. Intestinal Obstruction


Caused by any condition that prevents the normal flow of chyme through the intestines.
May be small or large obstructions.
Classifications: (examples)



Onset (acute v. chronic)
Extent (partial v. complete)
Location (intrinsic v. extrinsic)
Treatment: (based on cause)

Surgery required (immediate) for:
- strangulation
- complete obstructions
- perforations
III. Gastritis



Inflammatory disorder of the gastric mucosa.
Acute and chronic.
Effects the mucosa.
Symptoms:




Pain
Nausea
Vomiting
Fullness
Treatment:



Diet (bland)
Smaller meals
Avoid alcohol/aspirin
IV. Peptic Ulcer Disease


Ulceration of the protective mucosal lining of the lower esophagus, stomach, duodenum.
Often caused by erosive factors:
- NSAIDs (- PG synthesis)
- H.pylori infection
Risk Factors:





Alcohol
Smoking
Age
True ulcers penetrate the muscularis mucosae and can perforate the GI wall.
Duodenal ulcers more common than gastric ulcers.
Symptoms:



Pain after eating.
Chronic intermittent epigastric pain.
Perforation/bleeding is a common complication.
Treatment:




Antacids (neutralize acid)
Antibiotics (H.pylori)
PPIs
H2 receptor blockers
V. Malabsorption Disorders
A. Pancreatic Exocrine Insufficiency


Deficient production of pancreatic enzymes required for digestion.
May be caused by:
- chronic pancreatitis
- pancreatic carcinoma
- cystic fibrosis

Outcomes: fatty stool, vitamin deficiency, wt. loss
B. Lactose Intolerance


Lactase lacking – genetic defect.
Inhibits breakdown of lactose.
Symptoms:




Gas
Diarrhea
Bloating
Cramping pain
Solution:

Go lactose free.
VI. Inflammatory Bowel Diseases
A. Ulcerative Colitis


Chronic inflammatory disease that causes ulceration of the colonic mucosa.
Occurs most commonly in the rectum and sigmoid colon.
Symptoms: (may include)




Increased frequency of bowel movements.
Bleeding
Pain
Bloody stool
Treatment:


Done with the goal of promoting healing of the mucosa; depends on severity.
Includes steroids/immunomodulatory agents.
B. Crohn Disease



Idiopathic inflammatory disorder that affects any part of the GI tract.
Inflammations begins in the intestinal submucosa.
Ascending/transverse colon most common affected sites. (ileum of small intestine)
Symptoms:



Diarrhea
Rectal bleeding
Pain


Weight loss
Vitamin deficiencies if ileum is involved.
Evaluation:

Via imaging of small/large intestine.
Treatment:

Anti-TNF drugs (Enbrel, Humira)
C. Diverticulitis


Inflammation of the diverticula, herniations or outpocketings of the mucosa and submucosa
through the muscle layers. (occur at weak points in intestinal wall)
Associated with:
- changes in GI motility
- increased intracolonic pressure
Symptoms:




Cramping
Pain
Diarrhea/constipation
Flatulence
Treatment:


Increased fiber
Dietary changes
D. Appendicitis

Inflammation of the appendix, usually due to obstruction of the appendix lumen no drainage of
the appendix  bacterial infection.
Symptoms:




Pain (periumbilical) that intensifies (lower right quadrant)
Nausea
Vomiting
Low grade fever
Evaluate with:

WBC count/visual image
Treatment:


Appendectomy
Antibiotics
VII. Disorders of the Liver
A. Acute Liver Failure



Impairment or necrosis of liver cells with preexisting liver disease.
Acetaminophen overdose is the leading cause of acute liver failure in the US.
May also be a complication of viral infection or metabolic liver disorders.
Symptoms:




Anorexia
Vomiting
Pain
Jaundice
Assess via liver function:

Increased bilirubin, blood ammonia
Treatment:

Liver transplant
B. Cirrhosis

Irreversible, inflammatory fibrotic liver disease.
Some causes:




Hepatitis B, C
Alcohol intake
Idiopathic
Prolonged exposure to drugs/toxins.
Diagnosis:



Patient's history
Clinical manifestations (jaundice, weight loss)
Liver function tests
Treatment


Manage symptoms
Liver transplantation
C. Nonalcoholic Fatty Liver Disease (NAFLD)




Infiltration of hepatocytes with fat, primarily triglycerides, in the absence of excessive alcohol
intake.
Associated with:
- obesity
- increased cholesterol and triglycerides
- type 2 diabetes
Most common chronic liver disease in US.
Treat with diet and exercise.
D. Viral Hepatitis




Viral infection of the liver (fairly common).
Different strains: different types of hepatitis.
5 types (A  E)
B,C,D are chronic
Assessment:

Via manifestations and blood tests for anti-HV antibodies.
Treatment: (dependent on type)



Immunoglobulin therapy
Symptomatic support
Interferon treatment
VIII. Gallbladder
A. Gallstones





Formed from impaired metabolism of cholesterol, bilirubin, and bile acids.
Contain calcium carbonate.
Stones may become lodged in the cystic or common bile duct, triggering pain especially when
eating a fatty meal.
Pain starts within 30 minutes to hours after a fatty meal.
Heartburn, discomfort, flatulence
Assessment: (base on)

Symptoms

Imaging (conformation)
Treatment:



Remove gallbladder/stones.
Balloon dilation of duct.
Lithotripsy
IX. Pancreas
A. Pancreatitis


Inflammation of the pancreas.
Maybe acute or chronic.
1. Acute pancreatitis






Usually due to obstruction of outflow of pancreatic juice.
Also linked to alcohol, infection, drug use.
Release of enzymes into pancreas. (auto digestion and inflammation)
Pain, nausea, vomiting, increased serum lipase
Fatal if not treated.
Treatment aimed at stopping auto digestion and prevent further complications.
2. Chronic pancreatitis



Progressive fibrotic destruction of the pancreas.
Chronic alcohol abuse.
Destruction of acinarcells and the pancreatic islets.
Symptoms:



Abdominal pain
Weight loss
Poor nutrient absorption
Outcomes:


Decreased pancreatic enzymes.
Insulin-dependency (diabetes)
Treatment:


Cessation of alcohol intake.
Cell transplant.

Chronic pancreatitis is a risk factor for pancreatic cancer.