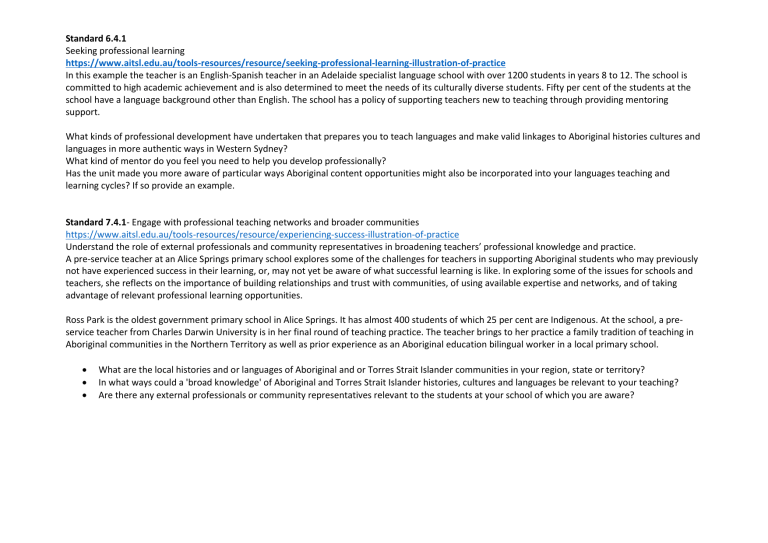 Standard 6.4.1
Seeking professional learning
https://www.aitsl.edu.au/tools-resources/resource/seeking-professional-learning-illustration-of-practice
In this example the teacher is an English-Spanish teacher in an Adelaide specialist language school with over 1200 students in years 8 to 12. The school is
committed to high academic achievement and is also determined to meet the needs of its culturally diverse students. Fifty per cent of the students at the
school have a language background other than English. The school has a policy of supporting teachers new to teaching through providing mentoring
support.
What kinds of professional development have undertaken that prepares you to teach languages and make valid linkages to Aboriginal histories cultures and
languages in more authentic ways in Western Sydney?
What kind of mentor do you feel you need to help you develop professionally?
Has the unit made you more aware of particular ways Aboriginal content opportunities might also be incorporated into your languages teaching and
learning cycles? If so provide an example.
Standard 7.4.1- Engage with professional teaching networks and broader communities
https://www.aitsl.edu.au/tools-resources/resource/experiencing-success-illustration-of-practice
Understand the role of external professionals and community representatives in broadening teachers' professional knowledge and practice.
A pre-service teacher at an Alice Springs primary school explores some of the challenges for teachers in supporting Aboriginal students who may previously
not have experienced success in their learning, or, may not yet be aware of what successful learning is like. In exploring some of the issues for schools and
teachers, she reflects on the importance of building relationships and trust with communities, of using available expertise and networks, and of taking
advantage of relevant professional learning opportunities.
Ross Park is the oldest government primary school in Alice Springs. It has almost 400 students of which 25 per cent are Indigenous. At the school, a preservice teacher from Charles Darwin University is in her final round of teaching practice. The teacher brings to her practice a family tradition of teaching in
Aboriginal communities in the Northern Territory as well as prior experience as an Aboriginal education bilingual worker in a local primary school.



What are the local histories and or languages of Aboriginal and or Torres Strait Islander communities in your region, state or territory?
In what ways could a 'broad knowledge' of Aboriginal and Torres Strait Islander histories, cultures and languages be relevant to your teaching?
Are there any external professionals or community representatives relevant to the students at your school of which you are aware?
EXTENSIONS APPLICATIONS: MUST ONLY be submitted via the WesternNOW Portal and not emailed to tutor/Lecturer. If you email during
a weekend you must also attach a draft of the paper that you have completed thus far.
CONTACT student central
Phone (1300 668 370)
Email (studentcentral@westernsydney.edu.au).
For issues with Allocate+, or access to vUWS contact the IT support team via the MyIT portal or 98525111:
Basic reflective expression, some appropriate use of APA referencing (less than 5 errors).
Appropriate terminology still needs some minor editing for teacher professional writing tasks.